As many cool hipsters know, the Bairro Alto district of Lisbon is a quiet old neighborhood by day…and robust party zone at night. Block after block of calçada streets are home to bars, cafés, galleries and shops that come alive only after dinner time. Bairro Alto is one of the busiest and most popular areas of late night Lisbon.

Bairro Alto merchants and companies want to prove Bairro Alto has potential during the day too. So, they've joined forces to create a week-long festival with arts events taking place during daytime hours, Dia do Bairro Alto, 11-18 December 2011.

—————————————————



—————————————————

Dia do Bairro Alto is a birthday celebration of sorts. It marks 498 years since the founding of the area on 15 December 1513. It was then known as Vila Nova de Andrade.

The celebration starts out on the 11th with a concert by the National Conservatory Orchestra in the hall of the Conservatory. It ends with and festive tribute concert to fado in the Espalo Santa Catarina. A flash mob is set to sing congratulations to the district in an event on Praça Luís Camões at 19:00 on the 15th. Every day during the week, numerous art exhibitions, concerts, conference sessions and shop promotions are scheduled.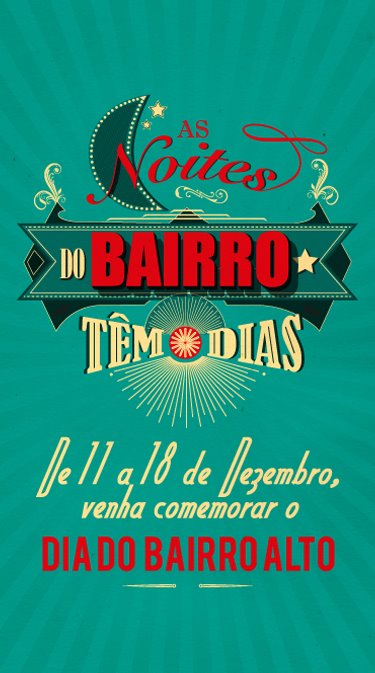 See a full agenda of the Dia do Bairro Alto here.
Promoters of the event include:
Agência Piaget para o Desenvolvimento ■ Associação Comerciantes do Bairro Alto ■ Associação Mais Skillz ■ Associação Mais Cidadania ■ Associação Moradores do Bairro Alto ■ Associação Portuguesa de Arte Fotográfica ■ Associação 25 de Abril ■ Bar Frágil ■ Biblioteca Camões ■ Café Luso ■ Câmara Municipal de Lisboa ■ Dinâmia -CET/ ISCTE.Instituto Universitário de Lisboa ■ Escola de Música do Conservatório Nacional ■ Escola Superior de Dança de Lisboa ■ Galeria das Salgadeiras ■ Grey Group ■ Hemeroteca Municipal de Lisboa ■ Junta de Freguesia de Sta Catarina ■ Lisboa Clube Rio de Janeiro ■ Restaurante Sinal Vermelho ■ Restaurante Cocheira Alentejana ■ Urban Sketchers ■ XN Brand Dynamics
For more information on this celebration, visit the Dia do Bairro Alto website.
Email: diadobairro@gmail.com