DOC is a delightful dining concept in the Douro region, designed by Portuguese celebrity and Michelin star chef Rui Paula. DOC is an acronym for "Degustar Ousar Comunicar" (translated: "Taste, Dare, Communicate"). It is an opportunity for Paula to showcase his creativity in utilizing products from the region, borrowing from traditional Portuguese dishes and crafting modern cuisine for his guests to enjoy. Enhance your visit to the wine region of Portugal with a gastronomic experience at DOC.
--------------------------------------------------
--------------------------------------------------
DOC is also an apropos name given the restaurant's location and architecture. Sitting right at the Douro river's edge, between Régua and Pinhão, DOC features a spectacular semi-circular landing that acts as an outdoor dining terrace and functioning boat dock. It is a perfect setting to enjoy exquisite cuisine while watching the sunset over the vineyard-covered hills. When the climate turns cool and cloudy, head inside to the contemporary dining room, featuring a large glass-enclosed wine rack.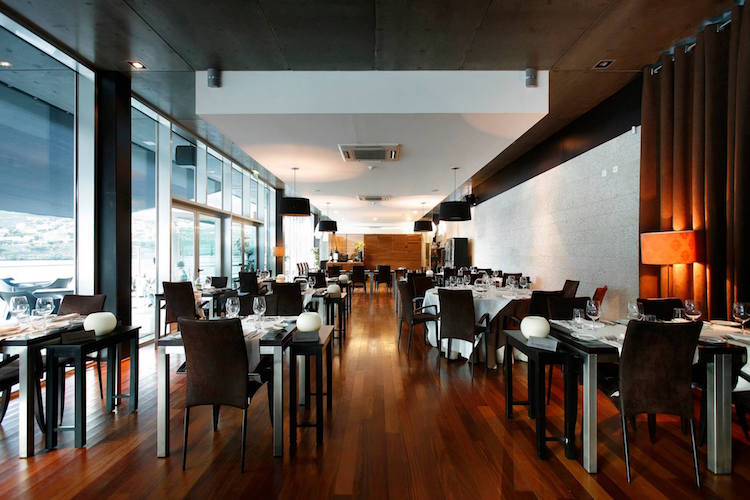 For your convenience, Paula has created two degustation menus, each comprising seven courses. They are €90 per person. Or, add the wine pairing for €150. We might suggest you go with one of those, as the a la carte menu is full of tempting dishes, and difficult to make a selection. Some highlights from the menu include:
Starters
■ Egg cooked at low temperature with Portuguese "alheira" sausage
■ Burrata, beet, honeycomb and caviar
■ Oxtail ravioli with celery and scallops
■ Foie Gras with orange, beet and Port wine
Main
■ Turbot with French pearl barley, celery and scarlet shrimp
■ Lobster and sea fish soaked rice
■ Rack of lamb with goat cheese gnocchi and ravioli of eggplant
■ Tenderloin veal with tongue's veal carpaccio, tupinambour and crayfish
■ Lentils, tofu and yogurt sauce with mint
Desserts
■ Fruit and eucalyptus soup
■ Pumpkin and cheese with spices ice-cream
■ Chocolate and coffee pie with hazelnut and crispy caramel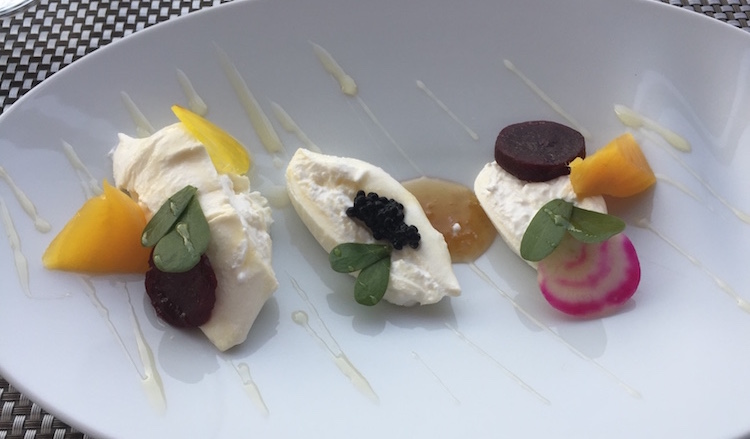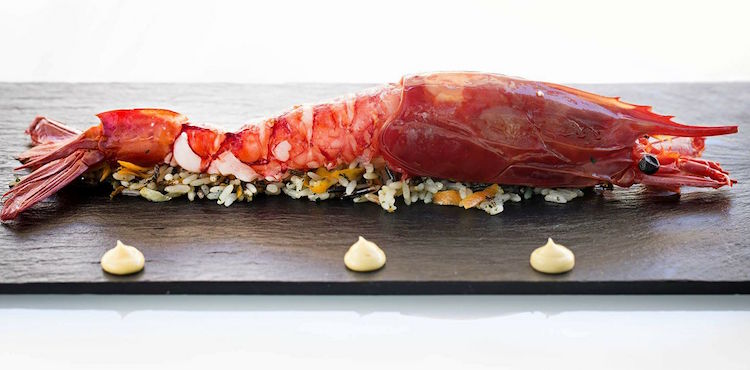 (top) Burrata, beet, honeycomb and caviar, (above) Carabineiro and seafood rice
Complement your meal with one of the many fine national and international wines from the extensive wine list.
For more information, visit the DOC website.
Restaurante DOC
Estrada Nacional 222 – Folgosa
5110-204 Armamar
Phone: +351 254 858 123
Mobile: +351 910 014 040
Email: doc@ruipaula.com
Hours:
March to October: Lunch – 12:30 to 15:30, Dinner – 19:30 to 22:30
November to February: closed for dinner on Sundays and all day Monday.
See our stories on Rui Paula's DOP in Porto and Michelin star Casa de Chá da Boa Nova in Leça da Palmeira.