It's kind of a cool contemporary cave, where local hipsters drink traditional cocktails from Madeira. It's É Prá Poncha. This unique hangout on Porto's popular Rua Galeria de Paris is a design devotee's dream, a drink lover's delight and a party person's paradise.
--------------------------------------------------
--------------------------------------------------
The bar takes its name, É Prá Poncha (It is to the Poncha) from a traditional drink on the island of Madeira. The Poncha is made from lemon and sugar mixed with AguarDente de Cana (an alcohol from sugar cane that the locals call "white rum").
With the bar space being very narrow, co-owner Duarte Pestana sought the talents of local architect António Fernandez to create a "fluorescent cave". Using lacquered MDF (medium-density fiberboard), Fernandez created the appearance of stalactites hanging from the roof of the cave. The undulating design produces an ultra-cool multidimensional effect. Ingenious RGB LED lighting between each panel emanates tones of red, green blue and yellow, changing the ambiance moment by moment.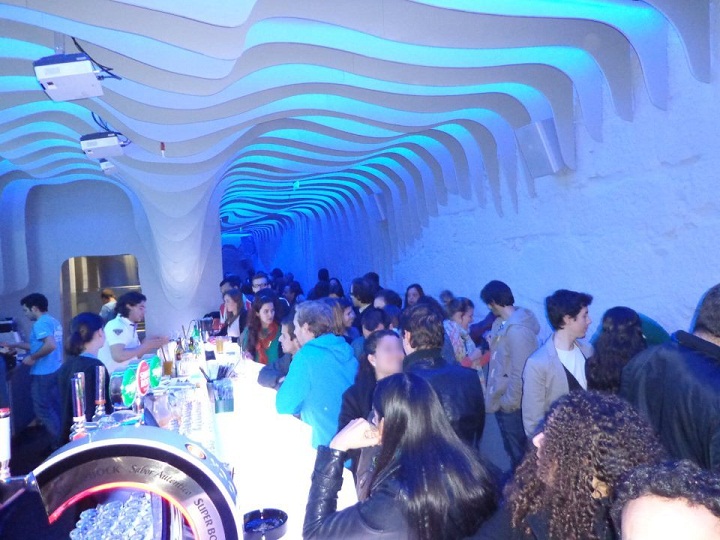 In addition to the Poncha, the bar also specializes in Tangerina, absinthe, black vodka, Maracujá, Pescador, whisky and Nikita. The music varies from pop and commercial to 80's rock.
For more information, visit the É Pra Poncha website.
É Prá Poncha Bar
Rua Galeria de Paris 99
Porto
Phone: +351 969 472 546
Email: info@epraponcha.com
Hours: Monday to Saturday – 17:00 to 04:00