Portugal Confidential loves to come across new products that are not only beautifully designed and chic, but also play a role in saving our environment. Portuguese designer Fernanda Pereira has created super-cool new fashion accessories made from…your grandmother's shower curtains!!
————————————————————
[ad name="Google Adsense Image Banner for Posts "]
————————————————————
Yep, that's right. Clever Pereira has produced limited-edition bags and purses made from vintage plastic shower curtains. These "eco-bags" and "eco-purses" are available in several colors and patterns, typical of bathroom décor of times gone by. They are fun and a little unorthodox, but overall, they are great for carrying towels to the beach or toting vegetables from the market.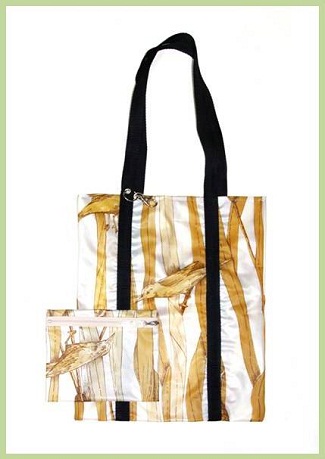 More importantly, eco-bags are Pereira's response to the growing global need to recycle materials for the good of the environment.
Pereira says she is influenced by "everything that moves…" A Lisbon native, she studied fashion design locally and in London. She worked with Portuguese designer Dino Alves before setting out on her own. She has been creating fashion collections since 2002. She also has her hands in retail, namely with the boutique Galeria de Exclusivos in Bairro Alto, where she sells unique limited-edition pieces.
Pereira only manufactured 25 bags and 100 purses. So, if you want to be super stylish and save the planet at the same time, grab an eco-bag quickly, before they vanish.
For more information on Fernanda Pereira, visit her website here. Buy eco-bags and eco-purses at:
Galeria de Exclusivos
Rua da Rosa, nº195
Bairro Alto
Lisbon
Phone: +351 210 965 104
Eco-Bags are also sold at:
Fabrica Features Lisboa
Rua Garrett, 83
Lisbon
Re-Searcher Gallery
Rua da Madalena
Lisbon
To order eco-bags via web, send an email to: fernanda_regina_pereira@yahoo.com