Call it a mini-mall. Call it a fashion bazaar. Call it a super concept shop. Or call it Lisbon's cool, new shopping center for fashions, jewelry, lifestyle products and art. It's Embaixada, a new collection of shops in the grand Ribeiro da Cunha Palace in Praça do Príncipe Real.
--------------------------------------------------
--------------------------------------------------
This stately Moorish-design building was built in 1857 by Ribeiro da Cunha, a wealthy businessman who made his fortune in Brazil. The building has two entrances, an Arabic-inspired interior courtyard, a "noble" staircase, stained glass windows, frescoes and art nouveau fireplaces.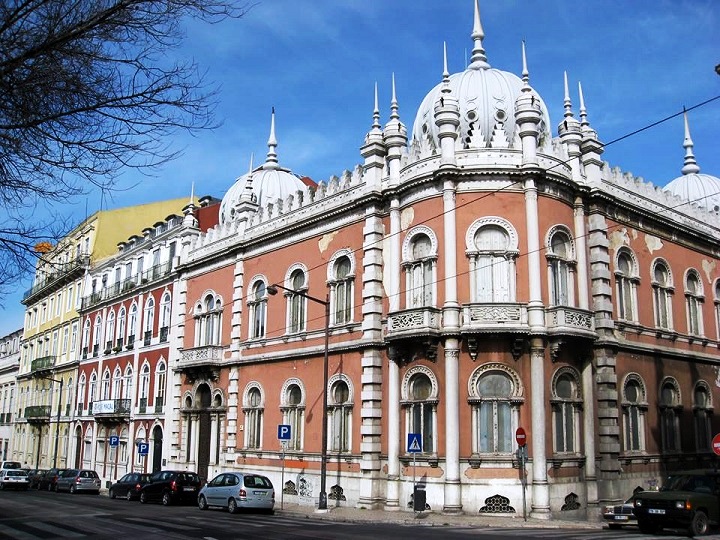 Shops in Embaixada are spread over two floors. The space also include Le Jardin café and an area dedicated to temporary exhibitions. Following is a guide of shop locations:
0.1   Organii Bebé  ■  Organic products for babies
0.2   Paez  ■  Argentine alpargatas (casual footwear)
0.2   O da Joana  ■  Women's fashion – limited editions
0.2   Sal  ■  Artefacts from recycled and natural materials
0.2   Menina e Moça  ■  Costume jewelry
0.3   Linkstore  ■  Men's accessories
0.4   Moleskine  ■  Notebooks, writing and reading materials, bags & others
0.4   Intemporal  ■  Furnishings and interior design services
0.5   Vla Records  ■  Cult shop for Portuguese talent – music, filigree and others
0.6   Amélie au Théâtre  ■  Fashion – Personal image consulting
0.7   Le Jardim  ■  Cafe | Bar | Restaurant
1.1   Urze  ■  Portuguese mountain lifestyle – fashion and decoration
1.2   Temporary Brand  ■  Design, fashion, music, lifestyle, books, art & temporary exhibitions
1.3   Organii  ■  Organic cosmetics
1.4   Organii  ■  Organic cosmetic treatments
1.5   Boa Safra  ■  Eco Home Design
1.6   Pavão  ■  Fashion design and accessories
1.7   Storytailors  ■  Portuguese Fashion Design
1.8   Shoes Closet ■  Shoes
Embaixada is part of an urban revitalization project by property development company, Eastbanc. It is the first of many changes planned for the Príncipe Real neighborhood.
For more information, visit the Embaixada Facebook page.
Embaixada
Praça do Príncipe Real, nº 26
Príncipe Real
1250-184 Lisbon
Phone: +351 213 404 150
Shop Hours: Everyday – 12:00 to 02:00
Restaurant Hours: Sun to Wed – 12:00 to 24:00, Thur to Sat – 12:00 to 02:00