Tivoli Victoria Hotel in Vilamoura holds nothing back in its mission to stand out in the competitive resort market of the Algarve.  It's got extraordinary architecture by prominent Portuguese group Promontorio, a golf course designed by links legend Arnold Palmer and a penthouse spa by Thailand-based Banyan Tree.  For gastronomia, it offers the contemporary and cool cuisine of Emo Gourmet Restaurant.
--------------------------------------------------
--------------------------------------------------
Emo is short for EMO-tion. And although the name is shortened, the folks at the Tivoli Victoria intend to take guests on a long passionate adventure of unusual flavors, textures and tastes.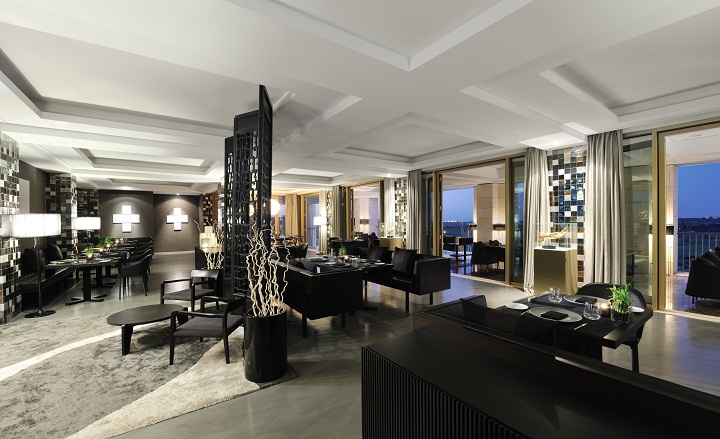 The sensual adventure begins with the ambiance. Entering Emo is like stepping into a sophisticated dining room in New York or Paris. The modern design has a sophisticated art deco flavor, except with 21st century materials and fixtures. Metalized calcined clay tiles and gold leaf cover pillars. FLOS chandeliers hang from above. The room is large and open, yet the table arrangement allows for intimacy with your dinner guests. Floor-to-ceiling windows provide 180º views of the golf course and ocean beyond.
In character with the modern environment, the cuisine is contemporary Portuguese. In charge of the kitchen is Chef Bruno Rocha who considers "art, engagement and generosity" as keywords in his gastronomic philosophy. Menu items are traditional in concept, but with 21st century innovation. Highlights from a recent menu include:
Scallop petals, tangerine, cured bacon and beetroot
Goat cheese, hazelnut waffle, rhubarb trifle and smith apple
Tenderloin of venison, compressed Nashi pear and mushrooms vinegary
Codfish confit in black olive oil, chickpeas savory pie, turnip tops
Red snapper fillet and lobster, dashi broth, enoki and cauliflower dim-sum
Loin of lamb, quinoa, medjool dates and cardamom sauce
Braised pork cheeks, tiger prawn, red pepper and bread cannelloni
Ox-tail tournedo, macerated quinces and potato geometry
Carob coolant, peanut butter mousse and caramelized banana
Beetroot parfait, Manjari chocolate and blackberries gel
Chestnut cake, cinnamon custard and perfumed wine shot
When you're done with dinner, stroll around the hotel. There are many great small terraces and sitting areas in which to enjoy an after dinner drink for conversation and to take in the energy of the Tivoli Victoria.
For more information, visit the Restaurant Emo webpage.
Emo Restaurant at Tivoli Victoria
Av dos Descobrimentos, Nº 0
8125-309 Vilamoura
Phone: +351 289 317 000
Fax: +351 289 317 345
Email: htvictoria@tivolihotels.com
Hours: Tuesday through Sunday – 19:00 to 22:30