UPDATE – Fantasporto 2011 Awards were given at a closing ceremony on 6 March.  The winners are below in blue: 
—————————————————
Mutants, zombies, serial killers and monsters are coming to Porto.  Oh, so are Academy-award winning actors and world-famous film directors.  It's that time of year again!  It's the season for Porto's celebration of fantasy and science fiction cinema.  It's Fantasporto 2011, scheduled for 21 February to 6 March at the Rivoli Theater.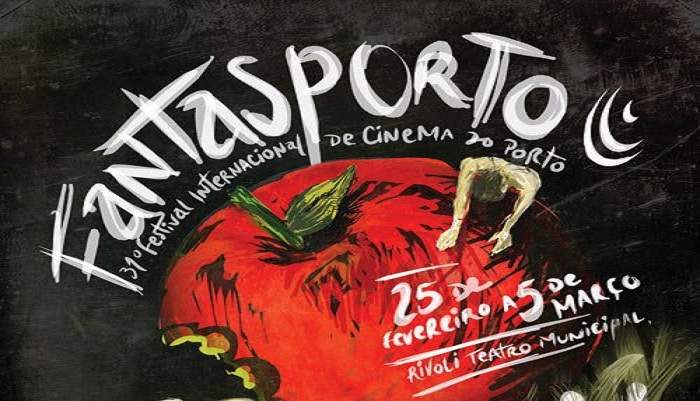 Fantasporto has become the premier fantasy film festival around the world.  Organizers program large theatrical films from major studios to auteur and experimental films from up-coming directors.  Some of the notable directors showcased in the past include:  David Cronenberg, Brian de Palma, John Carpenter, David Lynch, Pedro Almodovar, Ridley Scott, Luc Besson, Peter Greenaway, Neil Jordan,  Sam Raimi, and Joel and Ethan Cohen, to name only a few.  Film trade publication Variety, lists it among the top 60 important festivals in the business. 
——————————————————



——————————————————
This year's event is broken down into two parts.  Pre-Fantas runs from 21-24 February, with films screening out of competition.  The opening film for this section is Danny Boyle's 127 Hours, starring James Franco.   The official start of the festival begins 25 feb, with the screening of The Resident, starring two-time Acadamy Award winner Hilary Swank.  Season of the Witch, with Nicolas Cage has been selected for the closing night film on 5 March.  The traditional farewell party, The Vampires Ball, follows the screening at the Teatro Sá da Bandeira.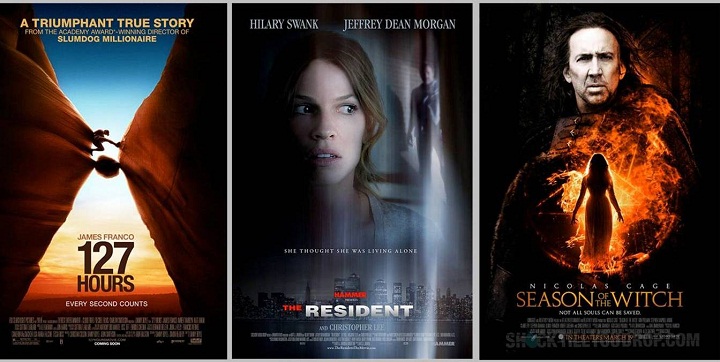 Also at the year's festival, organizers pay homage to renowned French film director, screenwriter and actor Jean Renoir, and honor producer and investor Paulo Transco (co-producer of international films such as, The House of Spirits and Queen Margot) for special achievement in Portuguese cinema.
Other important films on the schedule include:  The Rite, with Anthony Hopkins; The Extraordinary Adventures of Adèle Blanc-Sec, by Luc Besson;  Julie Taymor's The Tempest:  as well as Steven Sodergergh's And Everything Is Going Fine.
Over 300 feature-length and short films will be screened in various competitive and non-competitive sections.  This year's film jury includes Portuguese actors Maria de Medeiros and Joaquim de Almeida, screenwriter Mick Garris (Hocus Pocus) and director Joe Dante (Gremlins).


FILMS IN COMPETITION
Fantasy Cinema Official Selection (Feature-Length)
A Serbian Film – Srdjan Spasojevic (Serbia) – JURY SPECIAL AWARD
And Soon the Darkness – Marcos Efron  (USA/Argentina/France)
Bedevilled – Jang Cheol-so (South Korea) – BEST ACTRESS:  Seo Yeong-hie
I Saw the Devil – Kim Jee-woon  (South Korea) – BEST DIRECTION
Iron Doors – Stephen Manuel (UK) – BEST ACTOR:  Axel Wedekind
Kidnapped– Miguel Angel Vivas  (Spain)
Prey – Antoine Blossier  (France)
Rabies – Kalevet- Aharon Keshales, Navot Papushado  (Israel) – CRITICS AWARD
Saint– Dick Maas (Netherlands)
Some Guy Who Kills People – Jack Perez (USA)
Splice – Vincenzo Natali  (USA/Canada/France)
The Defiled – Julian Grant  (USA)
The Extraordinary Adventures of Adèle Blanc-Sec – Luc Besson  (France) – AUDIENCE AWARD
The Tempest– Julie Taymor  (USA)
Timer – Jack Schaeffer  (USA)
Two Staring Eyes – Elbert Van Strien (Netherlands)  – GRAND PRIX – BEST FILM AWARD, BEST SCREENPLAY:  Elbert van Strien, Paulo van Vliet
Fantasy Cinema Official Selection (Short Films)
Babel – Hendrick Sudollier  (France)
Brutal Relax – David Muñoz  (Spain) – BEST SHORT FILM
Dead Happy – Nicky Lianos  (UK)
Fairy Catcher – Kealan O' Rourke  (Ireland)
Heart – Erick Oh  (USA)
Mrdrchain – Ondrej Svadlena  (France/Czech Republic)
Pixels – Patrick Jean  (France)
Rubika – Claire Bauden, Ludovic Habas, Mickael Krebs, Julien Legay, Chao Ma, Florent Rousseau, Caroline Roux, Margaux Vaxelaire  (France)
Strata #3 – Quayola (France/UK)
Tattoo XXL – Loris Accaries, Guillaume Cunis, Rémy Dupont, Gael Falzowski, Arnaud Janvier, Audrey Janvier, Vincent Tonelli (France)
The Ciclope – Carlos Morett  (Spain)
The Holy Chicken – NoMint  (France)


Directors Week
9:06 – Igor Sterk  (Slovakia)
Carancho – Pablo Trapero  (Argentina) – DIRECTOR'S WEEK BEST DIRECTION
Eighteen Years Later – Edoardo Leo  (Italy)
Hay Fever/Febre da Fieno – Laura Luchetti  (Italy)
Inhale – Baltazar Kormákur  (USA)
Life Above All – Oliver Schmitz  (South Africa/Germany)
Miyoko – Yoshifumi Tsubota (Japan) – JURY SPECIAL PRIZE, BEST SCREENPLAY
Sound of Noise – Ola Siminsson Nilsson (Sweden/France)
The Chameleon– Jean Paul Salomé  (Canada)
The Housemaid – Im Sang-Soo  (South Korea) – DIRECTORS WEEK BEST FILM, BEST ACTOR:  Lee Jung-Jae, BEST ACTRESS:  Jeon Do-yeon


Orient Express Selection
Bedevilled – Jang Cheol-So (South Korea)
Death Kappa – Tomoo Haraguchi- 85'
Enemy at the Dead End – Park Soo- Young  (South Korea)  – ORIENT EXPRESS SPECIAL JURY AWARD
Hahaha – Hong Sang-Soo  (South Korea)
I Saw the Devil – Kim Jee-woon  (South Korea) – ORIENT EXPRESS BEST FILM
Patient X – Yam Laranas  (Philipines)
The Housemaid – Im Sang-Soo  (South Korea)


FILMS OUT OF COMPETITION
Premier Selection & Panorama
127 Hours – Danny Boyle  (USA/UK) – Opening Film
Tekken – Dwight H. Little  (Japan/USA)
Exorcisms:  La Posessión de Emma Evans – (Spain)
The Rite – Mikael Hafstom  (USA)
Season of the Witch – Dominic Sena (USA)– Closing Film
La Pantera Negra – Iyari Wertta (Mexico)
The Man Who Saw Frankenstein Cry – Angél Agudo  (Spain)
The Resident /Invasion of Privacy – Anti Jokinen (UK) – Official Festival Opening
And Everything is Going Fine – Steven Soderbergh  (USA)
Smash His Camera – Leon Gast  (USA)
A Day of Violence – Darren Ward (UK)
Finale – John Elfers (USA)
Bedways – Rolf Peter Kahl (Germany)
Zombie Undead – Rhys Davies (UK)
Kinematograf – Tomek Baginski  (Poland)
The King of Subculture – Bun Nakata  (Japan)
The Queen of Shopholic – Bun Nakata  (Japan)
18 Comidas – Jorge Coira  (Spain)
Maximum Shame – Carlos Atanes  (UK/Spain)
A Room and a Half – Andrey Khrzhanovskiy  (Russia)
Red Nights – Laurent Courtiaud e Julien Carbon  (France/Hong Kong)
Reykjavik Whale Watching Massacre – Julius Kemp  (Iceland)
Miss Nobody – Tim Cox  (USA
For more information and schedules, visit the FantasPorto website.


Teatro Rivoli
Praça  D. João I 
4000-295  Porto
Ticket Office: +351 223 392 201
Fantasmo Porto Office
Rua Aníbal Cunha, 84
Sala 1.6
4050-046  Porto
 Phone:  +351 222 058 819
Email: info@fantasporto.com