In 1890, the Count of Cabral built a fabulous mansion on the rocks overlooking the ocean in a beautiful spot north of Lisbon called Cascais. 120 years later, Cascais is a fashionable suburban community, and the former estate is now a popular boutique hotel called the Farol Design Hotel.
--------------------------------------------------
--------------------------------------------------
In 2002, entrepreneurial developers renovated the Cabral estate and added a contemporary extension. They created a 5-star hotel that seamlessly and pleasingly melds traditional architecture with modern design. A cutting-edge hotel was born.
There are 33 guest rooms at Farol Design Hotel. And, true to its name, 10 of the rooms are custom-designed by noted Portuguese fashion designers. Those lending a touch of cerative luxury include:
Manuel Alves & José Gonçalves ■ Arkadius ■ Antonio Augustus ■ Fátima Lopes
João Rolo ■ Ana Salazar ■ José António Tenete ■ Miguél Vieira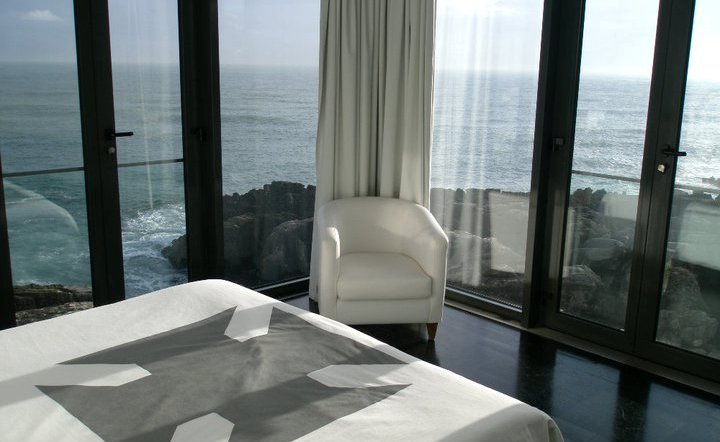 There are also two awesome suites: one with balcony facing the ocean; the other with a stunning 180º view.
The remaining rooms are equally cozy, each with its own décor and peaceful views of the sea or gardens.
All rooms have the requisite comfort and technical amenities for comfort. Yet, for those extra moments of luxury, the hotel also throws in hydro-massage bathtubs and Nespresso coffee makers in each troom.
When hunger sets in, this eclectic hotel offers an equally creative restaurant, Mix. At the helm is Chef Hugo Silva, preparing fusion cuisine to add excitement and a touch of "something different" to the dining experience.
If you have a yen for Japanese, grab a table in Sushi Mix. Here, fresh fish and extraordinary sea views make a light a healthy meal mixed with good times.
One of the most popular features of the hotel is the One the Rocks bar. Inside, the space is comfy and ideal for quiet conversations. Every Friday and Saturday night, DJ Miss Lyl is spinning tracks to keep the vide hip and chill.
However, it is the amazing terrace lounge outside that has become a favorite meeting place for the fashionable Lisbon crowd. The vast deck, sitting on the rocks with the waves crashing below, was once recognized by Time Out Lisboa as "Best Esplanade" in Lisbon.
For more information, visit the Farol Design Hotel website.
Farol Design Hotel
Avenida Rei Humberto II de Italia 7
2750-461 Cascais
Phone: +351 214 823 490
Fax: +351 214 844 109
Email: farol@farol.com.pt