Feitoria Restaurant, in the Altis Belem Hotel in Lisbon, is a Michelin star contemporary Portuguese restaurant infused with international flavors and ingredients honoring Portugal's great Age of Discoveries. "Feitoria" is a 15th century Portuguese word for a coastal trading post. It is at these feitorias where exotic goods from foreign lands were exchanged and sampled. And it is at Feitoria, where innovative cuisine is experienced and enjoyed.
--------------------------------------------------
--------------------------------------------------
Feitoria's Age of discoveries theme is an extension of that from the award-winning Altis Belem design hotel. A striking Namban art mural at the entrance sets the stage for the restaurant. Inside, white, black and gold are featured in a sophisticated contemporary décor. A massive wine rack stretches across the length of one wall; views to river are enjoyed from a large picture window along another.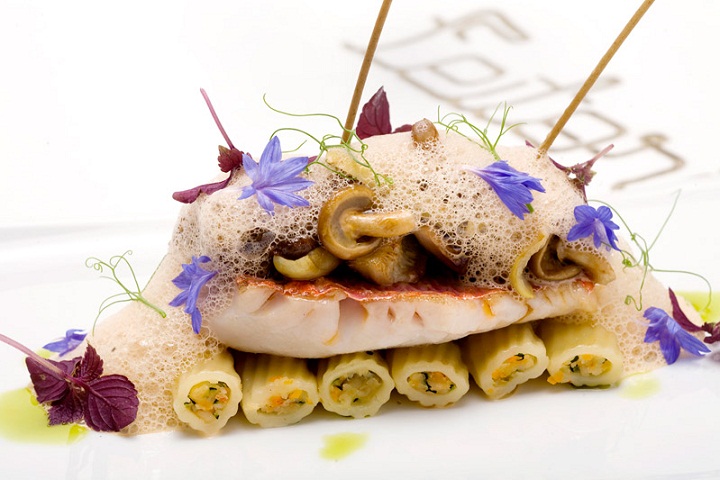 Chef João Rodrigues changes Feitoria's menu twice a year. Among this season's creative menu of innovative dishes, we found these highlights:
Octopus salad with its own roe, tomato and coriander water, seaweed and miso vinaigrette
Lobsters with white and green asparagus and small piglet crackling
Fake shrimp ravioli, smoked tuna and coriander consommé with lotus and jasmine
Monkfish confit in black olive oil and lemon scented verbena, liver terrine and cockle's corn starch. Spirals of squash. Black salt.
Red mullet and scarlet shrimp monochrome with organic beets and strawberries
Sole 62°C crusted with fresh herbs, seasonal vegetables and "Verde" wine sauce
Saddle of rabbit with mashed carrots, rabbit leg comfit with parsley purée, wheat cream and baby broad beans
Mirandesa veal rib with potato and Terrincho cheese dome, sautéed vegetables
Pork Alentejo Tasting: tenderloin with artichokes, nectarines and stewed feet, puffed cheeks and crispy belly with pumpkin puree
Seven apple textures
Vanilla and lavender parfait stuffed with apricot coulee, "pèche of vigne" ice-cream and fresh apricots salad
Almonds and coconut pie with citrus, "Azeitão" swiss roll and sponge cake with pumpkin cream cheese and honey ice cream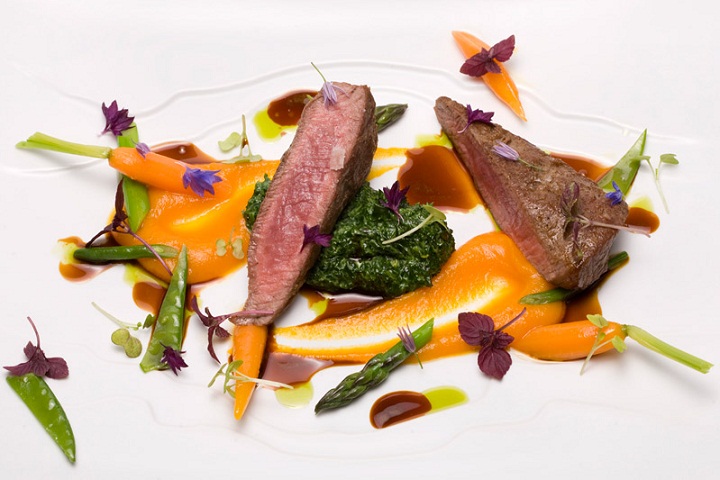 Tasting menus are also available with four courses for €70, or five courses for €90, and seafood menu for €125.000
It's not all about haute-cuisine at Feirtoria! There's also haute waters! The water menu features Portuguese brands, but also lists waters from as far away as Russian, Argentina, New Zealand and Japan.
Olive oils are celebrated too. Choose from a list of regional productions. Tastings of three and six varieties are available for groups of six making advance reservations.
For more information and to make reservations, visit the Feitoria website.
Feitoria Restaurante & Wine Bar
Altis Belém Hotel & Spa
Doca do Bom Sucesso
Lisbon
Phone: +351 210 400 200 or +351 210 400 207
Email: reservations@altisbelemhotel.com
Hours: Tuesday to Saturday – 12:30 – 15:00 and 19:30 – 23:00