The super-fun and always-popular FIESA – International Festival of Sand Sculptures returns to Pêra in the central Algarve for another fabulous summer season. 40 thousand tons of sand is sculpted into iconic legends and humorous characters, sitting under the summer sun, as well as illuminated in the twilight skies. The outdoor event runs from 25 May to 25 October 2014.
————————————————–



————————————————–
Last year, the Music theme was so popular, festival organizers decided to create a sequel. Music II is the theme for 2014, adding new sculptures of recognizable personalities as well as restoring some of the most significant musical figures from the last year.
Over a hundred different sand sculpture scenes referring to music of various cultures and eras are laid out across an area of 15,000 m2 .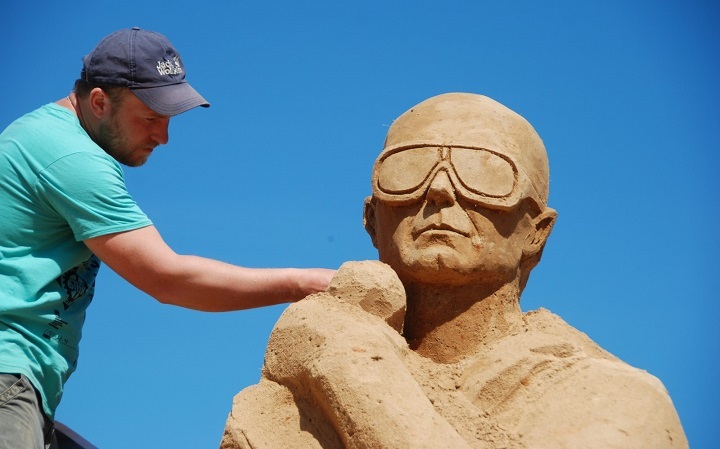 (Above: Pedro Abrunhosa gets a touch-up.)
This year, Portuguese musicians are featured.  Fans of Xutos e Pontapés, Mariza, Tony Carreira, Maria João, Pedro Abrunhosa, and the Spanish flamenco guitarist Paco de Lucia, will be delighted.  Also on display is a special sculpture celebrating the 400th anniversary of the publication of  Peregrinação by Fernão Mendes Pinto.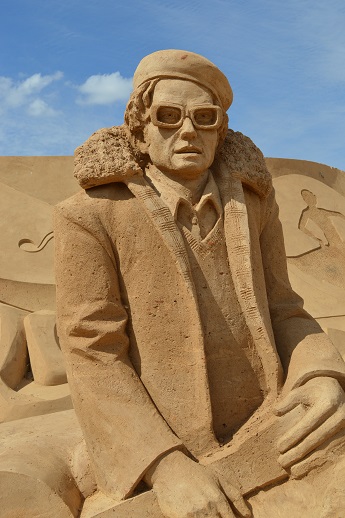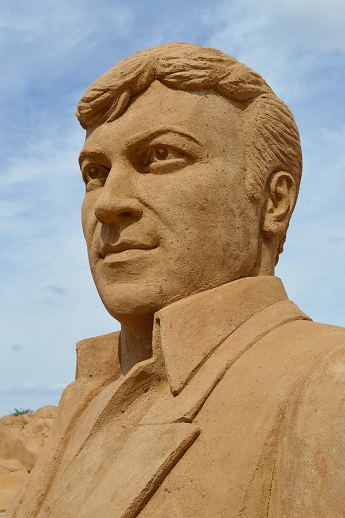 (Above left: Zeca Afonso, Above Right: Tony Carreira)
FIESA is considered one of the greatest sand sculpture events in the world.
For more information, visit the Fiesa 2014 website.
Fiesa Festival of Sand Sculpture
On the M524 between Pêra and Algoz
Pêra
Algarve
Click here to see FIESA 2014 on Google Maps
Reservations & Information:
Phone: +351 282 317 084
Mobile: +351 969 459 259
Email: fiesa@prosandart.com
Hours:
25 May to 27 June – 10:00 to 22:00
28 June to 15 September – 10:00 to 24:00
16 September to 25 October – 10:00 to 20:00
Tickets:
Kids up to age 5: Free.
Kids from 6 to 12 Years: € 4.50
Adults: € 9:00
Adults over 65 years: 15% discount
See past sand sculptures events:
FIESA 2013 – Festival of Sand Sculpture in Algarve
FIESA 2011- Sand Sculpture Festival in Pera, Algarve