Frida Cocina Mestiza is a delightful Mexican treat in the Miguel Bombarda Arts District of Porto. Like the quirky 20th century artist the restaurant is named after, the cuisine prepared at Frida is beautiful, original and multidimensional. Don't expect to find Tex-Mex here. Rather, Mexican native and proprietor Soledad delivers contemporary fine dining dishes based on old family recipes.
--------------------------------------------------
--------------------------------------------------
Inside Frida, the atmosphere has a cool lounge vibe, with curved leather couches acting as banquette seating and Spanish-language newspaper covering the wall. Indirect lighting from floor lamps provides a sense of coziness and comfort. A shelving unit near the back is both a shrine to Frida Kahlo and a tequileria, featuring many premium imported bottles of the blue agave spirit.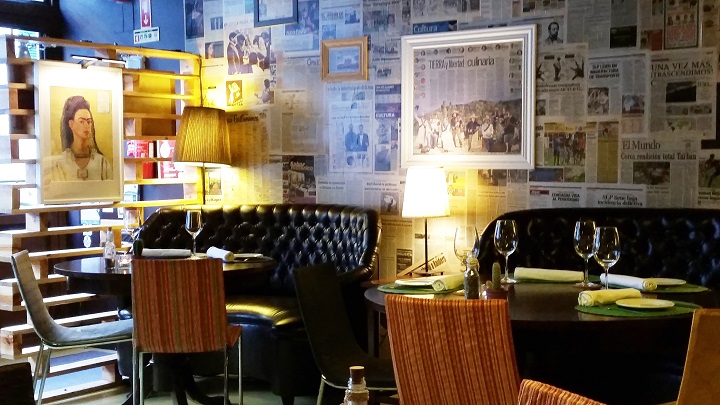 A Mexican food enthusiast might recognize many of the dishes on the menu, such as guacamole, tacos and tamales. However, it is with very special innovation and a true Mexican soul that transforms the dishes into something special. Some of the highlights from the menu include:
■ Sea Bass Ceviche
■ Three Pork Taquitos, with a choice of sauces
■ Queso Fundido, baked cheese with spicy sausage and spread in a soft flour tortilla
■ Chile en Nogada, poblano pepper stuffed with succulent meat, cream and tomatoes
■ Rajas con Queso Tamale, poblano pepper and cheese wrapped in cornmeal bead, served with black beans and fried banana
■ Pescado Tatemado, fish filet, seasoned with herbs and a cornmeal crust
■ Carlota de Lima, tart lime cream on a cookie crust
■ Pastel Impossible, a chocolate base and thick creamy pudding together
Don't forget to order a margarita! They are the best we've had on this side of the Atlantic.
For more information, visit the Frida Cocina Mestiza website.
Frida Cocina Mestiza
Rua Adolfo Casais Monteiro, 135
(Miguel Bombarda Arts District)
Porto
Phone: +351 226 062 286
Email:  info@cocinamestiza.pt
Hours:
Wednesday to Friday – 20:00 to 24:00
Saturday & Sunday – 13:00 to 15:00 and 20:00 to 24:00