Let's face it, a fireplace elicits a plethora of feel-good emotions.  It is cozy and comfortable on long winter nights.  It is warm and welcoming when stepping in from the rain.  It is sexy and sizzling for those hot intimate moments.  It's no wonder a fireplace is the focal point of any room.  And now, a Portuguese company has designed a new line of fireplaces that not only evoke these same emotions, but are also stand-alone works of art….and eco-friendly too!
--------------------------------------------------
--------------------------------------------------
Monção-based Group Pachinha has a long history of producing and distributing fireplaces.  Their market is Portugal and the world.  However, they saw their customer's needs changing.  Homes being built are modern and sustainable.  Traditional wood-burning fireplaces are not a good match.  So, in 2008, the company signed up Frenchman Marcelo Inacio to develop the Glamm Fire line.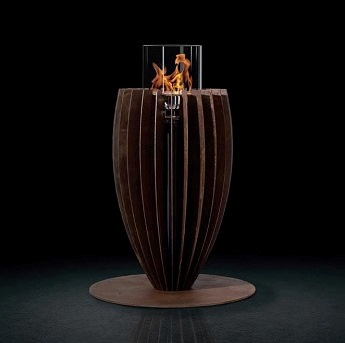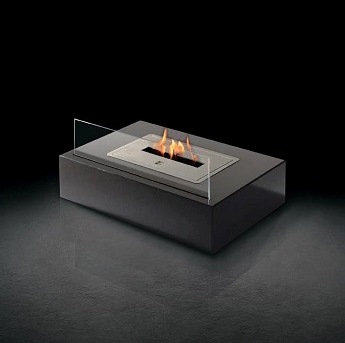 (left) Glamm Tull (right) Glamm Retro
Inacio first embraced fire at the combustible age of 16.  He passionately promoted fireplaces and heat stoves from France, Italy and Holland to the Portuguese market.  Working with Pachinha, Inacio designed and launched the Glamm Fire range.  As the name suggests, the collection of indoor and outdoor fireplaces exude modern glamour, quality, functionality and ecology.
Forget about chopped wood.  These fireplaces burn ethanol.  Ethanol is a fuel compound made of natural products (such as grain cereals or corn).  It is biodegradable and soluble in water.  It is clean burning and does not give off an odor.  Used in Glamm Fire products, two liters of ethanol will heat for 6 hours.  (Ethanol fuel can be purchased at fireplace distributors.)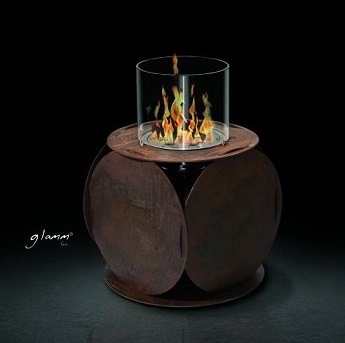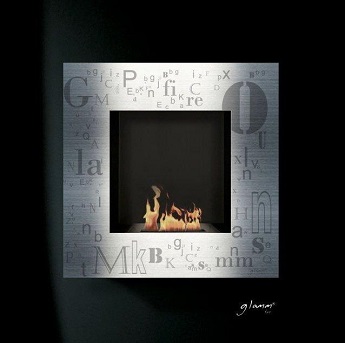 (left) Glamm Lira (right) Glamm Lotus IV
The Glamm Fire line is quite diverse and innovative in its design.  A minimal wall unit comes in a variety of finishes from rough bronze to polished chrome.  Fire pits are the focus of coffee tables.  Imagine one in front of the couch, with a built in champagne bucket on the side.  Some small fire products float in the pool.  And others are stand alone works of art unto themselves.  Prices for these very special designer pieces range from about €2,700-6,700.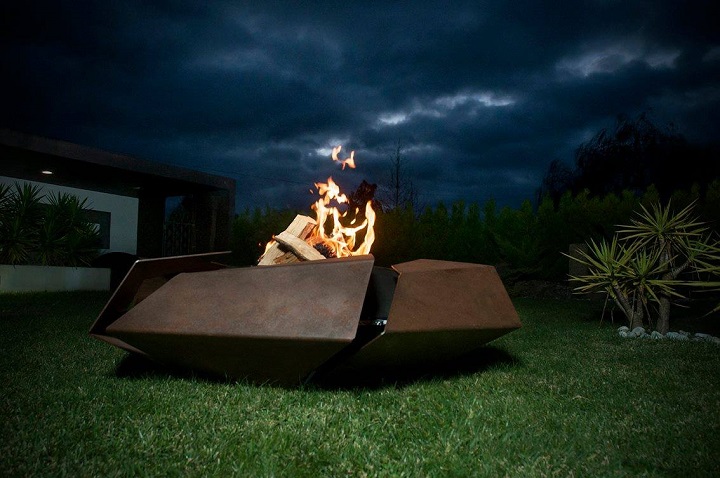 To learn more, visit the Glamm Fire website.  Lereiras Pachinha are exclusive distributors for Glamm Fire.  To shop online, visit the Pachinha website.


Lereiras Pachinhas
Parque Industrial da Lagoa
Monção
Portugal
Email:  info@glammfire.com
Phone:  +351 251 654 800