In Japanese, Góshò is "Imperial Palace." In Porto, Góshò is a fabulous trendy restaurant for those who adore sushi and Japanese fusion cuisine. Located in the Hotel Porto Palácio, this minimalist and contemporary restaurant is a feast for your eyes as well as your appetite.
In a city rich in traditional Portuguese culture, Góshò is certainly a stand out. In fact, the owners take pride in their uniqueness, boasting a number of "firsts" for the competitive restaurant scene. Góshò is the first restaurant to feature teppan tables (guest tables with built in grill and exhaust). They were the first in Portugal to serve draft Japanese beer, as well as Nesperesso coffee. It is also the only restaurantin Porto certified to serve Barrosã Beef. (Barrosã is a specific breed of Portuguese cattle, with each animal strictly regulated and designated Denominação de Origem Protegida.)
————————————————–



————————————————–
Inside, the design is hip and sophisticated, characteristic of modern Japan. ANC Arquitectos of Porto, together with consultant Haruo Morishima, have created a wide open space, surrounded by dark walls, with the center dining area awash in whites and beiges. A curtain of net circles the dining area, creating the sense of separation from the bar and walkways, yet maintaining a transparency across the vast room. Portuguese fashion designer Katty Xiomara offers her hand at creating unique and beautiful uniforms for the wait staff.
As for the meal, you have many options. The menu offers a large selection of starters that can be eaten "tapas style". Of course, there are beautifully-prepared traditional Japanese dishes including sushi, sashimi, tempuras and teppan yaki (grilled at the table). Yet, chef Paulo Morais, also has some surprises in mind, fusing Japanese with Portuguese and other international flavors. Some highlights from the menu include:
Sake shot with oyster and lime
Grilled pumpkin ravioli with roasted cashews and citrus sauce
Shrimp and vegetable spring rolls
Grilled pork salteado with ginger
Grilled beef barrosã DOP with salt grass
Chicken ravioli with citrus sauce
Crème brulee trilogy of ginger, plum and sesame
Green tea tiramisu
If you can't make up your mind on menu selections, there are four tasting menus available, ranging in price from €25 to €40.
There's also a very cool lounge area to sit and enjoy signature cocktails. You may also order tapas and sushi here, if you and your friends prefer to nosh at the bar.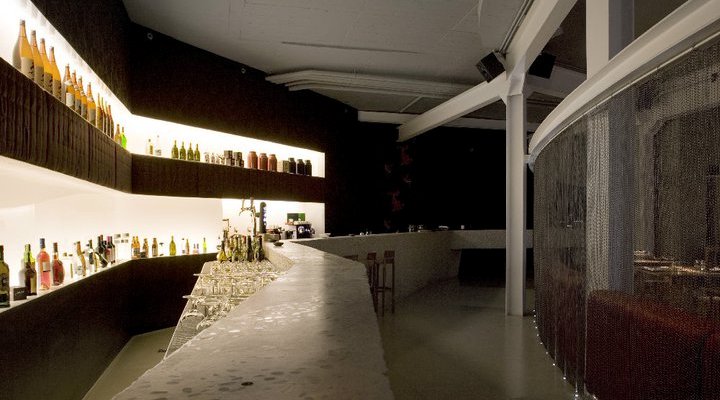 To learn more, visit the Góshò website.
Góshò
Hotel Porto Palácio
Avenida da Boavista, 1277
4100-130 Porto
Phone: +351 226 086 708
Email: geral@gosho.pt
Hours:
Monday through Friday – 12:00 to 15:00, and 19:00 to 23:00
Saturday – 12:30 to 15:00, and 19:30 to 00:30
Closed Sunday
Photo credits:
Architecture images by Fernando Guerra
Food Images by Javier Lastras