El Corte Inglés in Lisbon creates their own signature gourmet food hall with the opening of the Gourmet Experience. The seventh floor of the massive department store is now dedicated to many facets of gastronomy. Top names include Portuguese chefs José Avillez, Kiko Martins and Henrique Sá Pessoa, Mexican Roberto Ruiz, and Spanish Pepe Solla and Aitor Ansorena, along with famous brands Godiva, Landeau, Alcoa, Dammann and Nannarella.
--------------------------------------------------
--------------------------------------------------
There are 17 spaces spread across 5000 square meters. An outside terrace adds another 1000 square meters as well as spectacular views of the city.
New gourmet experiences, not yet seen in Lisbon, are also here, including vegetarian cuisine by José Avillez, Hawaiian dishes by Kiko Martins, and the flavors of Mexico by Roberto Ruiz.
The full Gourmet Experience features…
TASCA CHIC
José Avillez creates modern versions of traditional Portuguese tasca dishes.
JACARÉ
José Avillez serves up salads and vegetable plates in this space dedicated to vegetarian cuisine.
BALCÁO
Henrique Sá Pessoa reimagines traditional dishes from Portuguese tabernas.
O POKE
Go Hawaiian and Asian with Kiko Martins!
BARRA CASCABEL
Flavors of Mexico by Roberto Ruiz, with the support of Grupo José Avillez.
ATLÂNTICO
Pepe Solla offers the taste of the sea with flavors from native Galicia.
IMANOL
Imanol, featuring Basque cuisine of pintxos, tapa and parrilla, is already a success in Spain. Spanish chef Aitor Ansorena opens first branch in Portugal.
CLUB DEL GOURMET
Everyone's favorite gourmet shop with over 4000 rare products from around the world.
GODIVA
A boutique by the the famous Belgian chocolatier.
LANDEAU
A new location for the addictive chocolate of Portuguese Sofia Landeau.
NANNARELLA
Artisanal Italian gelato, made with care using the finest ingredients.
LA GONDOLA
Traditional Portuguese canned fish goes contemporary.
DAMMANN
Dedicated to the fine art of tea!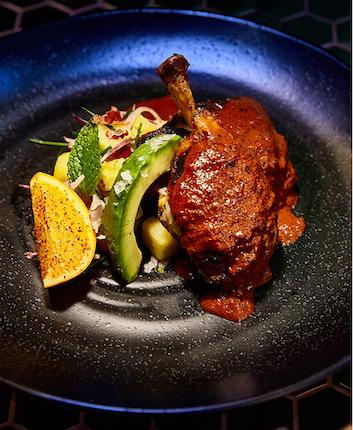 (left) Roberto Ruiz's Barra Cascabel (right) tea service from Dammann
THE WINE BAR
Taste fine wines and champagne by the glass,. Accompany with rare cheeses and hams.
THE G BAR
Cocktails, fine spirits and beers will quench your thirst and uplift your mood.
ALCOA
Traditional sweets from the convents are lifted to high-end decadent treats.
CIGAR WORLD
A selection of hand-rolled cigars from the world's best producers.
For more information, visit the Gourmet Experience website.
El Corte Inglés
Seventh Floor
Av. António Augusto de Aguiar 31
Lisbon
El Corte Ingles is open everyday 10:00 to 23:30
Photos Copyright: El Corte Inglés