The team at Grand' Arte, a popular event management company, say the key ingredients to their new project are good quality food, cozy environment, great atmosphere and friendly service. Indeed, Grei – Comida do Sul, is a traditional Mediterranean and Portuguese restaurant offering innovative cuisine in a tidy contemporary package. Grei is open for lunch and dinner at Rua Rodrigo da Fonseca, 87 D, in Lisbon.
--------------------------------------------------
--------------------------------------------------
Inside, Grei has three distinct areas designed with contemporary fixtures, mirrored walls, an illuminated bar and a striking three-dimensional wall feature flowing from room-to-room. On the ground level, floor to ceiling windows allow large swaths of sunlight into the room and provide generous views of city life passing by outside. On the opposite wall, a large picture window offers a glimpse directly into the active kitchen. Additional dining areas on lower and upper levels allow for more intimate dining, or private space for small groups.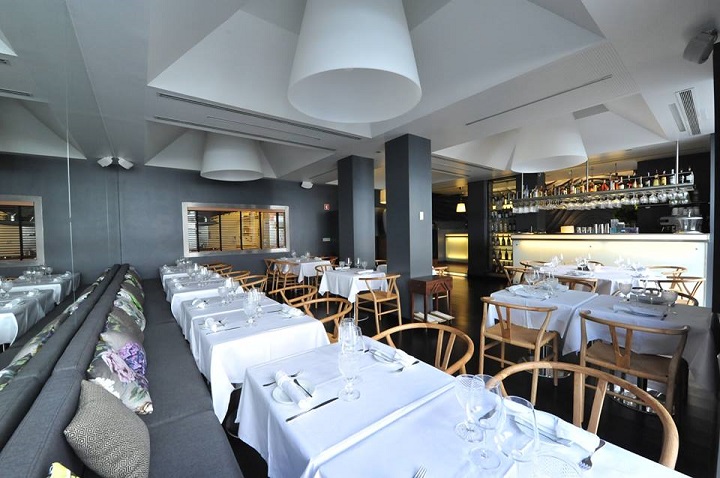 Leading the kitchen is Executive Chef Luís Rodrigues. Through his extensive experience, he admits, "it was not me who chose the kitchen; it was the kitchen that chose me." Fortunately for Rodrigues, he has been called to work in kitchens such as Sem Maneiras in cascais, the Penha Longo Resort in Sintra, Flores at Bairro Alto Hotel and Populi. He has also worked beside such acclaimed chefs as José Avillez, Ljubomir Stanisic, Sergi Arola and Peter Zampaglione.
At Grei, Rodrigues focuses on Mediterranean cuisine, with a strong Portuguese influence. Only the best quality and freshest products are utilized: fresh tuna or veal from the Azores; sausages (enchidos) from Vinhais; lanb from Beira Baixa, pork from Alentejo, fresh coastal fish; and Mertolonga and Barrosã beef. Each dish is prepared simply, with great thought given to tradition, while adding a slight contemporary variation to create a unique dining experience.
Some highlights from the current menu include:
■ Goat cheese from Granja do Sr. Adolfo gratin with rosemary, green apples and hazelnuts
■ Presunto, with fresh tomato cream and toasted bread
■ Veal carpaccio with mustard, crispy chouriço Boleteiro and arugula
■ Baked grouper in patanisca crust with fragateira (fish stew)
■ Bacalhau (cod) risotto with duck bouillon
■ Pasture lamb crown with fried polenta and spinach
■ Azorean veal loaf with colored potatoes in olive oil, shallot and garlic confit.
■ Vanilla creme brulée
■ Chocolate ingot in a salad of red berries
■ Chocolate mousse with praline and Galo Grande Reserva olive oil
(left) Carpaccio of the sea with peas and lemon, (right) Chef Luís Rodrigues
For lunch, chef Rodrigues prepares a weekly menu at very reasonable prices. At dinner, choose from the a la carte menu of pastas, fish and meats, or try a selection of delicacies by ordering the tasting menu.
Prices range from €12-35 per person.
For more information, visit the Grei Facebook page.
Grei
Rua Rodrigo da Fonseca, 87 D
1250-194 Lisbon, Portugal
Phone: +351 213 861 760
Mobile: +351 962 269 136
Email: info@grupograndarte.com
Hours:
Monday to Friday – 12:00 to 15:00 and 20:00 to 24:00
Saturday & Holidays – 20:00 to 24:00