Economy got you down? Budget too tight to allow for a night of fine dining? Fear not! Renowned chef Olivier comes to the rescue. Guilty by Olivier is now open in Lisbon. It is a prescription for the bailout blues…and it is sure to please your palate.
--------------------------------------------------
--------------------------------------------------
In recent years, Olivier da Costa has become a "rockstar of cuisine" in Portugal with highly-lauded and extremely popular restaurants Olivier, Olivier Avenida, and Yakuza in Lisbon, and Longevity by Olivier in the Algarve. He now turns his attention to feel good food. And, indeed, it is a guilty pleasure.
The concept of Guilty has been in development in the last year. The goal is to create casual food with a twist. So, research was done by looking at what dishes are popular in London, New York and São Paulo…and then adding Olivier's special touch. The result is a menu of salads, burgers, pizzas and pastas, with the same quality and innovation you expect from Olivier, targeted to a wider audience and easier on the wallet.  Some highlights of the menu include:
Pizza dough rolls with black truffles, ham and cheese
Mediterranean plate of arugula, cherry tomatoes, selection of cured meats, and parmesan and mozzarella cheeses
Papardelle with leitão (piglet) and snow peas
Pasta with pesto, ratatouille and parmesan
Spicy sausage pizza, onion and sea salt
Guilty Burger made with bacon, onion, cheddar cheese and topped with fried egg
Italian Burger with gorgonzola and Portobello mushrooms
For the end of the meal, Olivier has another surprise planned. On the list of desserts is his version of a tropical samosa. It is a fried pastry stuffed with banana and pineapple, with white chocolate, yogurt, coconut and mint.
The ambiance of Guilty is also casual and inviting. Although the space is brand new, it has the feel of a very comfortable old lounge. One wall is completely covered with panels from wooden wine crates. Cowhides are strewn across the bare floor. Large stuffed leather couches are used both as banquettes as well as bench seating at wooden tables. Metal folding chairs also add a bit of whimsy to the casual nature of the restaurant. The kitchen, with two massive pizza ovens, is open to the dining room, increasing the relaxed relationship of food to guests.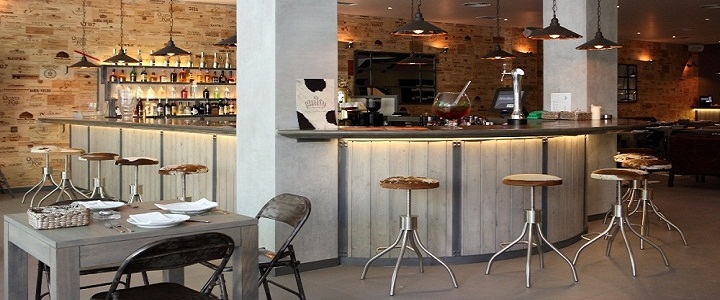 Guilty hopes to become a regular spot to stop for drinks after work, or a before going out on the Lisbon nightclub scene. Therefore, a semi-circular bar has been incorporated into the design.  It is a focal point for the social atmosphere of the space. In the evenings, DJs will spin tracks to keep the mood lively. A full agenda of happy hours and themed nights are being planned.
Guilty is on Rua Barata Salgueiro, right off Avenida Liberdade, and right around the corner from the Tivoli Lisbon.
Rua Barata Salgueiro, 28 A
Lisbon
Phone. +351 211 913 590
Hours:
Lunch Monday to Sunday – 12:00 to 15:00
Dinner Monday to Satruday – 19:30 to 24:00
Prices: €5-9 for starters, €12-18 for principal plates