Our friends at Casavostra know how to make us happy at Portugal Confidential…through our stomachs! Their Pizzaria Casavostra is one of the coolest restaurants serving the tastiest pizzas in the Algarve. Now, they've gone and tempted us again…with burgers! Their new venue, Hamburgueria Casavostra has opened in Almancil, and it is quickly becoming the popular spot for trendy home-cooking.
--------------------------------------------------
--------------------------------------------------
As they say themselves, Hamburgueria Casavostra is intended to be: local, not global; manual, not automatic; and good food, not fast food. Everything about the restaurant is meant as a good home cooked meal. Cuisine is burgers, salads, specialty items, ice creams and baked goods made just like mom would make them. The décor is equally domestic, with bookshelves, picture frames and culinary objects adorning the walls. Simple wooden tables means the focus of eating at Hamburgueria Casavostra is all on the plate.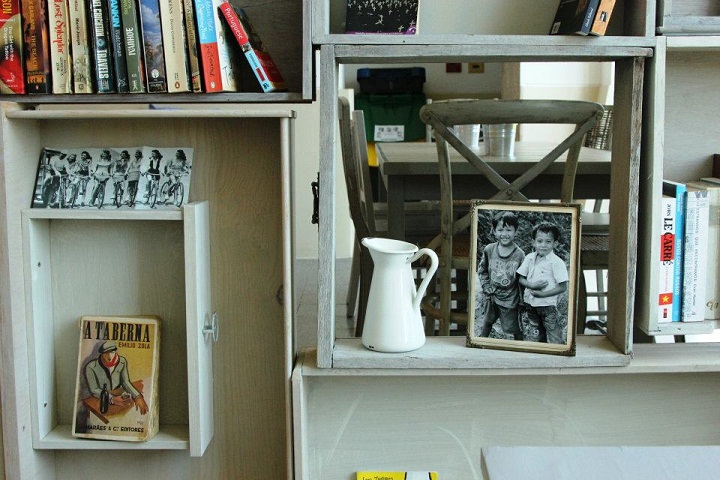 Burger lovers will be in heaven. The menu is full of beef patty delights: Classic Burger with cheddar cheese; Cuernavaca (beef and chili sauce); Alentejo (beef with black pudding sausage); Capri (beef with fresh tomato, basil & olive); Goa (black beans, tofu and shitake mushrooms); or our personal favorite, the New Yorker (beef burger with cheddar cheese, bacon, fried onion and free range fried egg). For something different, choose a Codfish Burger made from an "açorda" of mashed bread, codfish, garlic, coriander and olive oil. Burgers range in price from €7.40 to 12.00.
Salmon Tartare (left), Classic Burger (right)
If a hamburger sounds too filling, Hamburgueria Casavostra has several great "snacks" such as Pica Pau, mini-burgers sautéed in olive oil, bay leaf and garlic (€9.25), and Falafel vegetarian croquettes with tartar sauce (5.45). Everyone will want some Casavostra Fries, which are potato wedges with skin-on, sprinkled with sea salt and rosemary (€3.00).
To complete this experience of happy home cooking, Hamburgueria Casavostra has a "Sweets Department" filled with artisan ice creams and homemade cupcakes. Yum!
For more information, visit the Hamburgueria Casavostra website.
Hamburgueria Casavostra
Avenida 5 Outubro, 360
8135-103 Almancil
Algarve
Phone: +351 289 391 104
Email: info@hamburgueriacasavostra.com
Reservations: reservas@hamburgueriacasavostra.com
Hours:
Tuesday to Saturday – 12:30 to 15:30 and 18:30 to 23:00
Sunday – 13:00 to 21:00
July, August: Everyday – 12:00 to 24:00