If you've spent any time at all in Portugal, you've encountered Herman José. For the last four decades, Herman has entertained Portuguese populations around the world through television, film, radio, publishing and live shows. He has written cookbooks and recorded Christmas CDs. His television shows are always funny, and often controversial, which is what makes Herman an intriguing personality indeed.
Herman José is the product of a German father and Portuguese mother. Raised in Lisbon, he attended German school. It is here as a teenager that he picked up a bass guitar with the dream of becoming a musician and composer.
In 1974, he joined the ensemble, In-Clave, and made an appearance on the television program No Tempo Em Que Você Nasceu (In the Time that You Were Born). This was soon followed by another gig on Uma No Cravo, Outra Na Ditadura alongside a cast of television actors that included TV legend Nicolau Breyner. Breyner took a liking to Herman, and soon they were starring together in comedy sketches as "Mr. Happy & Mr. Content." Herman received critical acclaim and popular admiration. His career as a comedian was launched.
—————————————————–
[ad name="Google Adsense Image Banner for Posts "]
—————————————————–
For years to come, Herman dominated Portuguese television with numerous television series. Comedy review programs such as O Tal Canal (1983), Hermanias (1984), Humor de Perdição (1987) and Herman Encyclopedia (1997) endeared him to audiences, sometimes even causing controversy with comments about Catholicism or politics. His talk shows, Parabens (1993), Herman 98 (1998), and Herman SIC (2000) were similarly entertaining due to interesting guests and a liberal use of sexual innuendo.  Herman has also hosted game shows, such as Wheel of Fortune and Com a Verdade Me Enganas (You Fool Me with the Truth).
Among his many accolades, in 1992, Herman was awarded the prestigious title of "Comendador" by the President of the Portuguese Republic, a recognition similar to being bestowed a knight by the Queen of England.
Although only 170cm in stature, his presence is grand. He is wildly outspoken, and Portugal Confidential discovered this first hand….
You´re a very popular guy…I see you when I turn on the TV.  I see you on CDs when I go into FNAC.  And, I see your books when I walk into the post office.  Is it fair to say you are more popular in Portugal than Prime Minister José Socrates? 
Well, I use to be. (He says, chuckling.) In the ´90s, I was the most popular guy in Portugal. I sure was. Then the same thing happened to me that happened to Mubarak. When someone stays in power too long, there are always people that say, "now that's enough. We can't stand him anymore." Then comes a downfall that you have to cope with knowing that after a while we climb again if we have the stamina, the patience, the resilience, and of course, the hard work. I am regaining my place as a Portuguese singer, entertainer, TV host. But, these past six or seven years haven't been easy.
And that's because José Socrates stole the limelight?
Hahaha. Yes, nowadays you can't say nice things about José Socrates because it would be politically incorrect.  I like the man.  I might be one of the last human beings to admit I like him, but I can't say this in a very loud voice.
Hmm, maybe we shouldn't get too political right now.
(Laughing)
Back to you, what characteristics would you say you have that sets you apart from others on TV?
When I was young and started my career, Portuguese comedians and comedy didn't make me laugh. It sounded stale to me. Very old fashioned. The only ones that made me laugh were Americans and British. Originally, I loved Benny Hill. Monty Python, of course. And in the States, I have several names that I adore: a lovely old comedienne named Phyllis Diller, the first female stand-up comedian in the States; Carol Burnett, of course; Tracey Ullman; Joan Rivers; and, Kathy Griffith, who usually steals all the work from Joan Rivers now! So, all my references were from the States and Britain. My first show that I wrote, many of the things were adaptations of Saturday Night Live or Benny Hill. I tried to bring a whole new comedy language. That's why I was such a hit in the ´80´s; because no one was doing that style of comedy that young people seemed to love.
And did you start that from the beginning? What was it like the first time you were on TV?
I started as a musician and back-up vocal, but then I came to realize that through music I couldn't have a life.  So, I started acting, doing little sketches on TV and people noticed me.  I had a very quick upward career in the late '70's. Television didn't pay very much money but the live shows did.  y independence I gained from the road. I got my first apartment and car doing one-night stands.  Curiously enough, almost 40 years later, it's what I am doing again.  Except I have the enormous pleasure of doing it.   When I was young I didn't appreciate it much, standing in front of a live audience.
It seems like you can do it all. Portugal Confidential has been to your show.  You sing, act, play instruments, write.  Is there something you would like to try that you haven't done yet?
No.   My problem is that there are some things that I could do better if I worked harder, such as playing the guitar or the piano.  I think having these talents is one of the ways you have to avoid the problems of aging. As an entertainer, when you age, you lose that charm that people in their 20's and 30's have: everything is funny, everything is nice and everything is cute. You compensate for that lack of freshness with something more artistic.  And so in my show, I start playing when I sense something is weak or is in need a bit of good taste.  And it helps pull me apart from all the others.
Curiously enough, all the guys that have long careers like Don Rickles or George Burns or others, have an obsessive fight against the stuff that's cool.  They needed to do more things differently and surprise audiences.  George Burns in the '90's still sang and smoked his cigar.  When he died at almost 100 years old, he had 36 shows booked.
These are my role models. They kept working.  I don't want to retire.  I think the day I retire I will die of sadness.  I love doing nothing, of course.  I take some time off after working for several days.  However, if I stop too long and do nothing, life doesn't have any meaning for me.
In your comedy routines, you play an extensive cast of characters.  Is there one character that is your alter ego?
They almost all are, strangely enough.  I have one character from the north that talks about football and says things that I could never say.  I have another guy, he's a censor.  He's a sex maniac.  He censors everything everybody says, but has situations that are very much dirty… He's very Portuguese.  I enjoy doing a very female character, who also says things and does things that I could never do.  I have two singers.  One is completely kitch; the other one is an immigrant from South America, full of blings and Swarovski crystals.  Through all of those characters, I can more or less say and do anything I want.
Is there a character which surprised you by becoming more popular with the audience than you expected?
Yes, my first character in '80-'81, that singer from Venezuela, who comes to Portugal and sings in English.  Why this Spanish character has to sing and tells jokes in English is very, very funny.  I got the inspiration from my grandmother who was Spanish and thought she could speak English and Portuguese which, of course, she couldn´t.  What she does is say the words with a Spanish accent, which is very, very laughable.
Besides the character work, you've had successful talk shows. You sat down and spoke to some very interesting people.
Yes on the private channel, we had incredible guests: Ricky Martin, Julio Iglesias, Diana Krall, Anastacia, Sting. I laughed with them. I played with them and sang with them. It was a very nice phase that lasted for about three years.
And things changed. The channel changed. Respect for my show changed. If you are a performer…and they mistreat you, you begin to shrink.  Like Conan O'Brian, for example, at NBC.  The jokes are no longer jokes.  His face was the image of defeat. And it was very cruel to see, because as performers, we work like sun reflectors.  We get energy from the public or our fans. Through our material we become someone important. If we don't have energy to charge our batteries, we turn into small people.
With your talk shows, was there anyone you interviewed who impressed you more than you expected?
Yes, several. Elton John impressed me very much.  Very smart.  Very sharp. Dominating.  I know it sounds strange, but very "butch" even.  He is in charge.
The best of all is Sting, because the way he leads his life makes you very envious. He has homes all over the world.  He has a lovely apartment in New York, and a lovely house on the beach in Miami where he plays and records music with his band.  And a lovely house in Tuscany, which is breathtaking.  He has a manor house in England.  He works hard to keep everything comfortable and to pay for everything.  He lives life to the fullest.   And he manages to keep a steady marriage with his wife, Trudie Styler. When you get together with them, they are always joking, talking to one another, kissing, hugging.  After all these years of marriage, it's incredible.   And he still has time to go to his neighbor, Miuccia Prada, who makes special private label clothes just for him.  He has his own production of vegetables. He does this vegetarian pizza made with only things that he grows.  It's very impressive.  He's larger than life.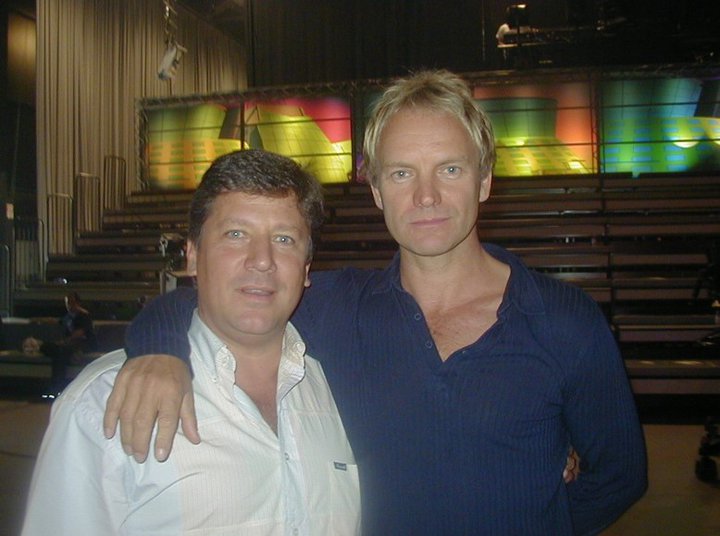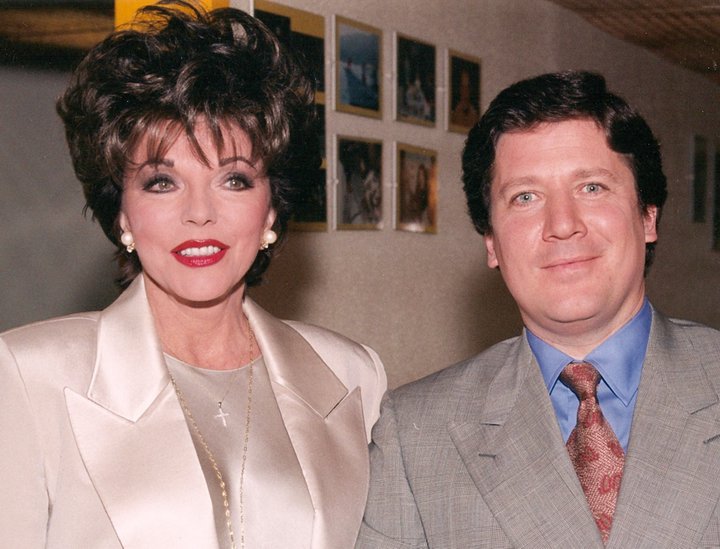 And, there has to be someone who, you were shocked to discover, did not live up to their publicity?
Yes, I hated Joan Collins. I thought she was a diva.  She was like an old Barbie with endless Duracell batteries. She worked very much. She has lots of money. But she is not a very nice person.  When she came to Portugal, I had a Rolls Royce at the time. I got my chauffer and went to the airport to fetch her.  In the back of the car, when she saw the traffic, she said, "Where the f*** are we, India?" (laughing)  It was not a very nice thing to say.
Actually, there was worse. Cher.  Cher was the worst experience that I had.  A money making machine.  Where is the hotel? Do we have a suite.  Who pays? How many minutes do I perform?  When are we going away?  And, she didn't want to participate in the show.  I had lovely guests at the time too. Christopher Lee, Carrie Fisher, Tony Bennett, she wasn't the least interested. It's just a matter of "give me the money and let me go because I have things to do. "  It was, perhaps, the worst.
How do you consider the public's view on "celebrity" in Portugal, compared to your impressions of "celebrity" in the US or UK?
It's really a question of size. We have the population of a small cadre of states. We are so local. To be completely honest, when I go abroad and interact with other comedians or act as part of a show, I'm shy at first, of course, because no one knows where I come from or who I am. Where is Portugal? Or perhaps they now know because of Cristiano Ronaldo. Truly, half an hour later, I begin to become the center for attention. I know I have the material and the talent to have the best career in a big country if I had time. I say that—I know it sounds not very modest, but I feel that.
A strange thing happened in 1991.  I was doing Wheel of Fortune here.  I went to a function for the producers of the show.  When I arrived there, Merv Griffin (the executive producer at the time) immediately fell in love with me.  Not technically.  I tap danced on the wheel. I sung opera. I said the most stupid things. Vanna White loved me. During this time, Pat Sajak (the host of the U.S. edition of the program) went away and was not seen for the rest of the week.  Merv wanted to invite me to substitute for him, but Sajak protested.  He said, "if this guy comes…I go."  Usually when I tell this story, people look at me with the expression of (acting in a manner of disbelief) "oh yeah, yes of course, and I'm Marie Antoinette." People don't believe me.  If I wasn't there, I wouldn´t believe it myself. But fortunately, I have a witness: a female host that went with me that was completely flabbergasted with my success there. So, in Portugal, I feel like I am the funniest guy in my little street.
—————————————————–
[ad name="Google Adsense Image Banner for Posts "]
—————————————————–
Now I have a role playing situation for you. Imagine that you are sitting in the offices of Portugal Confidential Studios.  I tell you that we are making a theatrical film on the life of Herman José.  It will be full of song and dance…and it will make you laugh and make you cry.  We have already decided who we want to cast, but we want to give you the courtesy of offering suggestions.  So, Herman, who should play you in the Herman José movie?
Um, that's a question that nobody has ever asked me before.  It's a very good question.  Someone in between Robin Williams and Jim Carey.  It's not an easy task. I think Robin Williams would do it nicely.  Or, Jerry Lewis because he sings too.  Maybe a mixture of those three.
Thank you for your comment.  I'll tell you who we decided to cast. For the early days of your career, we think you should be played by João Manzarra.
Uh-huh.
And for the breadth of your career, we want to hire Ricky Gervais.  What do you think about this casting?
Ah, yes.  Very good, yes.  Good choice.  Especially Ricky. Manzarra is a bit too little for my taste…but I was too, so that's OK.  Gervais is a very nice choice.
Another hypothetical for you, Herman. Portugal Confidential has been talking with Julian Assange of Wikileaks.  He says that he's going to release documents about you.  Do you know what could be in that material?
Well, if it's done by Julian Assange, I'm very calm, cool and collected, because I can assume most of the things to be true.
The problem is when someone in Portugal tries to do the same things with lies.  It has happened to me 10 or 30 times already.  The Portuguese justice system is far more dangerous than 10 Julian Assanges.
(Laughing) I don't know if I am going to print that.  So you're telling me everything about Herman has already been released.
No. Not everything is out….but nothing much has happened really. So, it would not be very nice to have people who were in my life to have their privacy invaded. Everything that has happened in my life has been so normal. I don't do coke. I don't like prostitution. I'm not a pedophile. I don't have vices. I had once. I smoked cigars for 10 years, but I have quit already. So, I think my page would be very much blank.
So, that's going to be a boring release.
Yes, very boring.
What's next for you?  What's next in your career?  Any unfulfilled dreams?
I'm liking very much this moment.  I would like to extend it two or three more years.  I have the perfect balance between TV and live shows.  My TV show is gaining importance.  In fact, my guest this week is the leader of the opposition party, who is interesting because you wouldn't think the guy would be on a light comedy show.  We know that it is possible he will be our next prime minister.  So, that's a victory of mine; regaining that respect…that place I had in the '90's that I carried so much.  If I could choose, I would keep this show for three or five more years.
And true to the theme of Portugal Confidential, we hope you can provide us with some insider knowledge of your Portugal.  For instance, what do you do during the day when you want to get away?
I have a nice place in the country, in Azeitão, near Setubal, where these days I spend 80% of my time.  Writing, sitting at ease, drinking orange juice and eating arugula.  It's my private paradise.
I go to Bica do Sapato (in Lisbon) for dinner, mainly on Fridays.  Otherwise, I don't go out at night much.  The more time passes, the less I go out.  But also, I work a lot at night.  Sometimes the shows are in nightclubs, but it is purely work.
Do you have a special place to sit, enjoy a coffee, glass of wine or smoothie, and take in the world?
I like the marina in Vilamoura when I am in the Algarve.  I like to go to Bica do Sapato as I mentioned. And, in Porto, I rarely leave the hotel because people love me so much I can't normally go on the street.  In Madeira, I like the hotels there.  I've been working quite a lot there too. So, usually what I do is, when I am working, I get the best out of the place I am visiting.
If you have friends visiting Portugal for the first time, where would you suggest they go, that is not a tourist attraction, but would leave them with pleasant lasting memories of Portugal?
I would take them to Guincho and have some of the finest fish and shellfish in the world.  The fish and shellfish we have on the Portuguese coast almost don't exist in the rest of the world.  Portuguese lobster from the North is the best lobster in the world. Perhaps a highlight of Portugal is looking at the sea, being in a nice restaurant in Guincho, drinking some green wine and having fish or shellfish.  For me, it is the best.


Find Herman online at:
Herman José Blogspot
Herm José Sapo Blog
Herman José Facebook Page
Herman 2010 Facebook Page