Honorato, one of Lisbon's most popular artisanal hamburger joints, has a new location. Honorato Chiado is at #12 Largo Rafael Bordalo Pinheiro, in the heart of the city's hip and chic neighborhood. This burger palace joins Honorato restaurants already filling Lisboeta's appetites in Príncipe Real, Santa Marta, Rio, Mercado da Ribeira, Belém, Telheiras e Saldanha.
--------------------------------------------------
--------------------------------------------------
Honorato Chiado is a massive 750m2 of space over two floors, holding 276 seats. The décor is a masterful mix of historical, contemporary, industrial and artistic. In fact, one wall features a work by internationally-famous urban artist Vhils.
14 burgers choices on the menu are sure to please every burger connoisseur. Some highlights include:
■  Honorato: mayonnaise, corn, lettuce, tomato, bacon, egg and cheddar cheese
■  Picanha: mayonnaise, tomato and gorgonzola cheese
■  Cap. Fausto: watercress, tomato, pickles, barbeque sauce, cheddar and onion
■  Pimenta: watercress, tomato and black pepper
■  Mostardo: lettuce, tomato, red onion and mustard green
■  Vegetaiano: soy burger with lettuce, tomato and brie
■  Trôika: (It's austere!) burger and a bun!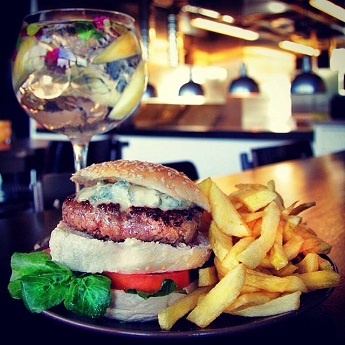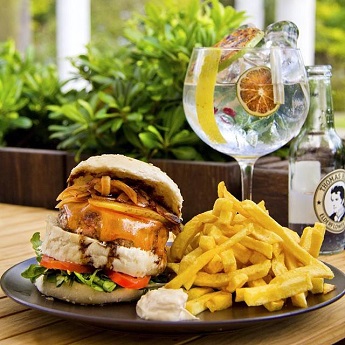 (left) Gorgonzola burger (right) Cap. Fausto
Honorato has a full cocktail bar, featuring specialty gins and over 50 craft beers form around the world.
The Honorato experience is enhanced with cool musical vibe. Many of Portugal's top DJ's are scheduled to play at the Chiado and all Lisbon locations. When the DJs are not in the house, Honorato has produced an exclusive playlist with tracks by notables DJ Ride, HMB, Richie Campbell, Holly, Octapush, Kaspar and more.
For more information, visit the Honorato website.
Honorato Chiado
Largo Rafael Bordalo Pinheiro #12
Lisbon
Hours: Sunday to Thursday – 12:00 to 24:00, Friday & Saturday – 12:00 to 02:00
Lisbon Locations:
■ Belém | Rua de Belém, nº 116
■ Mercado da Ribeira | Avenida 24 de Julho
■ Príncipe Real | Rua da Palmeira nº32-A
■ Rio | Alameda dos Oceanos Lote 2.11.01
■ Saldanha | Avenida Casal Ribeiro, n.º 50 B
■ Santa Marta | Rua de Santa Marta nº35
■ Telheiras | Rua Professor Francisco Gentil, Lote A | Azinhaga do Areeiro