Forte São João Baptista is a 17th century fortress sitting prominently on the coast of northern Portugal, originally built to protect the mouth of the Ave River from evil seafarers. The structure looks like it should be the first stop on a bus tour of historic monuments by travelers visiting nearby Porto. Instead, this ominous building has been transformed into a hip hideaway for trendy travelers and must-do party stop for the cocktail set.
————————————————–



————————————————–
After years of abandonment and gradual decline, the old Forte São João was brought back to life under the supervision of the Portuguese Institute of Architectural Heritage. Centuries of patina was washed away, stones were mended and modern amenities were installed. Today, it is a multi-use facility housing a tres-chic hotel, art gallery, restaurant, bar and night club.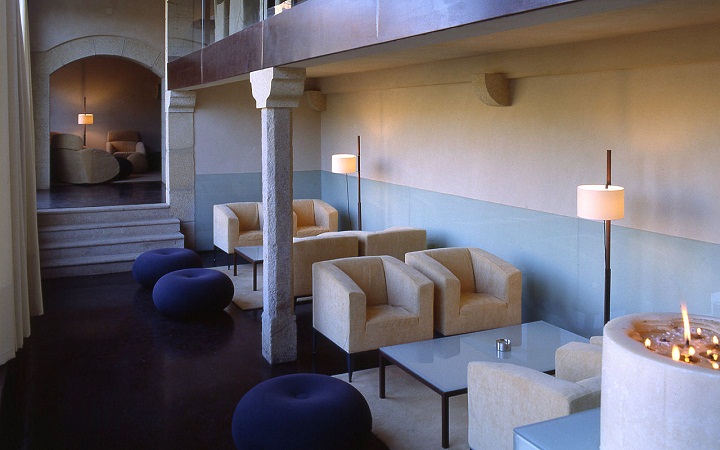 For the new Hotel Forte São João, renowned Porto interior designer Paulo Lobo was challenged with making medieval architecture cool again. His special touch balances the rough gray rock walls with fabrics of warm tones and soft textures. Overall, the design is minimal bringing this historic structure into contemporary aesthetics.
There are only seven rooms: 1 single; 5 doubles; and a suite. Each has its own entrance off the courtyard. With so few rooms, attention is given to comfort and elegance. Each of the accommodations are spread out across two floors. Your mini-townhouse has plasma TV, satellite, free mini-bar, tea and coffee, CD player and data port. Upstairs, the bed pillows and duvet are filled with goose feathers. Fresh fruit greet you on arrival. And, candles are strewn about to set the mood. Original paintings by a local artist make each room unique.
Restaurante Forte offers fusion cuisine. Chef Jeronimo Abreu begins with his concepts of regional Portuguese cuisine, then enhances the dishes with flavors of the world. Start with a veal carpaccio or Tandoori tuna, or opt for a pasta of salmon and caviar. Fresh fish is always on order in Portugal. Currently, sea bass on lemon stick, cod with creamed spinach and octopus with red onions are available. And, for meat lovers, some highlights include grilled veal with rosti potatoes and mixed mushrooms, and lamb breaded with fresh peas, accompanied by a stew of pippin apples.
Forte São João is also on the agenda of most local hipsters. Occasionally throughout the year, and on most weekends in the Summer, the nightclub hosts some of the most popular theme parties in the region.
For more information on the hotel, restaurant or nightclub, visit the Forte São João website.
Hotel Forte São João
Avenida do Brasil
4480-659 Vila do Conde
Porto
Phone: +351 252 240 600
Fax: +351 252 240 609
E-mail: info@forte.com.pt