In Lisbon, just steps away from the fashionable Avenida da Liberdade, a former convent is transformed into a hip, boutique hotel: the Inspira Santa Marta. This four-star "urban oasis" is ideal for those needing relief from long tiring business meetings or a rigorous day shopping and sightseeing. From comfortable and cool guest rooms to relaxing Retreat Spa, the Inspira Santa Marta is an innovative concept in an exceptional location.
--------------------------------------------------
--------------------------------------------------
The modern façade of the Inspira Santa Marta has elements of traditional Portuguese design, hinting at the old world architecture of the convent that once stood in its place. Step inside, however, and traditional quickly gives way to contemporary. Modern design and spaciousness abound throughout the lobby. Massive skylights flood the area with natural light.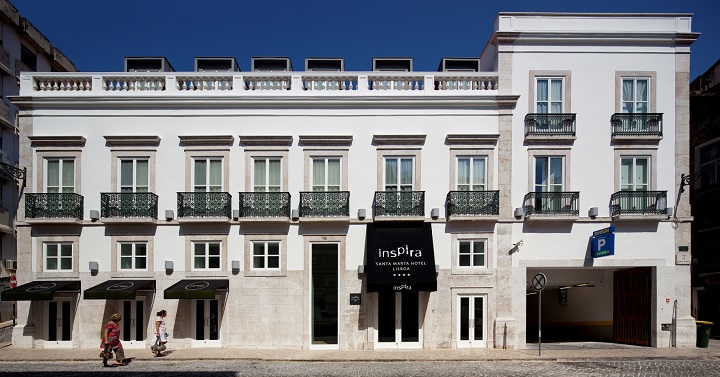 The Inspira developers' goal was to build an urban retreat. To accomplish this, they paid close attention to two key concepts: sustainability and feng shui. The certified sustainability policy covers every aspect of the project from environmentally friendly building materials, to the restricted use of paper, water, energy and sustainable food resources.
The 89 rooms and suites are designed utilizing principles of feng shui. This Asian philosophy of aesthetical balance is meant to increase the flow of "chi" or energy. Therefore, colors, textures, materials and other elements have been carefully selected to represent five distinct room designs. Choose from one that best represents your personality….or current mood!
Water – Energy relaxation and rejuvenation
Wood – Raises energy for those seeking new experiences and adventure
Fire – Enthusiastic energy to increase passion and social life
Earth – Peace, comfort, security and harmony
Metal – Order, control and sophistication
For a very special experience, ask for a spa suite, complete with with in-room Jacuzzi in a private solarium.
Outside of the comfort of the room, the hotel features many amenities.
Restaurant Open is just that…a modern open plan dining room with open kitchen. Enjoy a breakfast buffet of international and Portuguese favorites. At lunch and dinner, the cuisine is Mediterranean, utilizing fresh, seasonal products.
The Urban Bar, Chiado Lounge and Lobby Library all provide spaces for relaxing, reading or socializing with friends.
The on-site Retreat Spa is managed by Ritual Spa. The facility offers steam bath, sauna, and six treatment rooms, with a full menu of massages, hydrotherapy, electrotherapy, signature treatments and rituals. There is also a fitness center for strength and cardiovascular training.
For more information, visit the Inspira Santa Marta Hotel website.
Inspira Santa Marta Hotel
Rue de Santa Marta, n. 48
1150-297 Lisboa
Phone: +351 210 440 900
Fax: +351 210 435 993
Email:  reservas.ismh@inspirahotels.com