Instalação ("installation" in English) evokes the notion of a unique contemporary art piece set in a very rich cultural environment. Well, the new Instalacão nightclub in Porto can very easily be considered a work of art in the cultural scene that is the Baixa district. Indeed, Instalação, at Rua Conde Vizela, 89, features beautiful contemporary architecture, but most importantly, it is designed for fun!
--------------------------------------------------
--------------------------------------------------
Instalação is designed by Porto-based architect José Carlos Cruz. Cruz is also credited with the innovative design of Porto's Baixa Bar.
Inside, the primary space at Instalaçao is a long corridor. Arched brass tubing creates a "golden tunnel" effect overhead. A bar runs the length of one side, and a raised DJ platform is situated at the far end. Video monitors in various sizes behind the DJ provide a cool, stimulating multi-media backdrop. Polished aluminum surfaces create reflections and inset lighting emits a glow that provides a completely different dimension to the narrow space.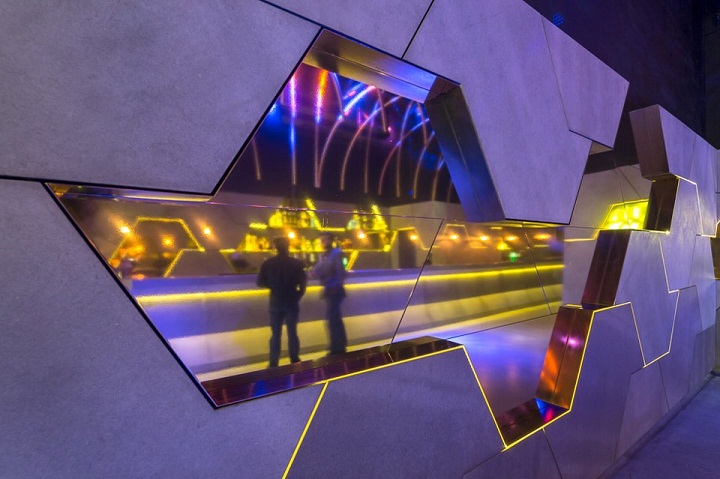 Off to the side is a lounge for conversation and relaxing. Concrete blocks line the walls, textured concrete is overhead and polished concrete is on the floor. It's a contemporary and soothing minimalist device that adds to the uniqueness of the design and the swankiness of the room.
A different themed party every weekend. Resident and guest DJs keep the party rockin'.
For more information, visit the Instalação Facebook page.
Instalação
Rua Conde Vizela, 89
Baixa District
Porto
Phone: +351 917 939 862
Hours: Friday & Saturday – 24:00 to 06:00
Photo Credits: Fotografia FG+SG