Her work is often described as seductive, lush, humorous and irreverent. Her creations are very large in scale; usually objects we recognize, but sculpted with materials completely far removed from the subject matter itself. This is the ingenious, wacky, innovative, crazy, joyful mind of Portuguese artist Joana Vasconcelos. From 23 March to 25 August 2013, her artistry is celebrated with a special exhibition at Lisbon's Ajuda Palace.
————————————————–
[ad name="Google Adsense Image Banner for Posts "]
————————————————–
Lisbon-based Vasconcelos has skyrocketed to notoriety in the art world since her career began in the 1990s. Her A Novia was featured in the entrance of an exhibition at the respected Biennale Venice in 2005. She was asked to return again in 2011 with her Contaminação. Vasconcelos has the distinction of being the first woman and youngest artist with a solo show at the Palace of Versailles in France in 2012. Her works are also in notable public and private collections including, Museum Berardo Collection; Foundation François Pinault; Foundation Louis Vuitton pour la Création; Foundation Helga de Alvear; Domaine Pommery; EDP Foundation; Caixa Geral de Depositos; Lisbon Municipality.
(Left) A Noiva (The Bride), 2001-2005, OB tampons, stainless steel, cotton thread, steel cables, 600 x Ø 300 cm – Photo Credit: Luís Vasconcelos, ©Unidade Infinita Projectos (Right) Coração Independente Vermelho (Red Independent Heart), 2005, Translucent red plastic cutlery, painted iron, metal chain, motor, sound installation, 371 x 220 x 75 cm – Photo Credit: Luís Vasconcelos, ©Unidade Infinita Projectos
In this exhibition, curator Miguel Amado brings together nearly 40 Vasconcelos works from the last decade. This includes such iconic pieces as A Novia (The Bride, 2001-2005), Coração Independente Vermelho (Independent Heart, 2005) and Marilyn (2011). Some works never before exhibited in Portugal will also be on display, such as Lilicoptère (2012), Perruque (2012) and War Games (2011).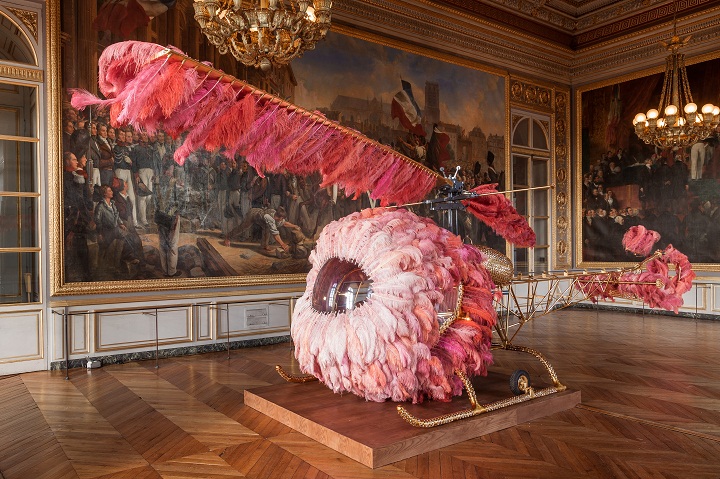 Lilicoptère, 2012, Bell 47 helicopter, ostrich feathers, Swarovski crystals, gold leaf, industrial coating, dyed leather upholstery embossed with fine gold, Arraiolos rugs, walnut wood, wood grain painting, passementerie, 300 x 274 x 1265 cm – Photo Credit: Luís Vasconcelos, ©Unidade Infinita Projectos
The Ajuda Palace was built during the first half of the 19th century. It was the residence of the Portuguese monarch since the reign of Dom Luís (1861-1889) until the establishment of the Republic in 1910. The Palace has been open to the public since 1968, with a vast collection of decorative arts on display, from jewelry and tapestries, to furniture and porcelain. It is both a unique and appropriate backdrop for the works of Vasconcelos.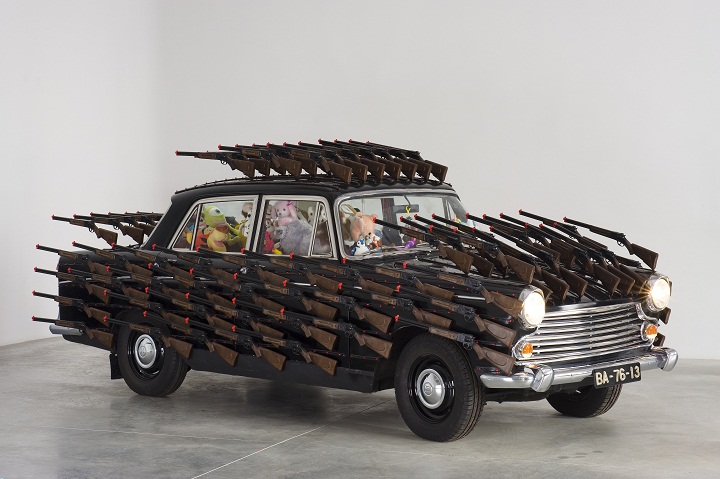 War Games, 2011, Morris Oxford series VI, toy rifles, plush and plastic toys, LEDs, electronic controllers, 175 x 185 x 435 cm – Photo Credit: DMF, Lisboa, ©Unidade Infinita Projectos
For more information visit the Joana Vasconcelos at the Ajuda Palace website.
Ajuda Palace
Largo Ajuda 21
1349-021 Lisbon
Phone: +351 213 637 095
Hours:
Sunday, Monday, Tuesday, Thursday, Friday – 10:00 to 19:00
Saturday – 10:00 to 21:00
Closed on Wednesday
Entrance:
Normal – 10€
Youth (age 6-18 years) – €5.00
Seniors (65+ years) – €5.00
Children (up to 6 years) – Free
Students (up to 25 years, with presentation of student card) – €5.00
Família 1 – 20€ (2 adultos + 1 criança entre os 3 e os 18 anos)
Família 2 – 24€ (2 adultos + 2 crianças entre os 3 e os 18 anos)
Fast Lane Adult (priority access) – €15.00
Fast Lane Your (priority access) – €10.00
Schools (up to 12 years, with 1 teacher receives free entrance with each group of 20 students) – €4.00
(Photo at Top) Marilyn (AP), 2011, Stainless steel pans and lids, concrete (2x) 297 x 155 x 410 cm – Photo Credit: Luís Vasconcelos, ©Unidade Infinita Projectos