Free Forms is an apt title for ArtCatto's Summer Exhibition at the Conrad Algarve, which features two UK-based artists–paintings and prints from the late John Hoyland, and sculptures by Jeff Lowe.
--------------------------------------------------
--------------------------------------------------
John Hoyland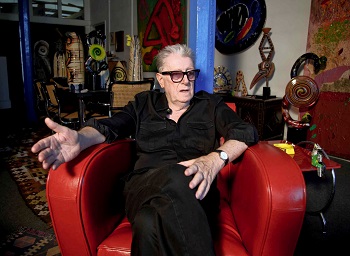 John Hoyland RA (1934-2011) is described as one of Britain's leading abstract painters and printmakers. Indeed ironic, as the artist preferred not to be known as an abstract painter. Born in 1934, he studied at the Sheffield College of Art before continuing his studies at the Royal Academy Schools in London where the then president of the Royal Academy demanded his finals work be removed from the walls due to its shocking nature. Influenced by American Abstract Expressionism and figurative painting in the late 1950s and 1960s, Hoyland continually revamped his art, confident to absorb and avert those influences to discover his own Free Forms.
His works exhibited at the Conrad Algarve are titled, however Hoyland would expect such titles to be open to interpretation. His artistic method in his last couple of decades involved working on the floor, painting a dark background on canvas, spilling, pouring, squeezing and squirting liquid acrylic from bottles. "I like to try and make these pictures paint themselves. The less you impose, the fresher it is. Painting is a kind of alchemy." (Hoyland, 2008)
Hoyland was not only an artist but an inventive printmaker. Experimenting with colour lithography, Hoyland would work towards an original image through his manipulation of line, space, colour and form. This signaled a new generation of artists. Damien Hurst, one of Hoyland's major collectors, opened his London gallery in 2015 with an exhibition of his work. This will be Hoyland's first exhibition in Portugal.

Jeff Lowe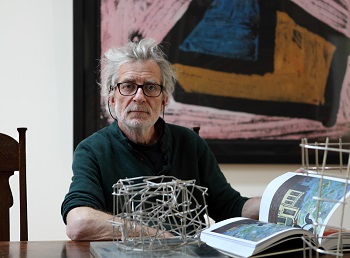 Jeff Lowe FRBS, an internationally acclaimed sculptor, who studied at St. Martins (1971-75) returns to the Algarve to showcase his work in aluminium, steel and cast iron. In 1974, at the tender age of 21, his first one man show at Leicester Galleries in London's Cork Street preceded him representing Britain at the Paris Biennale. He has been taught by amongst others, Sir Anthony Caro, Philip King, and William Tucker. His sculptures are influenced by architecture and interior space, a desire to embrace change, to build around things he finds, to inform and surprise and to be unpredictable. Spontaneous invention – Free Forms. This exhibition highlights what Lowe achieves with industrial materials. Rigid aluminium and steel have a fluency that is unexpected. He has adapted a way of bending aluminium rods, observed watching builders reinforcing concrete in Portugal. His works on display are suitable for indoor-outdoor spaces.

Free Forms at the Conrad Algarve is an incredible opportunity for local collectors to acquire a piece of British history.
For more information on the artists, their works and the exhibition, please visit the ArtCatto gallery website, or contact:
ArtCatto
Avenida José da Costa Mealha Nr 43, R/c
Loulé
Central Algarve
Phone: +351 289 419 447
Email: info@artcatto.com
Conrad Algarve
Estrada da Quinta do Lago
8135-106 Almancil
Central Algarve