You love cake, right? Yum! And, if you're like us, you especially go crazy for those meticulously designed, gorgeously decorated and artfully constructed masterpiece cakes. Uh-HUH! It's a shame to even bite into one of those beauties…but we'll do it anyway!
One of Portugal Confidential's coolest new friends is Julie of Julie's Cakes and The Great American Cake Company. She is a master in the art of sculpting edible delights. Her creations not only adorn sophisticated weddings and luncheons, but also show up on magazine covers and TV commercials. And, we are happy knowing Julie's kitchen is located right here in Portugal.
————————————————–
[ad name="Google Adsense Image Banner for Posts "]
————————————————–
Julie is American. She moved to Portugal in 1998 for a short-term job and never left. She spent 12 years in the rough and tumble publishing business, before deciding to follow a more creative path. Her family of bakers was certainly an influence, as was her education in Fine Arts. So, it seemed natural for her to pursue a career blending the two. Portugal Confidential was curious about this passion for confectionary creations, so we asked her some questions…
■ ■ ■ ■ ■
Why cakes?
I have always loved baking (and eating!) and it's basically a hobby that overtook everything else in my life! My grandmother was a great baker, she was even a cake decorator years ago! My mom is also a great baker. I learned a lot from both of them. I have always loved to bake, even when I was a kid I used to make a terrible mess in the kitchen.
(Left) Lemon cake layered with lemon curd and lemon buttercream. Covered in fondant and decorated with handmade and handpainted flowers, butterflies and large peony on top. (Right) Loads of fondant pearls on top of a golden quilted fondant covered chocolate and spiced cream cheese frosting cake. Gumpaste parrot tulips and freesia to top it off.
Are you self taught?…or training in design or culinary arts?
I studied fine arts in university. I am self taught in baking and cooking. However I have taken a number of cake design courses, including the Wilton Master Course, some courses with Colette Peters and with PME.
What was the most amount of time you spent on one cake?
It's the sugar flowers that take up the most time. I've made wedding cakes where the flowers have taken me a month to make, not full days but I would say if I had to group it into days, maybe up to 2 weeks for a few elaborately decorated cakes.
The cake itself has to be baked as close to the event as possible. I never freeze my cakes. So even with a big wedding cake or an enormous cupcake order, I will make all the flowers/decorations in advance, then bake, assemble and deliver. I usually require at least a month's notice because so much work is involved with making the flowers.
The sushi cake is fantastic! Is this the craziest, most non-traditional cake you've created?
It was one of the most "fun" cakes! Since my specialty is the sugar flowers, I don't usually have too many chances to make non-traditional cakes. The sushi cake was part of our costumes for a Halloween birthday party, I went as a geisha girl and my husband was a samurai. It was a huge success. I guess the most non-traditional cake so far has been a 3 tier sculpted crooked teapot cake.
(Left) The sushi cake is a chocolate cake with cream cheese frosting and vanilla fondant, gum paste sushi, soy sauce bowl and chopsticks. Julie hand-painted the "wooden tray" and painted the dark blue fondant with gold and red edible paint. Everything is edible. (Right) Carrot cake filled with cream cheese frosting and covered with homemade marzipan leaves. Gum paste flowers made to look like a summer garden full of bright colorful buds and blooms!
Do you have a fantasy design in mind that you would one day like to turn into a cake?
Anything with flowers – the more the better! I don't want to give away any secrets or ideas, so you'll just have to stay tuned and see what I do next!
■ ■ ■ ■ ■
Julie and The Great American Cake Company can teach YOU how to make fabulous cakes too. Julie holds occasional half-day and full-day decorating workshops. And in Spring 2013, Julie has arranged for Cake Decorator Extraordinaire Colette Peters to teach three courses in Cascais.
Or, if you're inspired to design your own cake creations, check out the The Great American Cake website. They sell everything you need, from pans and mixes, colors and flavorings, and even fondant and sprinkles.
Julie's first cookbook, Os Bolos da Julie, is available in October 2012.
For more information, visit Julies Cakes blog and The Great American Cake Company website (in Portuguese and English).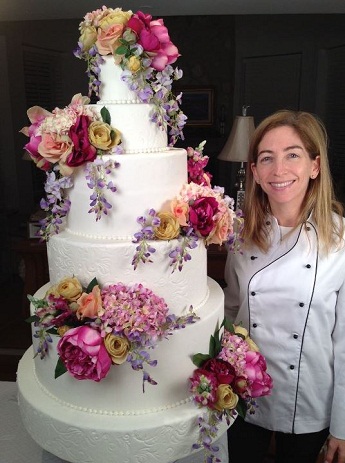 Call for appointment with Julie:
Julies Cakes (TheGreatAmericanCake.com)
Phone: +351 214 835 555 (Monday to Friday – 9:30to 17:30)
Email: julie@thegreatamericancake.com
Photos and descriptions provided by Julie's Cakes and are the sole property of Julie's Cakes and The Great American Cake Company.