Popular restaurateur and chef Oliver da Costa (Guilty!, Olivier Avenida, Yakuza, Honra and Assador) is at it again. He has opened a new restaurant that can be considered the first restaurant of aged beef in Portugal. It's K.O.B. by Olivier. The K.O.B. stands for "Knowledge of Beef" and the menu provides a vast range of red meat from all across the globe to taste and enjoy. K.O.B. is located at Rua do Salitre (in the former Pedro e o Lobo location).
--------------------------------------------------
--------------------------------------------------
Working with designer Ewa Kubik, Oliver's use of heavy use of wood is a natural complement to the menu. Details of copper stand out against the teal background of the walls. Raspberry-toned couches add to the rich texture of the room.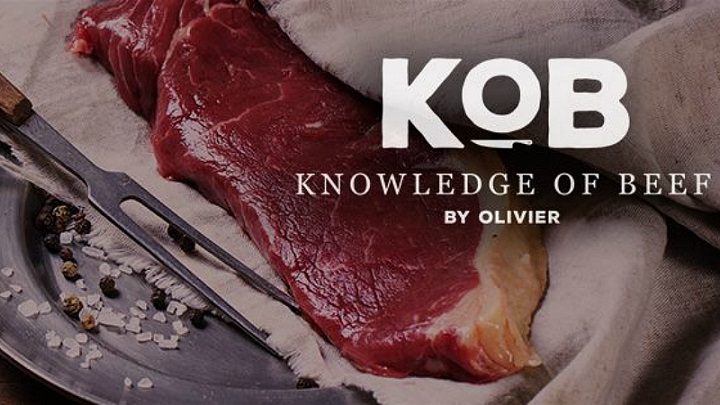 The menu is a carnivores dream. The cuts are generally aged and of the highest grade available. Weights range from 150gr Japanese sirloin all the way up to 900gr Australian Tomahawk. Choice cuts from around the world are featured, including:
■  Portugal – Black Angus Filet, Steak Sirloin, Chuleton
■  USA – Ribeye, Brisket
■  Ireland – New York Style
■  Australia – Tomahawk, Sirloin, Ribeye, Picanha
■  Japan – Sirloin
■  Holland – Veal
■  Spain – Black Pork
Accompany this protein with a selection of side orders including: French fries, baked potato with sour cream, cauliflower gratin, sautéed broccoli, grilled asparagus, potato salad, leek puree or a green salad with Dijon dressing.
For those not too keen on red meat, KOB offers grilled Cuban lobster and grilled grouper.
Prices range from €8 to €18 for starters, meats are €25 to €180 depending on weight and grade, side dishes are €3.50 to €14, and desserts are €5 to €8.
Click here to see the current menu (December 2014).
For more information, visit the K.O.B. Facebook Page.
K.O.B. by Olivier
Rua do Salitre, 169
Lisbon
Phone: +351 934 000 949
Hours: Everyday – 12:30 to 15:00 and 19:30 to 24:00