It's a little bit Portuguese. It's a little bit Japanese. Oh, and it's a little bit Angolan! Favorite Portuguese dishes are served alongside light sushi and sashimi, and complimented with unique flavors of African cuisine. It's Kook Chiado, a fabulous "international" restaurant in the heart of Lisbon's fashionable district.
--------------------------------------------------
--------------------------------------------------
Kook Chiado opens in Lisbon, following the success in Angola of Kook Luanda. Entrepreneurs Pedro Batista and Rui Rosário chose Lisbon as the natural next step in bringing the concept to global markets (next in line is likely to be São Paulo).
The restaurant ambiance is light and airy. Interior design maintains the heritage of the building with exposed natural stone arches supporting the room, yet finishes the walls in sleek white providing a fresh modern feeling. Furniture is minimal, with banquette seating and stools made of press board and café tables topped with marble.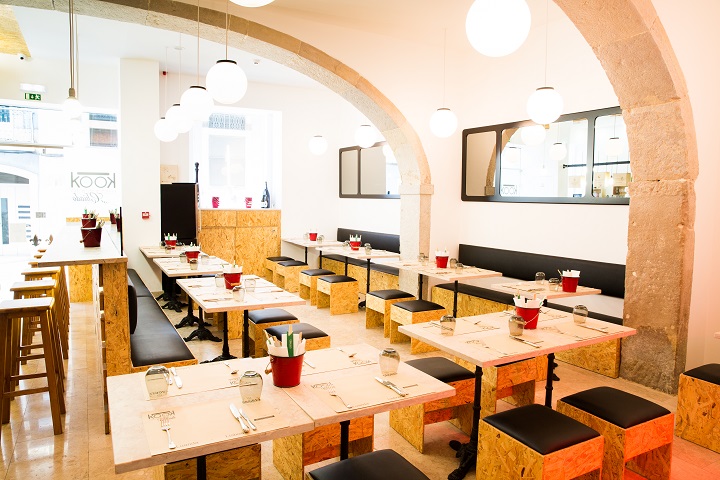 In the kitchen, Santarem-native Chef David Costa is in charge of the menu. Having honed his skills in such kitchens as Ritz, Rios, Eleven and Assinatura, Costa now leads a team exploring innovative approaches to Portuguese dishes, sushi combinations and Angolan favorites. Some highlights from the menu include:
■ Sweet Potato Chips
■ Lisbon Style Octopus Salad
■ Sticky Chicken
■ BaKalhau à Lagareiro (Oven Baked Codfish)
■ Kataplana Seafood Stew
■ "Muamba" Angolan Stew
■ "Kozido" Kook
■ 30 – Day Aged Steak
■ Lemon, Cassis or Blueberry Baked Merengue
■ Banana, Chocolate or Peanut Butter Cheesecake
■ Coconut, Passion Fruit or Mojito Sweet Rice Pudding
(Left) Sushi combination, (right) Kook Kozido
Considerable attention is given to Japanese dishes, There are Hot Skin Temaki, with grilled salmon skin, cream cheese, chives, cucumber, lime and teriyaki sauce, and Kook Maki with rocket, sun-dried tomato, goat cheese and lightly bruleéd salmon. Kook has hot rolls too. Quite interesting is the No Rice Shrimp Roll made of salmon, cream cheese, chives and shrimp fried in tempura and panko.
For more information, visit the Kook Chiado website.
Kook Chiado
Rua Vítor Cordon, 26
Chiado
Lisboa
Phone: +351 213 460 451
Email: reservas@kookchiado.com
Hours: Monday to Saturday 12:30 to 15:00 and 19:30 to 23:00