In downtown Porto, on the bustling Rua das Galerias de Paris, sits the bohemian retreat La Bohème. Already popular in the past as a great neighborhood café for meeting friends, the bar has recently had a makeover, transforming into a tres chic coffee shop by day and trendy cocktail bar at night. It is not only an awesome place to hang for coffee, cakes or cocktails, but it is also a spectacular architectural work worth checking out. (Photo at top by Inês Guedes)
--------------------------------------------------
--------------------------------------------------
La Bohème embraces the theme Entre Amis (French for "between friends"). It's a cozy place with many different sitting areas for private chats with friends.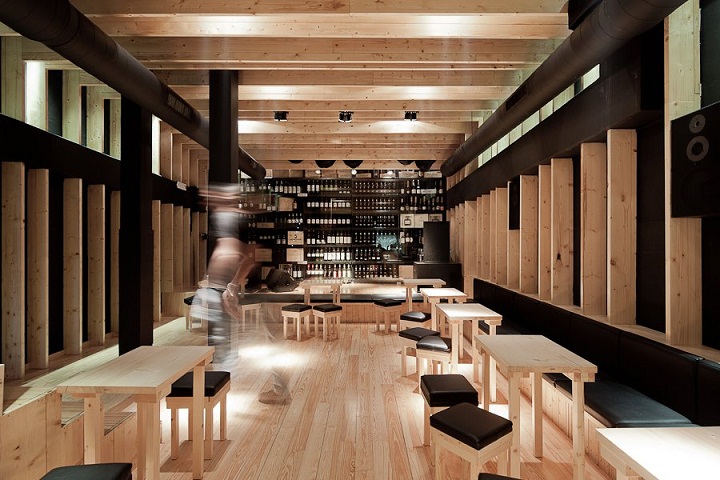 Recently renovated, the bar is a multi-dimensional masterpiece of pine wood, designed by AVA Architects. 'The goal was to transform a space with no identity into a recognizable interior,' AVA rep Carlos Veloso tells Dezeen blog. The extensive use of pine wood "gives both aesthetic and structural consistency to the space while unifying the bar's three floors."
Photos above by José Campos
The bar opens early for breakfast cakes, serves light lunches and is an excellent space for an afternoon coffee. In the evening, there's an extensive wine list for those wanting to meet after work or before dinner. And later in the night, music is programmed.
For more information, visit the La Bohéme website.
La Bohéme
Rua das Galerias de Paris, 40
Porto
Phone: +351 222 015 154
Mobile: +351 933 347 079
Email: entreamis@laboheme.com.pt
Hours
Monday to Friday – 08:30 to 02:00
Saturday – 15:00 to 02:00
Closed Sunday