L'and Vineyards Restaurant is contemporary in design, with the actual Alentejo landscape as the key design feature. Brazilian architect Marcio Kogan uses natural materials of stone, slate and wood to provide an earthy texture to surfaces. Recessed shelves are sculpted into the back wall, allowing for the display of decorative items as well as a showcase for the bottles of L'And wines served at dinner. Hanging overhead is an abundance of chromatic glass lamps in bronze, silver and gold. The unique lighting concept is as much an art installation piece as it is a functional lighting solution.
--------------------------------------------------
--------------------------------------------------
On both sides of the dining room, floor-to-ceiling sliding glass doors lead to large open terraces. Lounge chairs and sofas invite diners to have an after dinner cocktail under the starlit Alentejo skies.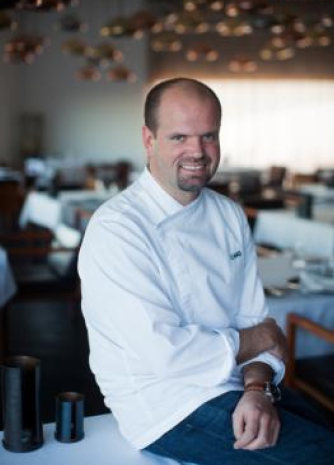 The front of the room is one large picture window with the resort's lake in the foreground, the castle of Montemor-o-Novo on a nearby hill, and the region's famous rolling countryside stretching out in the distance. It is a spectacular backdrop for the innovative regional cuisine about to be served by award-winning chef Miguel Laffan.
Laffan is no stranger to awards and Michelin stars. He has worked in such stellar kitchens as: Fortaleza do Guincho, in Caiscais, with three Michelin stars chef Antoine Westermann; Le Jardins des Ramparts, in Beaune, France, with Michelin star-awarded Roland Chanliuad; and Le Clous de La Violette, of Aix.en-Provence, France, with two Michelin star chef Jean-Marc Banzo. Laffan has also supervised teams at Hotel Casa Velha do Palheiro and Hotel Quinta da Casa Branca, in Madeira.
For L'And, Laffan transforms traditional Portuguese cuisine into contemporary Mediterranean-inspired dishes. Fresh regional products are key elements in lamb loin from Montemor, roasted in butter and herbs, and roasted tenderloin pork from Alentejo. Foodies, however, will notice hints of his passion for Asian flavors in dishes such as tuna tataki and green vegetable curry, as well as elements from his experience in France in starters such as mushroom and Parma ham brulée, and Duck foie gras terrine.
The current tasting menu offers these delightful dishes:
■ Portuguese bouillabaisse with pan fried crayfish and oyster "croquette"
■ Tuna fish tataki in a mille feuilles with red onion compote and mango chutney, radish, coriander and bergamot salad
■ Red mullet and squid stew "açorda" with a seaweed and fennel dashi
■ Roasted tenderloin pork from Alentejo, cauliflower gratin with asparagus, peas and black pudding sausage
■ White and dark chocolate tiramisu with mascarpone and pistachio cream, cherries in kirsch syrup and coffee ice cream
■ Sweet carrot duet over pistachio crumble with saffron and fresh ginger foam and honey ice cream
Starters are about €16, with main courses around €28 and desserts at €10. The Tasting Menu is €70.
L'And is a short 50 minutes from Lisbon. It's worth the drive for a fabulous dinner, but even better to stay and enjoy the resort.
For more information, visit the L'And Vineyards website.
L'And Restaurant
Estrada Nacional 4
Herdade das Valadas
Montemor-o-Novo
Évora
Alentejo
Phone: +351 266 242 400
Fax: +351 266 242 401
Email:  info@landvineyards.com
Reservations:  reservas@l-and.com
Hours:
Wednesday to Sunday – 13:00 to 15:00 and 19:30 to 22:30
Monday and Tuesday open exclusively for hotel guest.