Another innovative and cool restaurant opens in the revitalized Cais do Sodré district of Lisbon. This time, authentic Mexican food is celebrated, with quesadillas, chili rellenos, enchiladas and chocolate chili brownies. Add some aged tequila or mystical mezcal for a fiesta grande! Bienvenido to Las Ficheras!
————————————————–



————————————————–
Las Ficheras is the name given to "working women" of the cabarets of Mexico, who sell their love on the dance floor. Admiring men hand the women a filing card ("fichero") in exchange for brief moments of passion. This intense emotion of the amor that permeates the ambiance of the dance hall is what the originators of Las Ficheras bring to Cais do Sodré.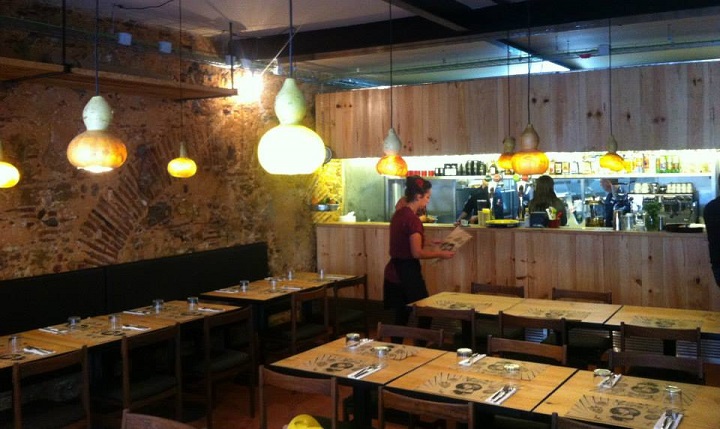 Inside, the restaurant is minimal and modern. Colorful Mexican folk art paintings adorn clean pine paneled walls. Feature walls are left unfinished, with exposed brick from the former structure, providing a raw and rustic feel. Iconic Mexican wrestling masks are displayed in plexiglas cases and placed strategically around the restaurant. Low lighting emits over dining tables from carved out gourds suspended from the ceiling.
The menu intends to take the diner on a tour of authentic Mexican cuisine. Start with Aztec Soup made of Passilla chili broth, with shredded chicken, served with crispy corn tortilla, avocado, crumbled cheese and cilantro. Then, you'll likely want to taste:
■ Chicken Tacos Al Carbon
■ Anchiote Pork Tacos
■ Tostada with Ceviche and Mango
■ Quesdaillas with Grilled Red Peppers
■ Chicken Flautas
For something special, try some of the Las Ficheras signature dishes, like:
■ Chicken Enchiladas with Chouriço and Plums
■ Chiles Rellenos with Spinach and Cheese
■ Merluza (hake) Filet with Poblano Mole and Toasted Sesame Seeds
■ Grilled Achiote-Marinated Salmon with Bean Stew
■ Pork Cheeks with Chipotle Sauce
■ Marinated Veal with Pasilla Sauce
Perhaps what we're most excited about is the range of margaritas. Muitas margaritas! Margaritas with kiwi, passion fruit, tangerine, and….chocolate! They are made with some exceptional silver, anejo and reposado tequilas. Also available is a selection of Mezcals. Take a shot, and eat the worm!
Small plates range in price from €4 for soup, to €8 for chili. Signature dishes are from €12-16.
For more information, visit the Las Ficheras website.
Las Ficheras Comida Mexicana
Rua dos Remolares, 34
1200-371 Lisboa
Phone: +351 213 470 553
Mobile: +351 925 184 900
Email: book@lasficheras.com
Hours: Everyday – 11:00 to 02:00