In Lisbon, there is no shortage of vantage points for awesome views of the city and River Tagus. There's no better way to appreciate Lisbon than to sit in a café, leisurely sipping a beverage and nibbling on petiscos, while taking in the splendor of the vistas. And, one of the best spots in town is Le Chat.
--------------------------------------------------
--------------------------------------------------
Le Chat is in the Janelas Verdes area, next to the Museum of Ancient Art. The name "Le Chat" is French for "the cat" and is intended to be a metaphor for the café's rooftop location. And indeed, the bar is perched high, with 180º views of the Tagus.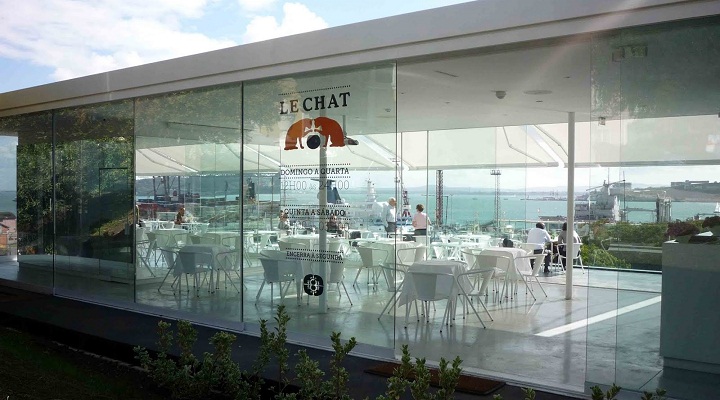 Every seat is a winner, as Le Chat is literally a transparent cube. Glass walls offer excellent views for inside seating. But, to enjoy the full effect, sit on the large esplanade outside for sunshine, sunset and starlight. (In the winter, heat lamps and blankets are provided so you won't miss out on the experience.)
Now that you're comfortable, time to order a drink. Coffee and tea are nice. But if you're in the mood for a cocktail, Le chat has a great selection of classic drinks, from mojitos, margaritas, martinis, to classic gin fizz, kamikazes, Long Island iced tea. Retro American whiskey drinks are also available, such as mint julep, Manhattan and Lynchburg Lemonade. Or, ask the bartender for something original, and he might serve up and herbal gins, ginger margarita or a fruit smash.

If you get hungry, Le Chat has a light meals menu. Take your time grazing with some snacks such as fried sweet potatoes, tempura shrimp, cheese plate or selection of sausages. Or if you need something more substantial, the kitchen prepares salads, soups, sandwiches and mini-burgers.
Le Chat is an ideal place to meet friends for a chat, after work cocktails, romantic sunsets, or pre-nightclub drinks. A large screen TV is provided for the important games. And, in the evenings, DJ's spin lounge tracks for that perfect chill-out vibe.
For more information, visit the Le Chat website.
Le Chat
Jardim 9 de Abril, Lisbon
Janelas Verdes
(Next to the Museu Nacional de Arte Antiga)
Phone: +351 917 797 155
Email: info@lechat-lisboa.com
Monday to Thursday – 11:00 to 22:00
Friday & Satruday – 12:00 to 03:00.
Other great Lisbon views:
Bairro Alto Hotel
Lift Club
Silk Club
K Urban Beach Club
Bica do Sapato Restaurant