Contemporary artist Pedro Valdez Cardoso has a unique way of expressing himself. With everyday consumer products for materials, he blends classical styles of art and design, with iconography of folk and tribal art. The result is a breadth of work that has been embraced by the art world. Valdez Cardoso's next show is at the Galeria Presença in Porto, 16 September to 29 October 2011.
————————————————–
[ad name="Google Adsense Image Banner for Posts "]
————————————————–
Les Dresseurs (Os Domadores/The Trainers), is the name of this exhibition. It is a continuation of his earlier show Mme Pompadour Voyage en Afrique, which was on display in Vigo, Spain in 2009. Many of the works in the former show will be at the Porto exhibition alongside many works seen for the first time.
Valdez Cardoso works have a playful, and sometimes ironic, view of interculturalism. It's easy to recognize 17th-18th century Empire, Baroque, Rococo, Victorian and Edwardian styling in pieces that take the shape of vases, pots, fruit bowls, plates, masks. Yet, the works are assembled to emulate objects from non-Western indigenous cultures
Born and raised in Lisbon, Valdez Cardoso maintains a workshop in the city. Since 2002, his works have been featured in exhibitions in numerous cities in Portugal, Spain, the United States and Germany.
For more information on the Les Dresseurs show, visit the Galeria Presença website.
galeria presença
Rua Miguel Bombarda, 570
4050 – 379 Porto
Phone: +351 226 060 188
Mobile: +351 932 237 999
Email: geral@galeriapresenca.pt
Hours:
Monday to Friday – 10:00 to 12:30 and 15:00 to 19:30
Saturday – 15:00 to 19:30
————————————————-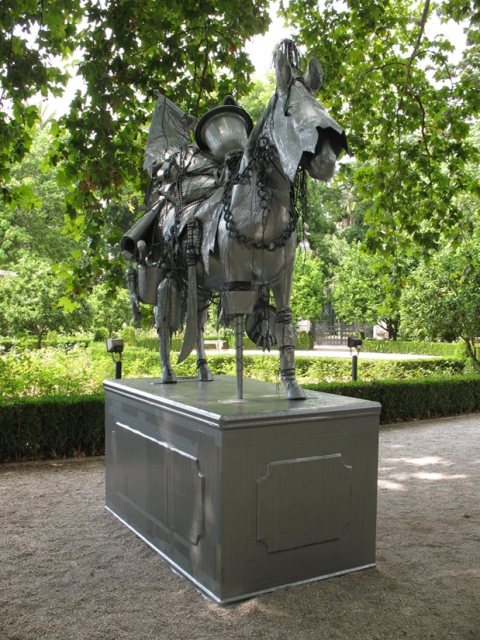 Simultaneously, you can see another of Valdez Cardoso's more notable works, O Peso da Hisória, at the Museu Nacional de Soares dos Reis in Porto. The sculpture will be on display 15 September to 29 October 2011.
MNSR
Palácio dos Carrancas
Rua D. Manuel II
4050-342 Porto
Hours:
Tuesdays – 14:00 to 18:00
Wednesday to Saturday – 10:00 to 18:00