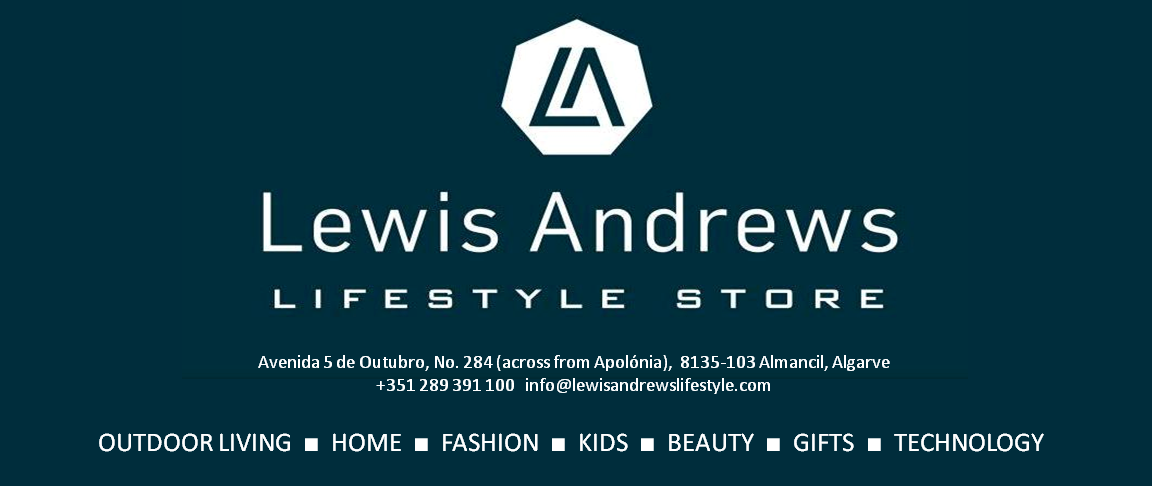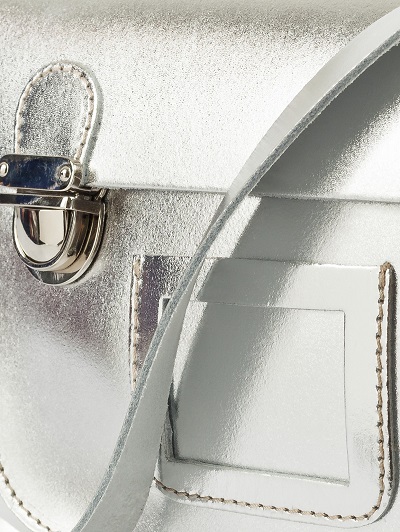 STELLA RITTWAGEN COLECCIONES
Product of the Month for November 2013
New in the Algarve…and only at Lewis Andrews Lifestyle Store in Almancil…fine leather products from Spanish designer Stella Rittwagen.
Stella is an up-and-coming designer from Malaga. She focuses on fusing traditional elements, like leather and straw, into avante garde fashion pieces. Stella uses only fine quality materials to create looks that are fresh, clean and contemporary. Stella Rittwagon Collecciones are sold from Japan and Mexico, to Colombia and Greece.
Lewis Andrews has a hand-picked selection of beautiful bags. The popular satchel bag comes in a variety of colors, including blue, black, silver and white. The posh but practical "square" bag is gorgeous in leopard, elegant in black and statement-making in gold with a stamped reptile print. Bags range in price from €45.00 to 136.00.
Wallets are also a fashionable and fun part of the collection. For women, soft leather wallets and travel bags zip around to keep personals safe. The leather tassel closure, finishes off the item nicely. Wallets are €45.00. Travel bags are €75.00
Men's wallets are constructed with sturdy leather and beautifully-polished. Both sides of the interior have slots for credit cards and identification. Unique to this product is a colorful band that, not only looks quite appealing, but also insures the wallet remains closed and secure. Men's wallets are €32.00, or €39.00 with the band.
Looking forward to Summer already? So, is Lewis Andrews. In the Spring, they will have Stella Rittwagen straw hats, beach baskets and neon leather bags. Perfect for your praia and pool ensemble.

SCOTCH & SODA FOR BOYS & GIRLS
Product of the Month for October 2013
Kids are fashionable! Kids want their own identity. Kids want to be cool! So, instead of taking them to the mall to the same old shops, step into Lewis Andrews for the latest styles from popular clothing brand Scotch & Soda.
In addition to their men's and women's fashions, Scotch & Soda also designs seasonal clothing for children. Mr. Shrunk is their collection for boys, and Miss R'Belle is the label for girls. Inspirations for these lines are taken directly from their men's and women's designs. Quite literally, they "shrunk" adult styles to fit little brother or daughter, creating a completely new take on kids wear
For Fall/Winter 2013, Scotch & Soda warns "expect the unexpected!" Their designers have mixed bold patterns with prints and reinvented the winter colour palette. Contrasting checks clash with florals, camouflage pops up next to stripes, and Ikat patterns are mixed with tie-dyes. In fact, they call this "The Whole Shebang!" No coordination here. Just throw it together for one ultra-cool look.
Scotch & Soda loves to make great garments that suit every individual. Their products are rich in detail, high quality and affordable. Browse the selections at Lewis Andrews, and prepare your child to be the coolest in school.

End-of-Summer Sale at Lewis Andrews – Some items up to 50% off!

TURTLE BAY KIKOYS
Product of the Month for July/August 2013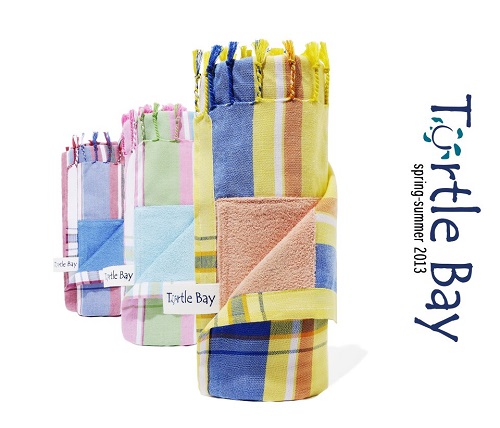 Stylish sun worshippers will want to add this sophisticated item to their beach bag. It's the Kikoy beach towel from Turtle Bay. Beautiful, fashionable and practical, these towels will turn heads at pool parties and earn second glances at beach clubs. It's the "must-have" item for summer from Lewis Andrews.
A "kikoy" is a traditional wrap worn by locals in the ocean regions of Kenya and Tanzania. Typically, kikoys are made of 100% natural cotton, colored in vibrant ecologically-safe dyes and adorned with light cheerful tassels.
The same is true for these "kikoy" beach towels. Woven in Tanzania and manufactured in Kenya, these all natural products are light, soft and convenient to carry. They are lined with terry-toweling to absorb moisture. Kikoys look great laying in the sand or thrown across a lounge chair. They can also be wrapped around the body pareo- or sarong-style!
Lewis Andrews carries Turtle Bay kikoys in many colorful styles, from stripes to prints. Each kikoy is 95x170cm. For couples, Lewis Andrrews also has a double-sized "Honeymoon" kikoy at 140x 200cm.
Turtle Bay Kikoys are €65 for stripes, €80 for prints and €135 for Honeymoon double towels.

SPLASH MELAINE SERVING & DINNERWARE
Product of the Month for June 2013
Summer in the Algarve means poolside lunches with family, sunset tapas with neighbors and terrace dining with friends. Fortunately, Lewis Andrews is stocked with festive and durable Splash melamine serving bowls, plates and more, for all of your al fresco entertaining needs.
Splash products are as fun as they are functional. The hosting and dinnerware pieces are decorated with hyper-real photo images of your favorite foods, such as popcorn, fruit salad, nuts, olives, green salad, strawberries and candies. Each of these snack designs come in the form of large and small bowls, large and small plates, salad servers, tumblers, and even matching napkins!
Splash melamine is a sturdy thermosetting plastic used in many household objects. So, these products are great for using outside on the pool deck, offering snacks to your rowdy friends or even serving a small mob of kids. In fact, all Splash products are tested to ensure they comply with food safety standards, drop tests and color fading.
Splash products range in price from €3.40 for a small tumbler to €15.00 for a large bowl. Come in and pick up a complete set…or mix and match for your next party.

CRUCIANI BRACELETS
Product of the Month for May 2013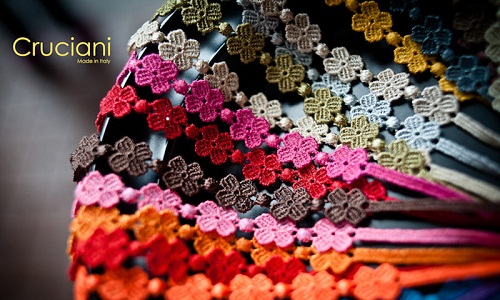 Paris Hilton, Bar Refaeli and Dita Von Teese wear them. So does South Korean popstar Psy.
Cruciani bracelets, the global fashion accessory must-have, is now in the Algarve…and only at Lewis Andrews!
Italian textile company Cruciani makes these cool and colorful bracelets. They are actually macramé lace in a myriad of designs. The most popular styles are hearts and four leaf clovers. Lewis Andrews has these, as well as Mars (guys' favorites) and the lovely "Kate" infinity symbol.
Cruciani bracelets are fun and versatile. Wear them on your wrist or your ankles. They look great with jeans and t-shirts, and they add panache to cocktail attire. Wear one bracelet or layer them in coordinating or contrasting colors.
Cruciani bracelets sold out in one day at Barney's New York. So get to Lewis Andrews now and claim your favorite style.
Crisis-friendly price too! Original clover bracelets are only €7.50. All others are €10.

MAIANS CASUAL & COOL SHOES FOR MEN
Product of the Month for April 2013
OK, Guys! It's your turn for a little fashion flair. New at Lewis Andrews for Summer 2013, comfortable, casual and ultra-cool shoes from Maians.
Maians are made in Spain and take their inspiration from the lively maritime district of Barcelona, which was once called…Maians! The spirit of the brand combines laid-back Mediterranean beach culture with the cosmopolitan style of one of Europe's most dynamic cities.
Every pair of Maians are handmade locally, using regional materials, such as linen, cotton and suede, and fused seamlessly onto vulcanized rubber soles. Special care is taken with every detail of the manufacturing process. The rubber is environmentally friendly and, get this, has a unique fruity scent. Maians are washable too!
Maians are both classic in design and chic in styling. Wear them for outings to the beach or cocktail receptions on the yacht. Maians are perfect for your Algarve lifestyle.
Lewis Andrews carries four popular Maians styles. €80 per pair.
Left to Right:  Sisto Clásico in Grey/White, Sisto Rejilla in Navy/White, Feliciano in Beige and Navy/Brown

ESSIE NAIL POLISH
Product of the Month for March 2013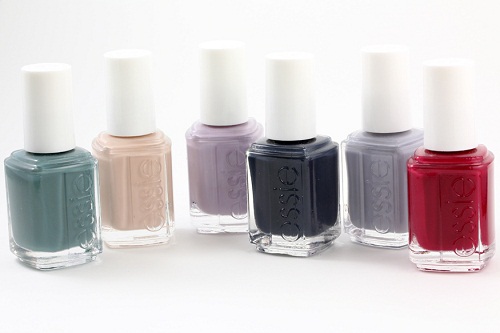 Happy News! Lewis Andrews Lifestyle has become the exclusive Algarve retailer for fun and fashionable essie nail polish products.
Nail polish aficionados already know essie as a high-quality iconic brand in the glam world of beauty. essie is found on the nails of models posing in fashion magazines and celebrities walking the red carpet.
Just arrived in the store for March, 500 bottles of essie product representing 83 colors and treatments. The wide range of unique shades means there's a color to match every sun dress, bikini and evening gown in your wardrobe. How can you go wrong with such clever color names as Adore-a-Ball, Ballet Slippers, Downtown Brown, Haute as Hello, Lapis of Luxury, Miss Matched, Not Just a Pretty Face, Olé Caliente, Rock Star Skinny, Room with a View, Size Matters and Spaghetti Strap!
In addition to the many polishes, Lewis Andrews also carries a selection of essie treatments including base coat, top coat, nourishing coat and nail whitener.
All essie nail polishes are DBP, toluene and formaldehyde free. essie product is €9.99 per bottle.

ICE LONDON
Products of the Month for February 2013
February is the month for lovers. Whether it's the 14th of February or any other day of the year, say I Love You with a gift that sparkles and shines from Lewis Andrews.
Just arriving in the store are Ice London products hand-selected by the savvy buyers of Lewis Andrews. This exclusive collection features gorgeous sparkly gifts for loved ones, friends, family or those who deserve something extra special. Ice London products are made from the finest quality nappa leather, radiant crystal and stylish silver-plated metals to create beautiful gifts that are full of thought and imagination.
Treat yourself or someone special to these stunning and handsome products. For men, metallic tipped pencils or metallic pens with just a hint of Swarovski crystals bring a touch of elegance to any office. For women, crystal ball pencils, Swarovski studded bracelets, beautiful leather accessory cases and satiness evening bags make unforgettable style statements.
Stop by Lewis Andrews to see this lovely, glamorous collection of gifts, and take home some bling for your Baby!
Above from left to right: red heart key ring – €15, black metal-tipped pencils – €2.80 each, Swarovski duchess pen – €27.50, Juliette satiness evening bag – €75.