Lisbon is an artist's dream. Around every stone corner, down every calçada street, on every historical monument, and in every neighborhood praça, is a unique perspective of the city. Every artist captures the essence of Lisbon in his own individual style. Now, an innovative graphic designer has created his personal view of this dynamic city in a fun and fascinating series of works called Lisboa By Tiago f Moura.
————————————————–
[ad name="Google Adsense Image Banner for Posts "]
————————————————–
Moura created this project in 2012, when he entered a contest sponsored by clothing manufacturer Benetton called "Unemployee of the Year". Contestants were asked to use their creativity and ingenuity to address the problem of unemployment and promote hope in a poor economy. Moura intended to capture the positive spirit of European cities through his unique illustrations. In the end, Moura was not a finalist, but the seed of this idea began to blossom, and he pursued the concept featuring his home town of Lisbon.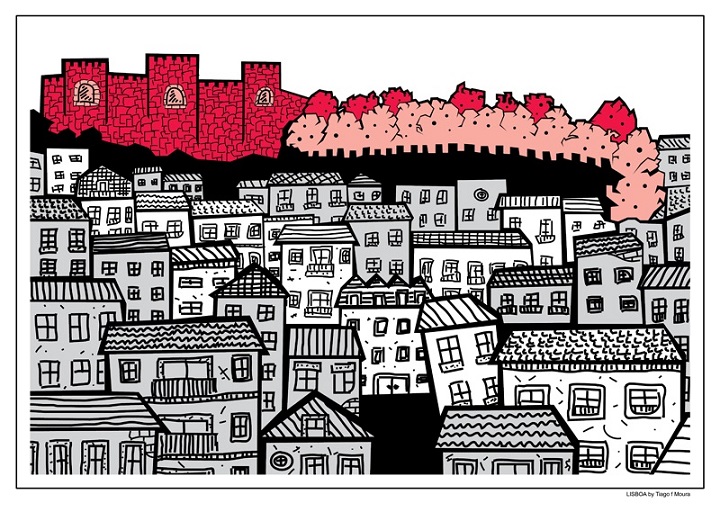 With a background in graphic design, Moura uses a computer to create his illustrations. "I have always loved to draw. For these pieces, I apply "basic" hand-drawing techniques into computer drawing. The base dimensions I use are usually 16 x 11 cm, but I can extend or reduce the illustrations without losing quality."
"This high-contrast, childish-style is the result of many different experiments. It's not an innocent style; it took various experiences and attempts to achieve a look I was happy with. I think it's perfect to represent what Lisbon is all about: texture; imperfections, upwardly intertwined streets, monuments, city squares and views…," explains Moura.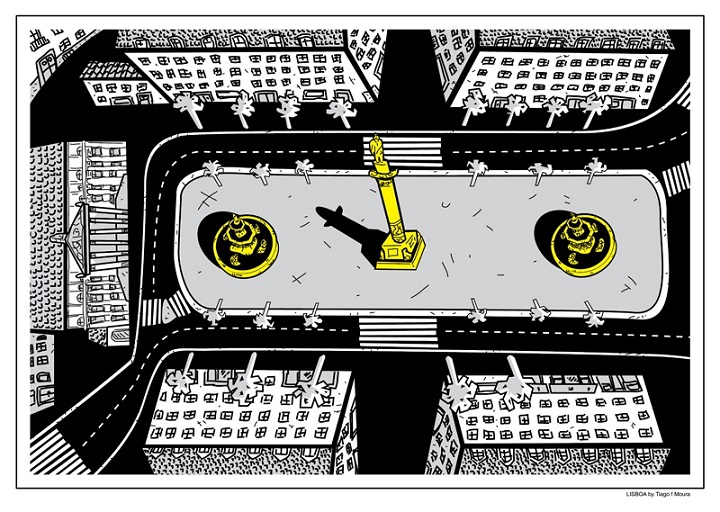 Lisbon-lovers will be happy to know that Lisboa By Tiago f Moura images are for sale. Moura sells each illustration as 32×45 cm posters on 300 gr paper. Each frame-able illustration sells for €35.00 (plus shipping). They are also available in postcards, with a set of eight 10×15 cm cards running €10.00 (plus shipping).
Will we see more illustrations of Lisboa By Tiago f Moura in the future? "I believe the next natural step will be to draw different cities of Portugal, Europe and around the world," reveals Moura. At Portugal Confidential, we look forward to seeing the world through Moura's perspective.
For more information and to order these products, visit the Lisboa by Tiago f Moura website.
Lisboa by Tiago Moura
Emil: lisboabytiagofmoura@gmail.com