Sure, Lisbon is a beautiful city, rich in heritage, historic and contemporary architecture and beautiful views from the seven hills. Yet, Lisbon is also the home of an ever-increasing migrant population. Diverse cultures can be observed at all times of day in all parts of the city. Documentary film director Jose Manuel de S. Lopes finds beauty and fascination in this often overlooked facet of Lisbon urban life. His recent film, Lisboa Mestiça: O Casamento da Dipa ("Mixed Lisbon: The Marriage of Dipa) examines one of the micro-stories playing out in the city.
The premier of Lisboa Mestiça: O Casamento da Dipa is Tuesday, 10 November at 21:30 at Cinema São Jorge in Lisbon.
Contact mesticalisboa@gmail.com for more information and to reserve a seat at the screening of this unique film.
--------------------------------------------------
--------------------------------------------------
According to S. Lopes, "…a fifth of the population in Lisbon are legal immigrants. If one was to include illegal immigrants, this percentage would swell considerably. However the interrelationship between the host community and immigrant communities is most often zero, if not tense. The economic crisis begins to cause a growing xenophobia and an increased fragility that immigrant communities must endure. All the while, the natural growth rate in Portugal has stalled, meaning the country's population growth in increasingly dependent on these same immigrant communities."
For more information on the film, visit the Lisboa Mestiça Facebook page.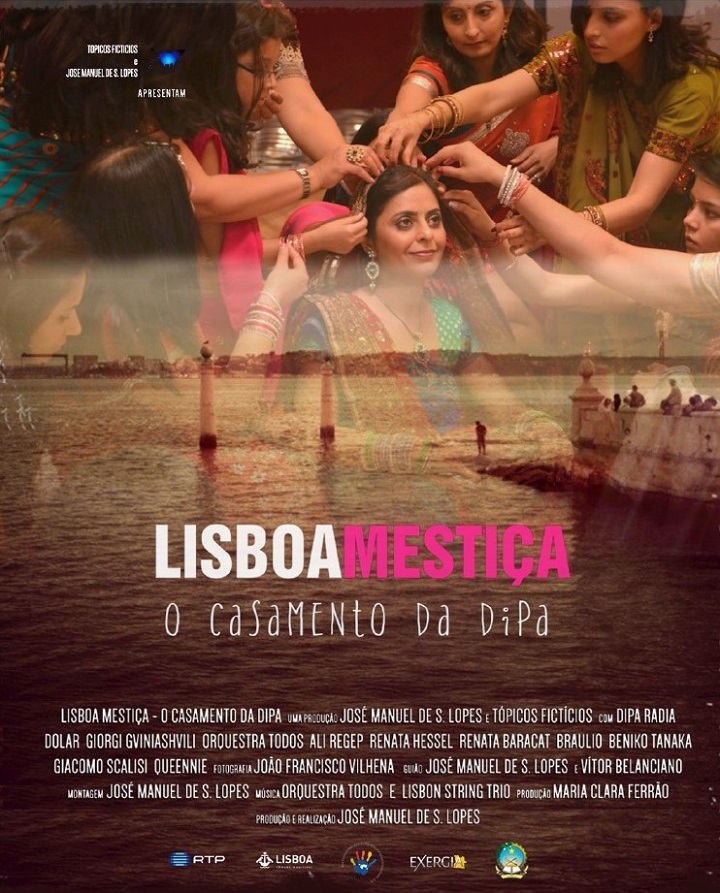 Credits
Realização: José Manuel de S. Lopes
Guião (sobre factos reais): José Manuel de S. Lopes e Vítor Belanciano
Direcção de fotografia: João Francisco Vilhena
Fotografia adicional: José André Lopes, José Maria Lopes, José Manuel Lopes
Som: José Maria Lopes e José André Lopes
Arquivo RTP: Fátima Ribeiro (pesquisa)
Assistente de Realização: Welket Bungué
Produção: Maria Clara Ferrão
Produtora delegada da RTP: Olívia Vasques
Assistente Produção: Carla Fidalgo e Neuza Teixeira
Produzido por: José Manuel de S. Lopes e Tópicos Fictícios
With…
Beniko Tanaka . Giorgi Gviniashvili . Dipa Radia . Família Radia . Dolar . Família Dolar . Ali Regep . Giacomo Scalisi . Braulio . Renata Hessel . Renata Baracat . Carla Fidalgo . José André Lopes . Orquestra Todos (Mario Tronco . Pino Picorelli . Marc Planels . Gueladjo Sané . Sebastien Scherif . Marcelo Araújo . Johannes Krieger . Daniel Hewson . Danilo Silva . João Gomes . Susana Travassos . Rubi Machado . Francesco Valente) . Lasha Egutidze . Miguel Ângelo . José Maria Lopes . Carolina Lourenço . Rafael Sarzedas . Flávio Figueiredo . José Carlos Pinto . Zédu . Anonymous . Evandro Cabral . Queennie . Manuel Soares Silva
Financial Support
RTP (Rádio Televisão Portuguesa)
ACIDI/ACM (Alto Comissariado para as Migrações)
CML (Câmara Municipal de Lisboa)
Missão da República de Angola na CPLP
Exergia Angola