Underdogs are on the cutting-edge of the urban art scene in Portugal. Embracing and nurturing the street art culture, they promote this burgeoning contemporary art form though gallery exhibitions, public art programs and production of affordable editions. One unique and exciting project Underdogs offer are guided tours of the best and most notable urban art works around Lisbon.
--------------------------------------------------
--------------------------------------------------
The Underdogs Public Art Tours include a visit to all locations where Underdogs-supported Portuguese and international artists have created large-scale murals. The tour includes one of the most respected names on the international urban art scene, Alexandre Farto AKA Vhils. The itinerary also includes stops to visit works by AkaCorleone, PixelPancho, How & Nosm, ±MaisMenos±, Finok, Okuda, Nunca, Bicicleta Sem Freio and Clemens Behr, and more.
Click here to read and download the current Underdogs Public Art Tours Map.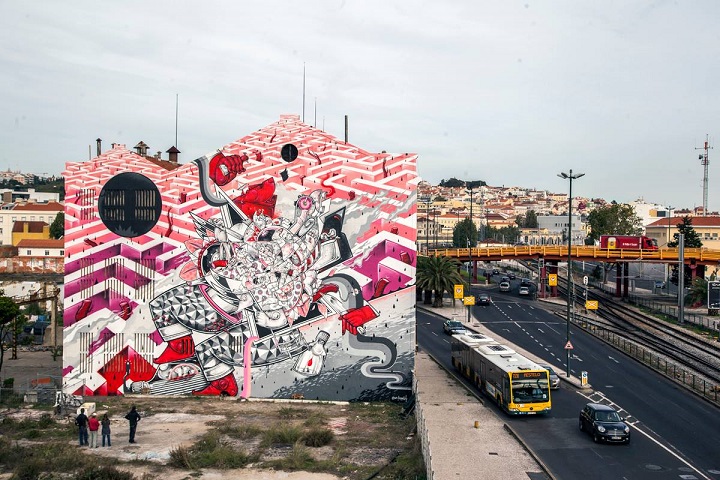 Stop on the tour:  How&Nosm    At Top: Collaboration of Pixel Pancho and Vhils   (Photos: Alexander Silva)
An expert guide takes groups by minibus to landmark works around the city. A special personalized "premium tour" is also available via sidecar. The three-hour experience also includes a visit to the Underdogs Gallery for a coffee break and screening of the project's videos, where guests learn about the artistic works, as well as the vitality and growth of the urban art scene in the Portuguese capital.
For more information about Underdogs and the tour, visit the Underdogs website.
Tours leave from:
Underdogs Art Store
TimeOut Mercado da Ribeira
Cais do Sodré
Lisbon
Phone: +351 916 499 364
Email: info@under-dogs.net
Saturdays 14:00 to 17:00, and other days with advance notice and minimum 7 participants.
Tours
■ Groups of up to 12 persons (map, transport, coffee break and discount vouchers at Underdogs gallery included)
■ Premium (map, transport, coffee break, discount vouchers at Underdogs gallery and personalized service included)