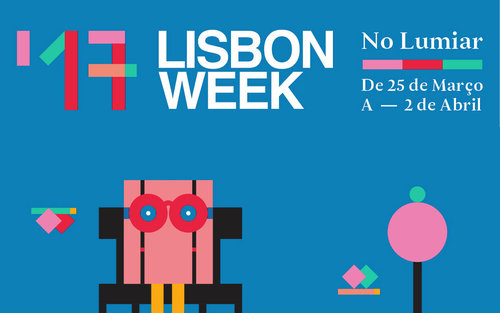 If you know Paris, New York or London, then you know that each of those great cities is made up of numerous unique neighborhoods, each with a flavor and culture of its own. Well, Lisbon is no exception.  From Chiado and Santos, to Benfica and Parque das Nações, every Lisbon neighborhood has its own charm, heritage and character that, together, make Portugal's capital city great.
Every two years, Lisbon Week shines a spotlight on one specific neighborhood, by way of architectural tours, art exhibitions, music, entertainment and community activities.  For 2017, Lisbon Week embraces Lumiar, north of the city center. Established in the 13th century, Lumiar is home to one of Lisbon´s largest parks, Quinta das Conchas, the National Costume Museum, the Theater and Dance Museum and numerous palaces, churches and intriguing points of interest.
Lisbon Week – Lumiar edition, runs from 25 March to 2 April. Following are some of the key events taking place during the event.
Cultural Tours
Urban Art Tour (2 hours)
This bus tour visits Lumiar's noted large-format urban art installations featuring renowned artists: Vhils, Felipe Pantone, Vanessa Teodoro, Francisco Vidal, Raf and Ricardo Guerreiro.
Saturday and Sunday: 26 & 26 March, 1 & 2 April | Hours: 11:00, 14:30, 16:45
Meeting point: Al. Torres Lines 156 | €10
Palaces (2 hours)
The tour visits the Palácio Angeja-Palmela, Palácio Monteiro-Mor, the buildings housing the Costume Museum and the Theatre and Dance Museum, as well as a walk through the Parque Botânico Monteiro-Mor.
Tuesday to Friday: 15:00 | Saturday and Sunday: 10:00, 14:00, 16:00
Meeting point: Largo Júlio de Castilho | €7
Churches and Convents (2 hours)
Medieval to contemporary churches are featured in this guided bus tour that also passes through a monastery inside a farmhouse and a church inside a school.
Monday to Friday: 15:00
Meeting point: Alameda Linhas de Torres 156 | €10
Quintas (2 hours)
Formerly farm land, modern Lumiar remains one of the greenest areas of the city. This tour visits Quinta das Conchas, Quinta dos Azulejos and Quinta de Nossa Senhora do Carmo.
Monday to Friday: 11:00 | Saturday and Sunday: 10:00, 14:00, 16:15
Meeting Point: Alameda Lines of Torres 156 | €10


(left) GS1 building, decorated by urban artist Vhils, (right) Quinta dos Azulejos
Activities & Exhibitions
Hindu Celebration at Temple Radha Krishna
Dates: 1 & 2 April | €35 to €45
Photography Exhibition featuring Carlos Ramos, Luis Mileu & Rui Aguiar
Galeria Liminare | Al. Lines of Torres 156 | 25 March – 2 April | 09:30 – 17:30 | Free
Music Series at the Junta de Freguesia, Salão Nobre
30 March – Fado Redux | 20:00 | €7
31 March – Estraca | 22:00 | €5
1 April – Patricia Vasconcelos | 21:00 | €10
Educational Project – Public Art Installation " Save the Oceans"
Quinta das Conchas Park | Free
Meditative Break in the Garden Guided Walks
Monteiro-Mor Botanical Park | €7
Touch Me – An invitation to play the piano in public space
Quinta das Conchas and Telheiras metro stations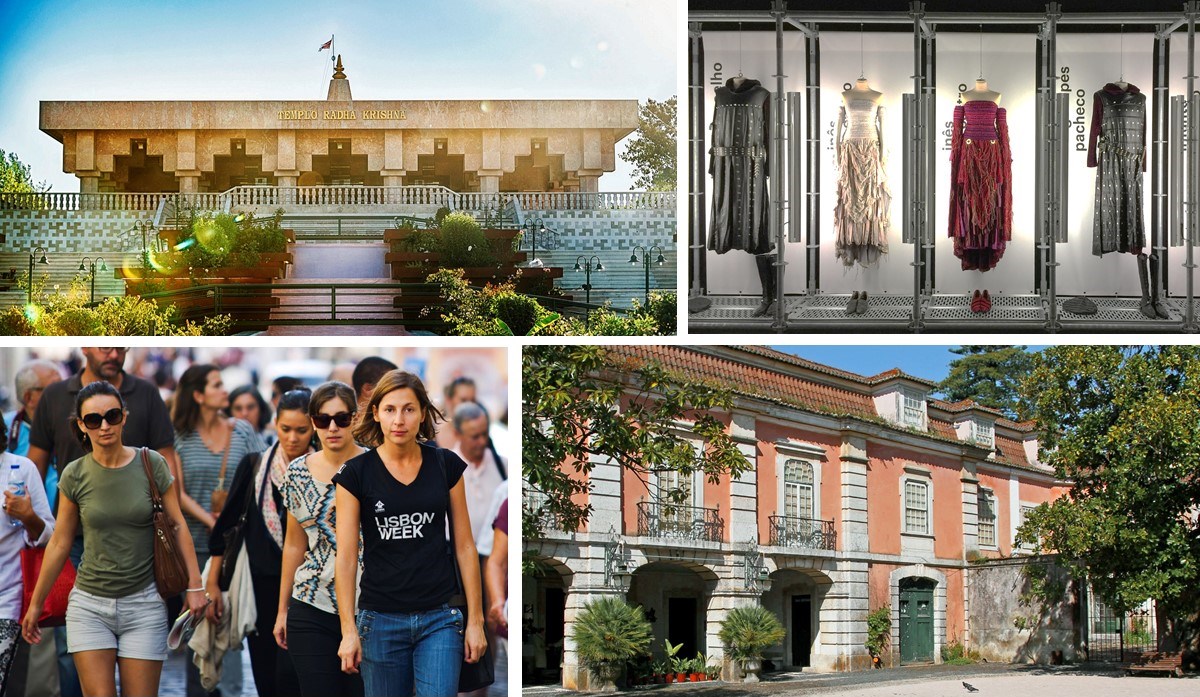 (clockwise from top left) Temple Radha Krishna, Costume Museum,Palácio Angeja-Palmela, guided tour
There are more events, entertainment and cultural venues to explore. Visit the Lisbon Week website for the full program.
Lisbon Week
Lumiar Neighborhood
Lisbon
Buy Individual tickets at Ticketline: Lisbon Week
Buy a LisbonWeek Passport for €25. This includes three guided tours, Lumiar Palaces, Churches and Convents and Quintas do Lumiar , as well as a fourth experience to choose from–Circuito de Arte Ubana or A Pause in the Garden at Ticketline: Passport Lisbon Week