Once again, the city of Funchal on the Portuguese island of Madeira celebrates Spring with a brilliant…and fragrant…week-long spectacle. It's the Madeira Festival of Flowers 2017. Buildings, parks, streets and children (!) all get decorated during the festivities. Every year, the festival pays tribute to the many centuries Funchal has been a port-of-call to international travelers. The Festival of Flowers takes place 6-10 May.
--------------------------------------------------
--------------------------------------------------
Due to its ideal climate, foliage and flowers abound on Madeira. Flower species from across the world can be found here, originally brought by traders making stops in this popular Atlantic port. Today, the Festival of Flowers honors the springtime blooming of these beautiful flowers with a full week of events, activities and exhibitions.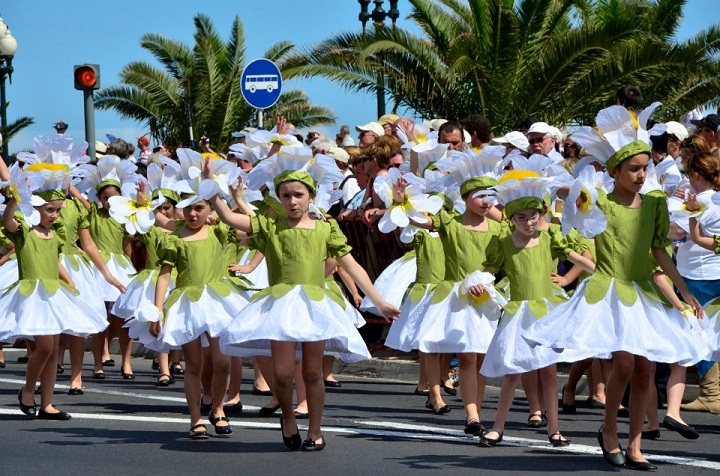 Wall of Hope – Saturday Morning, 6 May
The Wall of Hope is a symbolic sculpture calling for peace in the world. A thousand children, each carrying a flower, parade down Avenida Arriaga to the Praça do Município to place a flower on the wall. The ceremony concludes with a release of doves and a children's show.
Flower Carpets
The tradition of laying flower carpets has its origins in celebrations of religious holidays. At the festival, flower carpets are created on the ruas and avenidas of Funchal. Essentially, these are brilliant and fragrant works of art that add to the joy of the festival.
Project "Let's Decorate the City with Flowers"
Local residents and businesses get into the festivities with this program designed to embellish buildings throughout Funchal. Structures in the city are decorated highlighting the creative skills of shopkeepers and local merchants…to the delight of visitors.
Flower Parade – Sunday, 7 May at 16:00
1200 participants are expected for the Flower Festival Parade. Year-after-year, since 1979, this parade has fascinated and amused festival goers with its color, splendor and elegance. Entertainers in bright costumes and children covered in flowers will march and adorn floats that glide down Avenida Sá Carneiro.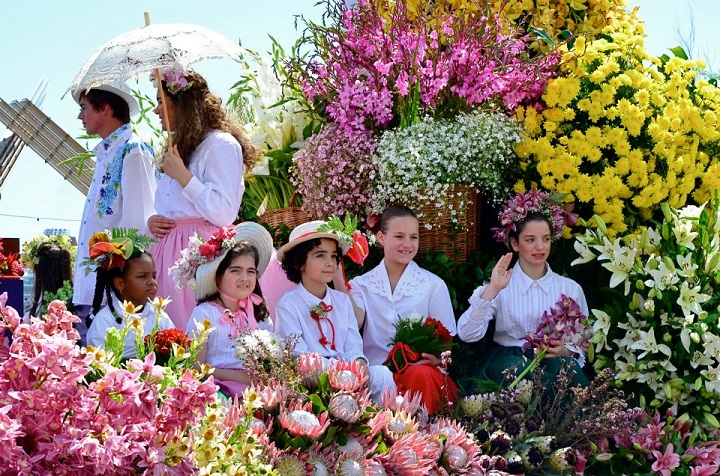 Many other activities are scheduled during the weekly event including an expanded flower market, flower exhibition and much more.
For more information, visit the Madeira Tourism website.
Madeira Festival of Flowers
City Center
Funchal
Madeira