The city of Èvora, 130 km to the east of Lisbon in the Alentejo region, dates back two thousand years.  Romans invaded in 57 B.C. and built many structures, some of which are still standing today.  No wonder UNESCO has named Évora a World Heritage site.  And, no doubt this is a unique location to build one of Portugal's coolest five-star, boutique hotels, the M'Ar de Ar Aqueduto.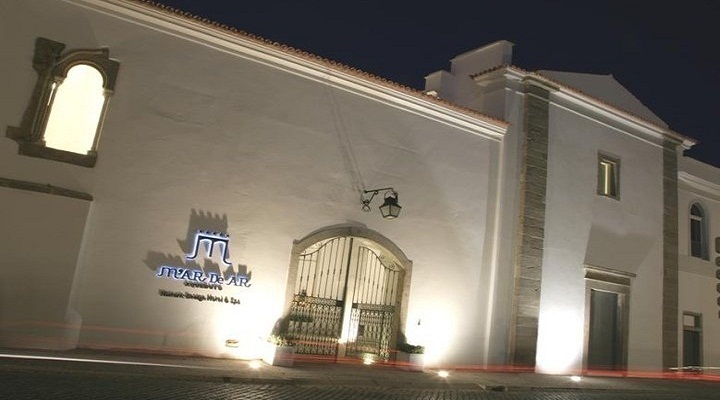 The iconic Água de Prata Aqueduct (Aqueduct of Silver Water) provides the backdrop for this hotel.   The aqueduct was built in 1531-1537 by King João III to supply the city with water.  The structure spans 9 km, as designed by Francisco de Arruda, who also built the historic Tower of Belém in Lisbon.  The end point of the aqueduct originally spilled into the Praça do Giraldo in the center of town.
--------------------------------------------------
--------------------------------------------------
The hotel itself is an extraordinary mix of historic and contemporary.   It occupies the former Sepulveda Palace, a building of magnificent 16th century architecture.  It has been recently restored, maintaining many of its characteristic features such as a chapel, domed ceilings and a set of three Manueline windows on the main facade.  Yet, beyond the original structure is a 21st century hotel, with 64 rooms, complete with all the modern conveniences.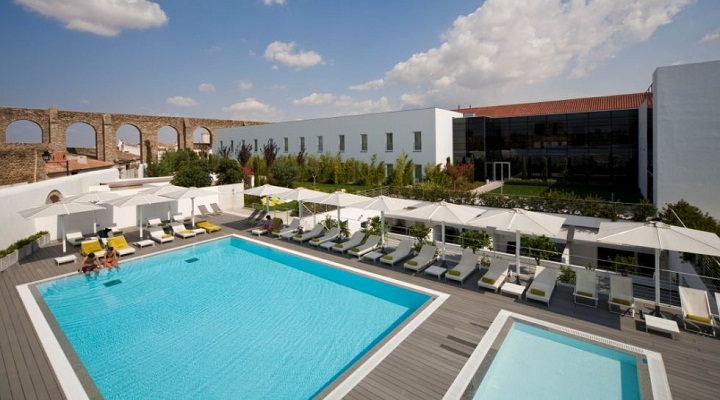 The rooms are light and airy, with a combination of design pieces and original furniture.  The bathroom receives natural light via a large picture window on the wall facing the room.  M'Ar de Ar offers Classic and Superior rooms, with terraces or patios included in the latter layout.  Suites with 20m2 lounges are also available.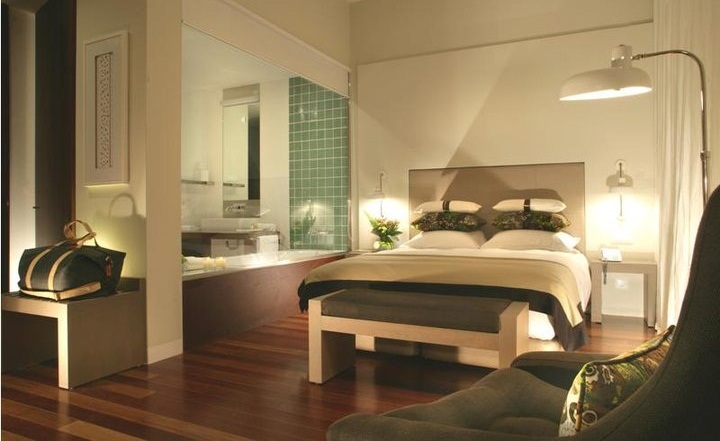 The restaurant Degust'Ar, features the cuisine of Alentejo as interpreted by Chef António Nobre.  Therefore, expect beautiful creations of incorporating regional breads, pork, olive oils and aromatic herbs.
Of course, these days, all nice hotels feature a spa to pamper guests and M'Ar de Ar is no exception.  The Aqueduto Spa offers a variety of relaxation treatments from thermal baths to four-hand massages.  Revitalization therapy includes body and face mud detox, and hydrating facials.
To learn more, visit the M'Ar de Ar Aqueduto website. 
Hotel M'Ar de Ar Aqueduto
Rua Cândido dos Reis, 72
7000-782  Évora
Phone:  +351 266 739 307
Fax:  +351 266 739 305
Email:  reservas@mardearhotels.com