According to the organizers of the show, Mário Belém's solo exhibition, is full of "confusing, complicated, contradictory and ambiguous messages." Called Conto Interrompido, the Portuguese urban artist invites you to reflect on the numerous ways information and images are interpreted and misunderstood in today's world. The exhibition runs from 30 November to 23 December 2017, and reopens 02 – 13 January 2018 at the Underdogs Gallery in Lisbon.
The show features a new collection of works by Belém, in a variety of formats. Many of the works are morphed paintings with sculptures. All of these "dimensions" add to the confusing creativity of the concept.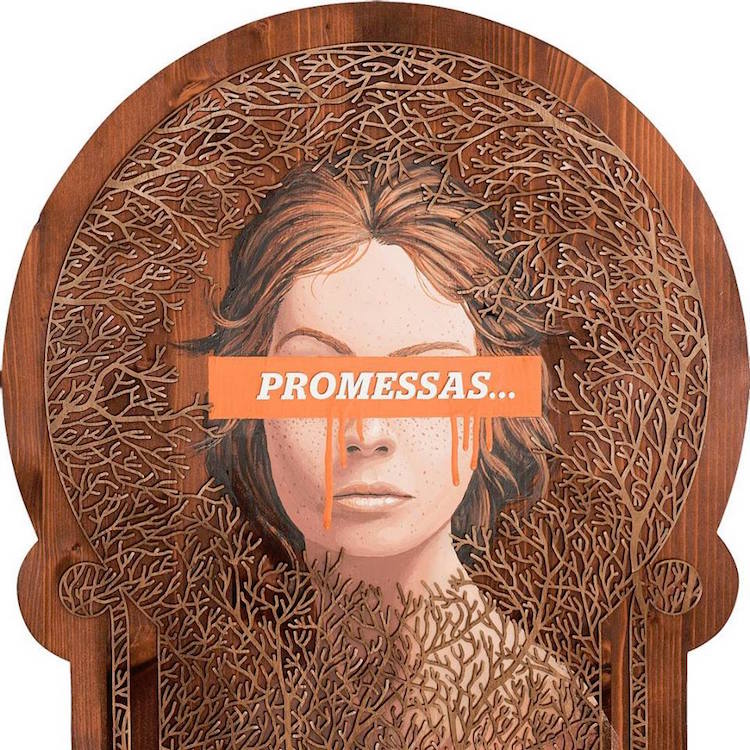 With respect to the name of the show, which is Portuguese for tale interrupted…the gallery explains the intent in this way, "The overall result is a type of hermeneutic metaphor – magical, yet unassuming – in the form of interrupted tale (replace "coitus"), where an intercourse between parties with full realisation might, or might not – according to the interpretation and understanding of each viewer – take place."
For more information, visit the Underdogs website.
Underdogs Gallery
Rua Fernando Palha
Armazém 56
Lisbon
Phone: +351 218 680 462
Email: info@under-dogs.net
Hours: Tuesday to Saturday – 14:00 to 20:00