Emerging Master Chef – Tiago Santos is the third story in a monthly series featuring "The Rising Stars of Central Portugal."
Step aside, celebrity chefs of Lisbon. Make way, Michelin star chefs of the Algarve. There's a hot, enthusiastic, young creative chef in central Portugal who's quickly becoming one of the country's top talents on the culinary scene. He is Tiago Santos, Head Chef of O Bairro restaurant in Aveiro. His contemporary interpretation of Portuguese cuisine, comprised of regional ingredients, is satisfying customers, astounding critics and earning him a deserved moniker of Gastronomic Rising Star.
————————————————–
[ad name="Centro Portugal"]
————————————————–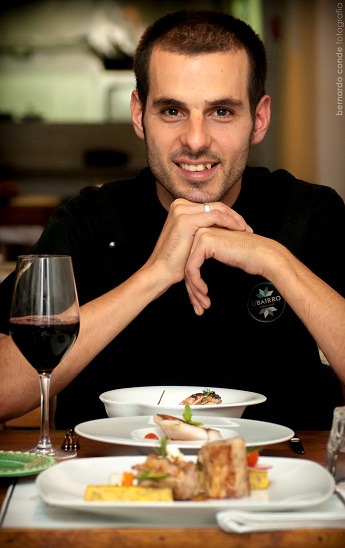 From the beginning, Santos admits that he fell into his career more as a necessity than a passion. As a teenager, he needed to find work. Starting as an assistant cook at a small Aveiro restaurant fit the bill. Soon, Santos found this "work" to be intriguing and quite fulfilling. He went to England and Italy for training, before returning to Portugal to complete instruction in gastronomy.
Soon after, he made a connection that would fuel his career trajectory; he met noted chef Ricardo Costa. Costa invited Santos to work alongside him at Casa da Calçada in Amarante. It was here that Costa earned the restaurant a Michelin star. When Costa moved to the Yeatman Hotel in Porto, Santos followed. Again, Costa delivered a Michelin star. All the while, Santos was gaining incredible, invaluable experience.
Back in Aveiro, some young entrepreneurs were developing a restaurant project across from the fish market. They wanted to create a neighborhood-style, Portuguese restaurant, with a hip, contemporary attitude. They approached Santos and offered him title of Head Chef. O Bairro was born.
Santos describes O Bairro as, "a 'modern' way of cooking Portuguese food. You can easily identify the flavors, but they are presented with different textures and fun combinations. The atmosphere goes hand-in-hand with the food, an easy and relaxed environment, where you can easily start talking with whoever is sitting next to you, without the pressure of being in a posh environment."
O Bairro is a fun dining experience for sure, but contemporary cuisine (at very reasonable prices) is what is winning over guests. Santos' inspirations for these delectable dishes come from the unique variety of ingredients found in the region, as well as a real team effort in the kitchen. "My team gives me a lot of ideas. Mostly during the day we test new products and new ideas come along," reveals Santos.
This explains why the menu at O Bairro is ever evolving. New dishes join the menu with original favorites. Some recent specialties include: marinated pompano with creamy polenta, pork cheeks with celery puree, duck on a bed of mushrooms, asparagus and carrot puree with zimbroe sauce, and mushroom tagliatelle with sautéed chicken breast.
With all of this attention and critical acclaim, what's next for Santos? "I am happy with O Bairro," declares Santos. "We have to keep working, so it will continue to be better in the future."
"Now I'm working on new events with local products that are still unknown to a lot of people in the region. We are trying to showcase all of the good things that can be found in central Portugal and we are trying to increase awareness for the restaurant. We have many excellent products here, including wines and meats, and I think it's our job to promote them properly."
Portugal Confidential strongly recommends visiting O Bairro, and experiencing the fantastic flavors and talented techniques of Tiago Santos. If by chance you can't make it to Aveiro, we're confident you'll be hearing more of this master chef in the future.

For more information on O Bairro….
O Bairro
Largo da Praça do Peixe, 24
3800-243 Aveiro
Central Portugal
Phone: +351 234 338 567
Email: reservas@obairro.pt
Hours:
Tuesday to Saturday – 12:30 to 15:00, and 19:30 to 24:00
Sunday – 12:00 to 15:30