"Mèm" is short for the Portuguese word "mesmo", which in Algarvian slang is an exclamation for "it's that!" or "indeed!" And, indeed, the team at Mèm intend to make a lasting impression via creative cuisine, cozy ambiance and an envious hillside location with spectacular views to the sea. This unique restaurant is in Goldra, near Loulé in the central Algarve.
--------------------------------------------------
--------------------------------------------------
Probably the first thing guests notice at Mém is the view. From both the outside terrace and the inside dining room with wall of windows, the view across the rolling hills to the ocean is a sight to behold. The décor is contemporary and elegant, with the view being the focal point during the early evening, and the distant lights creating a twinkling tapestry at night.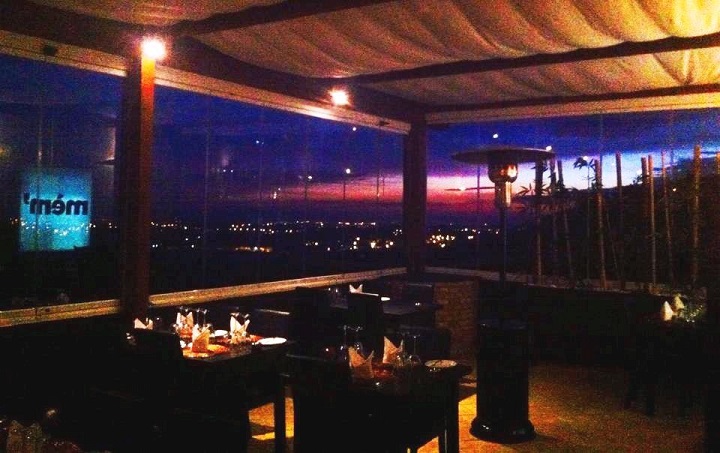 In the kitchen, creative cuisine is crafted by Mèm partners and chefs Samuel Silva, Amélia Diogo, Abílio Guerreiro. They devise Mediterranean-inspired dishes fused with international touches, using fresh seasonal ingredients with modern culinary techniques. Imagine a starter of smoked cod with cornbread oyster, ginger and lime as a starter, followed by sea Bass with tomato chutney, potato, asparagus, olives and pink pepper, or Magret duck with honey, rosemary, orange, celery, sweet potato, red fruits and chocolate sauce.
To accompany the meal, the Mèm wine list features labels from small local producers as well as distinguished international vintners.
On your way out, browse the Mém shop for locally produced organic foods and handicrafts.
For more information, visit the Mèm Facebook page.
Mèm Restaurant
EM 1305
Alto do Relógio
Goldra
Loulé
Central Algarve
Mobile: +351 917 778 771
Mobile: +351 914 506 558
Email:  mem.restaurante.goldra@gmail.com
Hours: Tuesday to Saturday – 18:00 to 12:00, Sunday 12:00 to 24:00