Who knew there was a pizza certification comparable to the Michelin star? Well, there is! It's a designation awarded by the Associazione Verace Pizza Napoletana (AVPN) and there is only two restaurants in Lisbon recognized with this distinction…Mercantina in the Centro Comercial de Alvalade and Mercantina in Chiado.
--------------------------------------------------
--------------------------------------------------
Mercantina is Neapolitan through-and-through. First, it uses only Italian products such as San Marzano tomatoes, Italian flour, Italian cheese (mozzarella, ricotta, gorgonzola, pecorino and parmigiano) and Italian meats (prosciutto di parma, bresaola, mortadella, spicy Napoli salami, coppa ). Secondly, they imported a Stefano Ferrara pizza oven from Naples. It was so large and heavy, the streets of Lisbon had to be closed in order to transport and deliver the oven.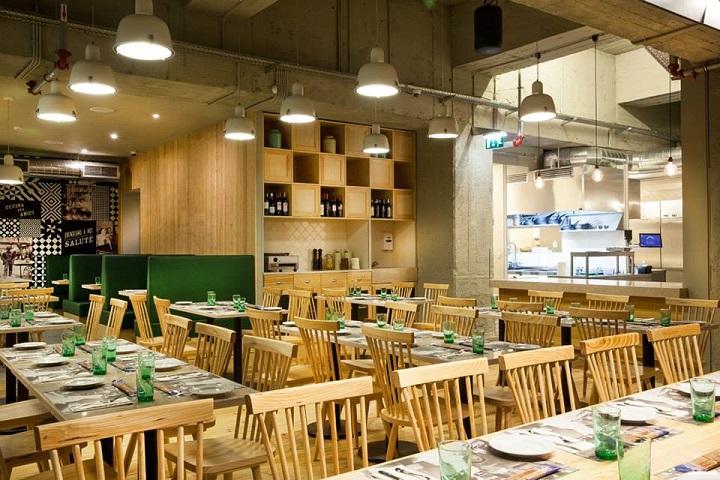 Celebrated pizzas on the menu range from Prosciutto Cotto e Funghi – tomato, mozzarella, ham and fresh mushrooms  to Quattro Formaggi – ricotta, mozzarella, gorgonzola, parmesan, and Mercantina – tomato, mozzarella, ham, pepperoni, fresh mushrooms and parmesan to Per Amici – tomato, mozzarella, arugula, presunto de parma, parmesan .
Goumet pizzas include: Maestro Mezzero, made with tomato, mozzarella, arugula, bresaola, parmesan ; and Dei Calciatori, consisting of tomatoes, arugula, buffalo mozarella, basil and sun dried tomato.
Pizza Dei Calciatori and Spaghetti al Nero, squid ink pasta, shrimp and basil.
Mercantina's extensive menu also features soups, salads, pastas, risottos and meat dishes such as saltimbocca and ossobuco.
For more information, visit the Mercantina website.
Mercantina
Centro Comercial de Alvalade
Praça de Alvalade, 6B
Lojas 9 e 10
1700-036 Lisbon
Phone: +351 217 960 313
Mobile: +351 910 713 607
Email:  reservas@mercantina.pt
Lunch Hours: Monday to Friday – 12:00 to 15:30, Saturday & Sunday – 12:30 to 15:30
Dinner Hours: Monday to Thursday – 19:00 to 23:30, Friday, Saturday, Sunday – 19:30 to 23:30
Rua da Misericórdia nº114
Chiado
Lisboa
Phone: +351 231 070 013
Mobile: +351 917 243 933
Email:  reservas@mercantina.pt
Lunch Hours: Monday to Friday – 12:00 to 15:30, Saturday & Sunday – 12:30 to 15:30
Dinner Hours: Everyday – 19:00 to 23:00, Friday, Saturday, Sunday – 19:00 to 24:00