Wine connoisseurs are familiar with Quinta de Lemos, near Viseu, for the fine regional Dão wines produced at the facility. Architecture fans appreciate the award-winning contemporary structure designed by Carvalho Araújo which is home to a fabulous guesthouse. And now, foodies have the opportunity to enjoy a unique concept of natural and sophisticated cuisine prepared by Chef Diogo Rocha. Restaurant Mesa de Lemos is open to the public for dinner on Friday and Saturday evenings.
————————————————–



————————————————–
In perfect harmony with the nature the vineyards of the quinta and tranquility of the countryside, Mesa de Lemos features a cuisine prepared with regional products, crafted with imagination and technique reserved for modern cuisine.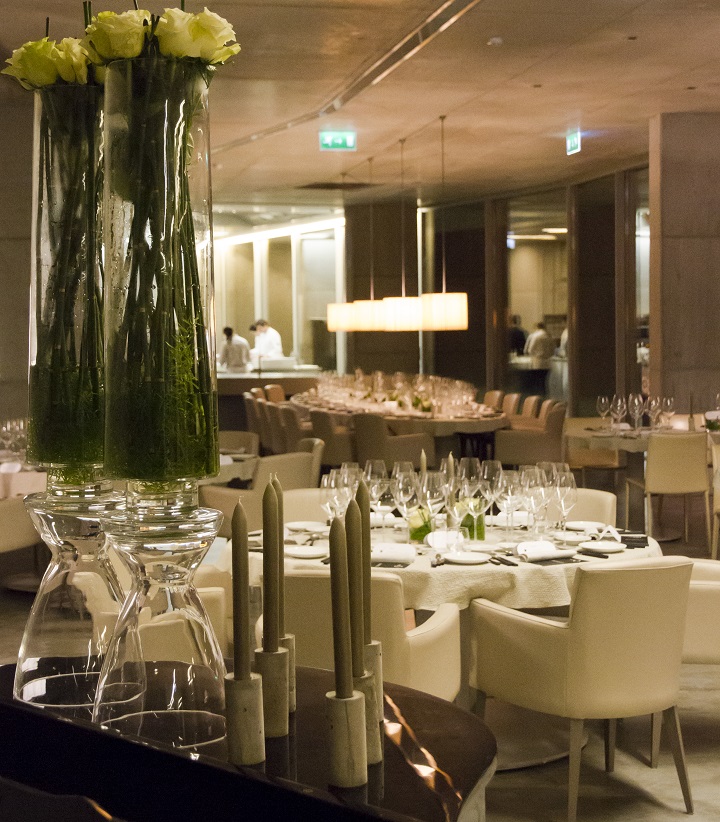 Chef Diogo is uniquely qualified for this project. A native of the region, he studied at the Curso de Cozinha e Pastelaria in Coimbra, has a degree in food and food production, and is currently finalizing a thesis about products of Serra da Estrela. Professionally, Chef Diogo honed his skills in the kitchens of Valle Flor, Terreiro do Paço and two Michelen star Vila Joya. In 2008, he joined the Dão Sul group, and a year later, became chief executive officer of the entire group with three dining venues: Quinta de Cabriz; Quinta do Encontro; and, Paço dos Cunhas de Santar. Since 2009 is a faculty member at the School of Tourism in Seia.
(Right) Chef Diogo Rocha
On the menu at Mesa de Lemos, Chef Diogo aims to keep the fresh ingredients in a pure and natural state in order to deliver the most genuine flavors. Tastes of the region are, no doubt, well represented, but so are dishes representing the sea, rivers, land and mountains of other regions of Portugal. For instance, lobster from the Algarve, Lafões veal from Vouzela, cheese from Serra da Estrella, sea bream from Peniche, percebes from the Berlengas, rice from Mondego River, and goat from Caramulo, all received special attention from the chef.
The Mesa de Lemos tasting menu is €50 per person without wine.
Quinta de Lemos
Paço de Silgueiros
3500-541 Silgueiros
Viseu
Central Portugal
Phone: +351 927 255 376
Hours: Friday & Saturday – 20:00 to 01:00