Located in the center of Portugal, the city of Viseu is surrounded by mountains and the rivers Vouga and Dao. This region is where the de Lemos family is synonymous with ultra luxurious, quality cotton and silk towels, rugs and bed linen. A few kilometres away from Viseu city center is Quinta de Lemos, a contemporary design building which sits on 25 hectares of vineyards, 3000 olive trees and beehives to produce the finest honey. Within the Quinta, one finds Mesa de Lemos, the award-winning restaurant and Gold Fork of Guia Boa Cama Boa Mesa recipient.
--------------------------------------------------
--------------------------------------------------
Chef Diogo Rocha's new menu is inspired by the City of Viseu and Portugal's regional products all whilst maintaining their simplicity and commitment to seasonality. The Chef's Menu comprises seven dishes including seafood from the Algarve, grouper from the Azores and lamb from Caramulo. Wine pairing with your meal starts at 15€. The de Lemos family aim to create one of the highest quality Dao wines from the four wine varietals used. They are on the road to success. Their cellar selection Dona Georgina 2010 was rated 93 points by Wine Enthusiast magazine and 92 points by Robert Parker.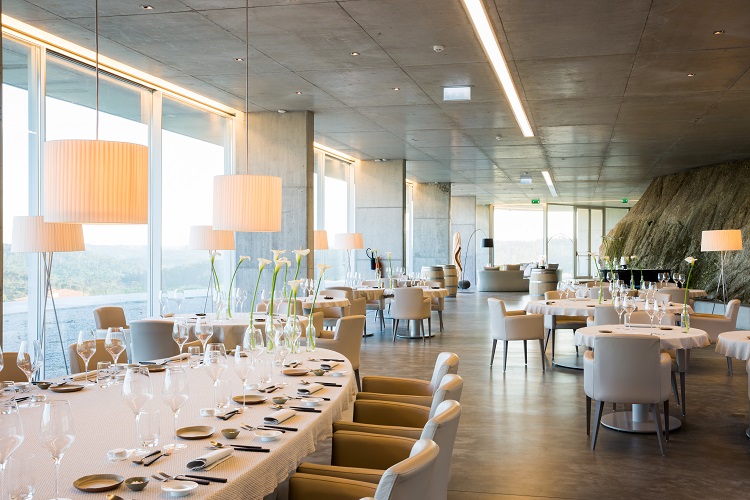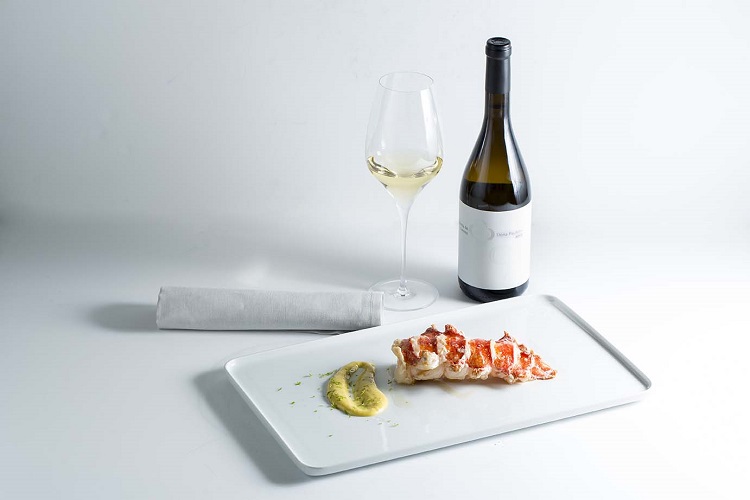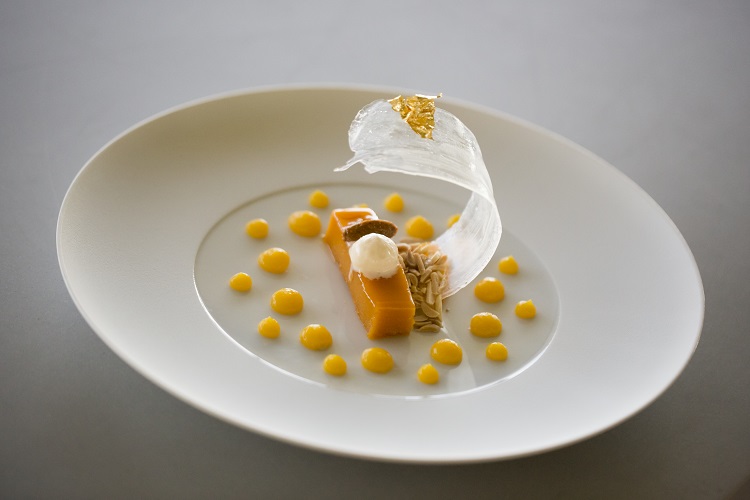 Portugal Confidential experienced the Menu de Lemos, consisting of five dishes with wine pairing for 100€. We found their red wine a tad young. The portion sizes were adequate, beautifully presented and flavorful. The entrance to the restaurant, open kitchen and their uniquely styled wine cellar are Instagram worthy.
For more information, visit the Quinta de Lemos website.
Quinta de Lemos
Paço de Silgueiros
3500-541 Silgueiros
Viseu
Central Portugal
Mobile: +351 961 158 503
Hours:
Dinner: Thursday, Friday & Saturday – 20:00 to 24:00
Lunch: Saturday & Sunday – 12:00 to 15:00
There is room for 30 guests, hence reservation is desirable. Parking available. Wheelchair accessible. Small children welcome.
Photo Credits: Jorge Simão