Is it that time again already? Popular, passionate and prolific superstar chef José Avillez has opened yet another ultra-cool restaurant. Like Belcanto, Cantinha do Avillez, Café Lisboa and Pizzaria Lisboa, this one is in the fashionable Chiado district of Lisbon. And, true to what we have come to expect from Avillez, this new restaurant and bar is full of fun and surprises for all of your senses. It's Mini Bar at the Teatro São Luiz on Rua António Maria Cardoso.
--------------------------------------------------
--------------------------------------------------
Mini Bar resides within the Teatro São Luiz structure. The theatre was built in 1894 and renovated in 1928. The ambiance of Mini Bar celebrates the glitz and glamour of the era when cinematic films were the rage of the social elite. Wood paneling, frosted glass dividers and opaque art deco light fixtures set the mood. Theatrical-inspired signage spelling out Mini Bar with light bulbs, illuminates the room.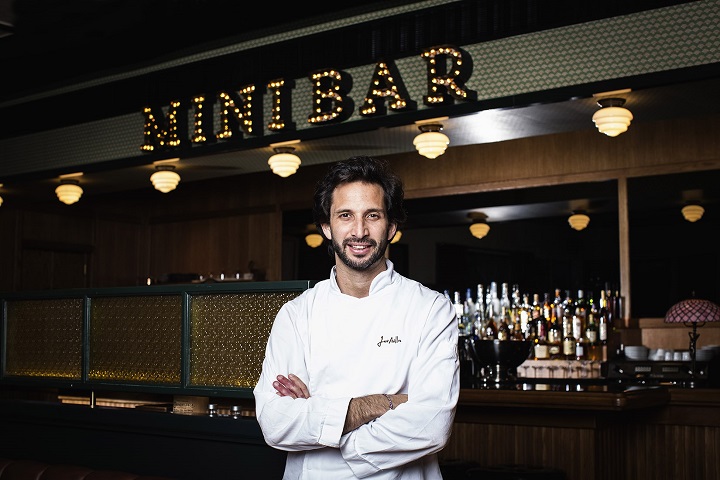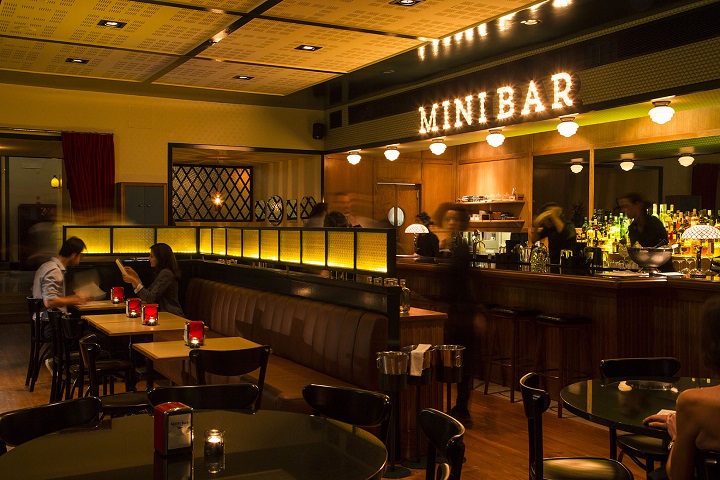 José Avillez at Mini Bar. Photo credits: Paulo Barata
Avillez's menu at Mini Bar is as much a visual performance as it is a taste sensation. Most dishes are "mini"! Consider them, petiscos or tapas; either way, they are individual dishes packed with flavor and excitement. Most are meant to eat with your hands. Categories of food are divided into "acts," such as mini snacks, mini entrees, mini fish courses and mini meat courses. Here, you find such innovative plates as: Foie gras Ferrero Rocher bonbon, Algarve prawns in ceviche served on a lime slice with a beetroot sphere and fried corn topping; pan seared scallops with Thai ¬flavors; and, Vietnamese pork sandwich.
For those with a hearty appetite, beef steak (with or without truffles) and a Big JA burger, both made from DOP beef, are available.
Click here to view or download the Mini Bar menu.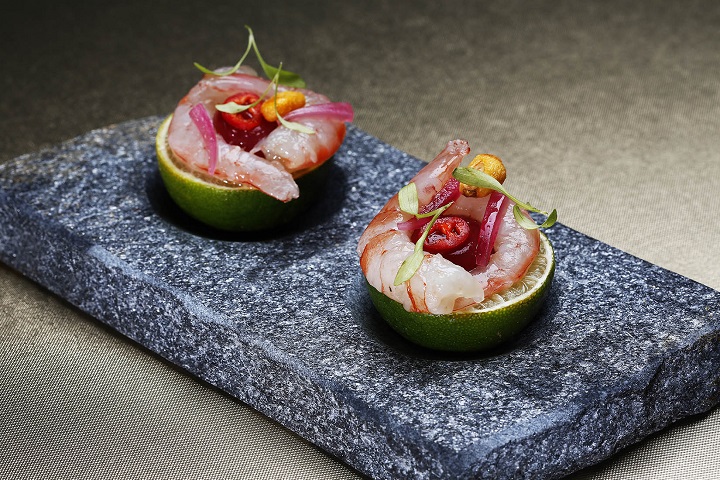 (top left) Green apple and spearmint margarita, (top right) Ferrero Rocher and foie gras bon bon, (center) Algarve prawn ceviche on lime, (bottom left) tuna tar tare temaki cone, (bottom right) chocolate cone in three textures. Photo credits: Paulo Barata
If the meal is set in acts, then dessert must be the standing ovation. No doubt a crowd favorite is the lemon-lime globe (pictured at top). Other selections include chocolate cone in 3 textures with fleur du sel and pink peppercorn, cherry and basil cheesecake, and canned encharcada.
Besides a restaurant, Mini Bar is also a great spot for cocktails, entertainment and more surprises. The green apple and spearmint margarita is actually chewable! Music will also have a special role. DJs play tracks on Thursday, Friday and Saturday nights until 02:00.
For more information about José Avillez and his gastronomic empire, visit the José Avillez website.
Mini Bar
Teatro São Luiz
Rua António Maria Cardoso, nº58
Chiado
Lisbon
Phone: +351 211 305 393
Restaurant Hours: Tuesday to Saturday – 18:30 to 24:00
Bar Hours: Tuesday to Thursday – 18:30 to 01:00, Thursday, Friday & Saturday – 18:30 to 02:00
See our stories on other fabulous José Avillez restaurants: