Adeus, pastel de nata! Goodbye, cupcakes! Arrivaderci, Italian gelato! We hate to see you go…but we have a new favorite dessert. We are now in love with Miss Pavlova! Popular as a custom order specialty in Porto, Miss Pavlova (aka Ana Maio) is making her crunchy on the outside, soft in the middle, topped with delicious goodness desserts available in the boutique emporium Almada 13.
--------------------------------------------------
--------------------------------------------------
The Pavlova is a popular dessert downunder. It is said to have been created in honor of Russian ballerina Anna Pavlova, during her tour of New Zealand and Australia in the 1920's. Typically, a Pavlova is a meringue cake with a crisp crust and a soft, light interior. It is topped with whipped cream, and often an assortment of goodies, like chocolate or fruit.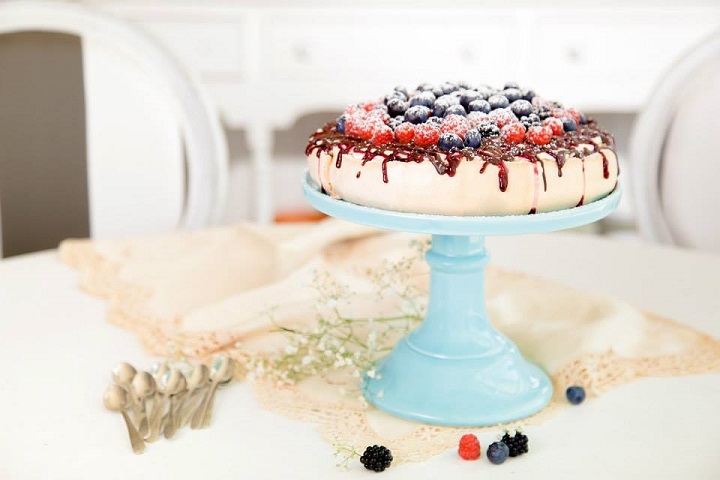 (top of the page) black forest pavlova, (above left) chocolate and strawberries, (above right) cookies, chocolate and caramel, (above center) raspberries and blue berries.
Miss Pavlova is a Portuguese entrepreneurial success story. Finding herself unemployed, Maio reinvented herself, by marketing and selling her meringue creations in social media.  News of her tasty treats went viral, and soon her "likes" increased as did orders for pavlovas.
Now with a brick-and-mortar location at Almada 13, Miss Pavlova is accessible anytime for friends and family, and locals and tourists, to enjoy this unique sweet sensation.
To learn more or order a pavlova, visit the Miss Pavlova Facebook page.
Miss Pavlova at Almada 13
Rua do Almada 13
Porto
Phone: +351 915 979 517
Email: info.misspavlova@gmail.com