You might be thinking of pulling out your sweaters and winter coats. Yet, those in the fashion industry are giddy about the what's cool, new and stylish for Spring and Summer 2018. This must mean it's time for another edition of ModaLisboa, Lisbon Fashion Week.
--------------------------------------------------
--------------------------------------------------
5-8 October are the dates for ModaLisboa Luz, the presentation of Spring | Summer 2018 collections from some of Portugal's top designers, rising stars and next generation designers.
The theme for this edition is Luz ("Light" in English). It is an homage to the energy and creative spirit in the city of Lisbon. According to ModaLisboa, " A light that lights the way and stimulates ideas. A light as a source of inspiration, energy flow and subject for debate."
The location for ModaLisboa Luz will be inside and around the Pavilhão Carlos Lopes. The seven LAB fashion shows are scheduled for the garden of Parque Eduardo VII, surrounding the pavilion.
The calendar of fashion shows follows:
Friday | 6 October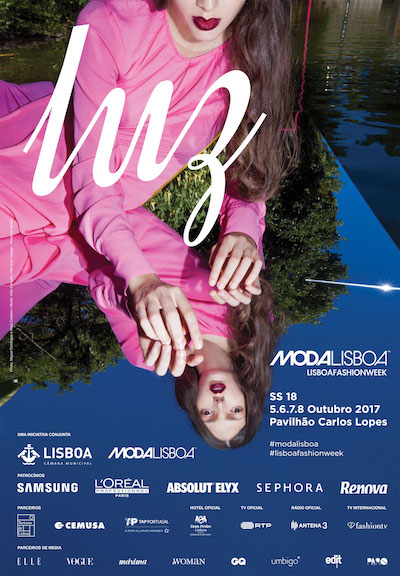 16:00 | PATRICK DE PÁDUA (LAB)
17:00 | DUARTE (LAB)
18:00 | SANGUE NOVO
20:00 | KOLOVRAT
21:00 | VALENTIM QUARESMA
22:00 | RICARDO PRETO
Saturday | 7 October
14:30 | IMAUVE + CAROLINA MACHADO (LAB)
15:30 | DAVID FERREIRA (LAB)
16:30 | AWAYTOMARS |(LAB)
17:30 | NUNO GAMA
18:30 | ALEKSANDAR PROTIC
19:30 | CIA. MARÍTIMA
20:30 | RICARDO ANDREZ
21:30 | CHRISTOPHE SAUVAT
22:30 | DINO ALVES
Sunday | 8 October
14:00 | MORECCO (LAB)
15:00 | NAIR XAVIER X DINIZ&CRUZ (LAB)
16:00 | EUREKA
17:00 | OLGA NORONHA (LAB)
18:00 | NADIR TATI
19:00 | LUÍS CARVALHO
20:00 | MUSTRA
21:00 | FILIPE FAÍSCA
Once again, ModaLisboa shines the light on a new generation of designers in the Sangue Novo ("New Blood") showcase.. For this edition, 10 upcoming artists have been selected to present mini-collections in a runway show. The best designer, selected by an esteemed jury of fashion experts, will win a prizes including a €5000 scholarship from ModaLisboa, enrollment in a summer course at Domus Academy in Milan, and direct entry into the Sangue Nova showcase in March 2018.
Alexandre Pereira ■ Carla Campos ■ Daniela Pereira
David Pereira ■ Federico Cina ■ Filipe Augusto
Ivan Almeida ■ Rita Afonso ■ Rita Carvalho ■ Rita Sá
Members of the jury selecting the prize winner are: Eduarda Abbondanza (President of ModaLisboa); Cláudia Barros (Fashion Editor of Vogue Magazine); Filipe Faísca (Fashion Designer); and, a representative of the international press.
For more information, visit the ModaLisboa website.
ModaLisboa Luz
Spring | Summer 2018
5-8 October 2017
Pavilhão Carlos Lopes