Once again, ModaLisboa promotes budding talent in the special presentation of young designers, Sangue Novo (New Blood). Judging the designers in this showcase are Eduarda Abbondanza (President of ModaLisboa), Ricardo Preto (Fashion Designer), Sofia Lucas (Director of New Projects of GQ magazine), Anna Lottersberger (Domus Academy Head of Fashion Cluster) and Adriano Batista Editor in chief of Fucking Young magazine). The winning designer will be awarded a package of prizes including a Master Level Certificate in Fashion, corresponding to an eight week workshop in Milan offered by the prestigious Fashion Academy, Domus Academy, and a 5000 euro scholarship awarded by Vulcano.
Designers selected to showcase mini collections, include: Carolina Machado, M Hka, Hermione Flynn, João Oliveira, Duarte, Inês Silva, Cátia Moreira, João Barriga, Micaela Sapinho, Daniela Ciolan and Sofiya Malichenko.
--------------------------------------------------
--------------------------------------------------
Carolina Machado
Inspired by monochromatic paintings of Jason Martin exploring abstraction and figuration, Machado plays with a variety of lengths, movement and fluidity. The collection is soft and feminine despite having raw, rough edges.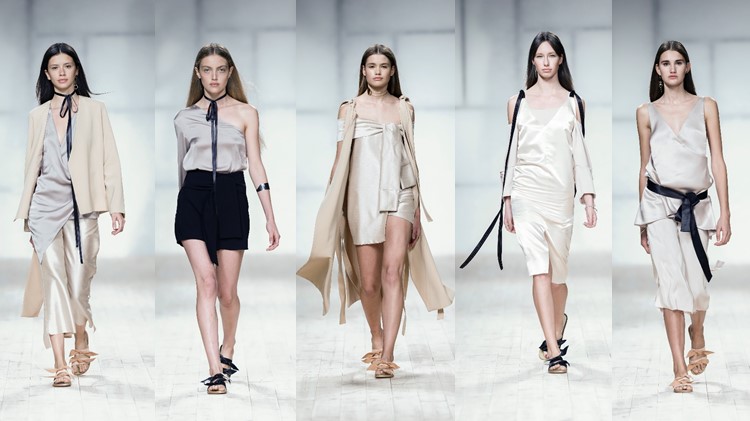 M HKA
"Freedom is the key concept of a generation, the inaccessible is no longer a limit," according to this design team who uses the fall of the Soviet Union as an influence for their wild collection. Strong cultural influences, particularly wild Russion raves, are the starting point for their aesthetic of delicate lines, strong colors and definite urban feel.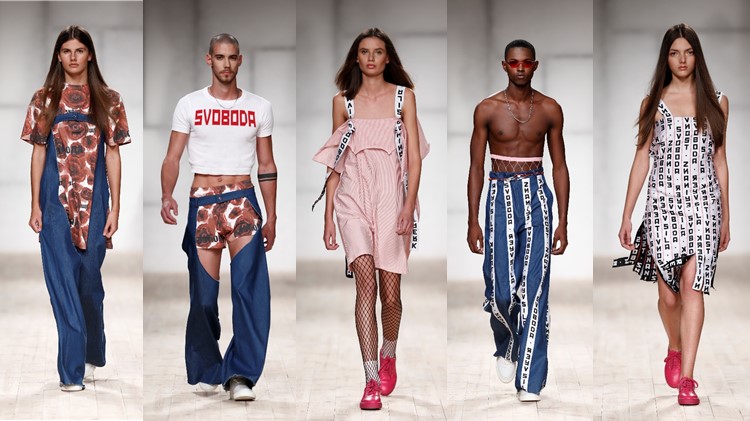 Hermione Flynn
What's wrong with women's evening wear? Flynn thinks the lack of functionality and comfort is not practical! With this in mind, she has created C+B: C(ocktail dress) + B(all gowns for Men). So, keep an eye out for workmen-type details such as pockets, snaps and the deconstruction of pants to create skirts.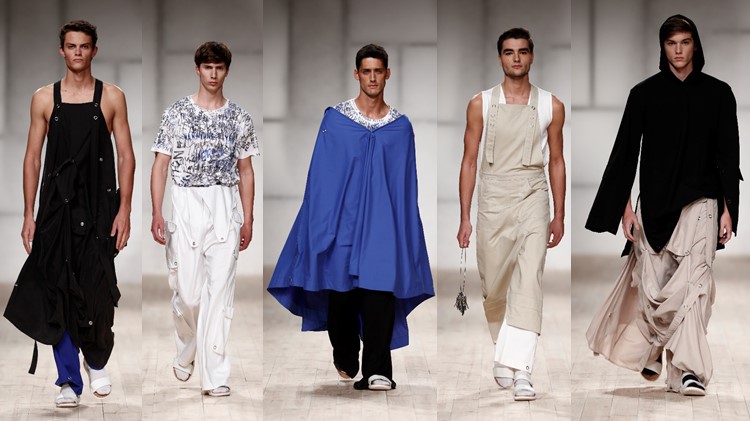 João Oliveira
Streetwear meets sportswear in Oliveira's collection. The oversized, comfortable and relaxed feel of urban garments are fused with the agility and lightness of football gear. Throw in a nostaligic touch of the '90's and you'll be in full Oliveira mode for Spring Summer 2017.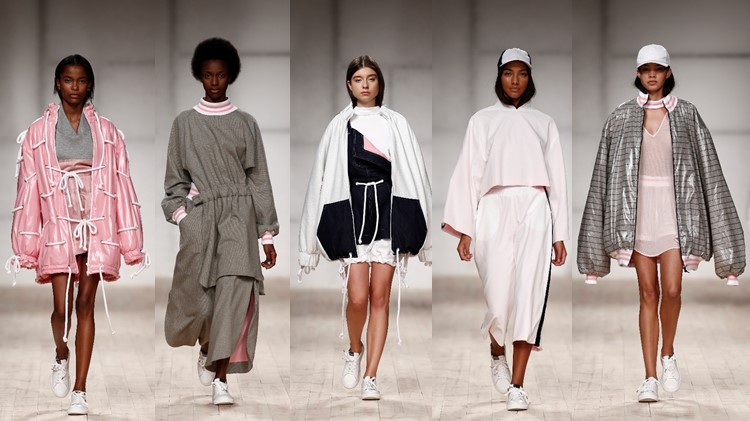 Duarte
The luxury of silks and satins are used in silhouettes reserved for gym attire in Duarte's collection entitled "Knockout". She explains ""Knock out" is the perfect representation
of the society we live in. In a constant struggle to reach our goals, kickboxing emerges as a mortal dance where each movement unloads energy and creates new expectations."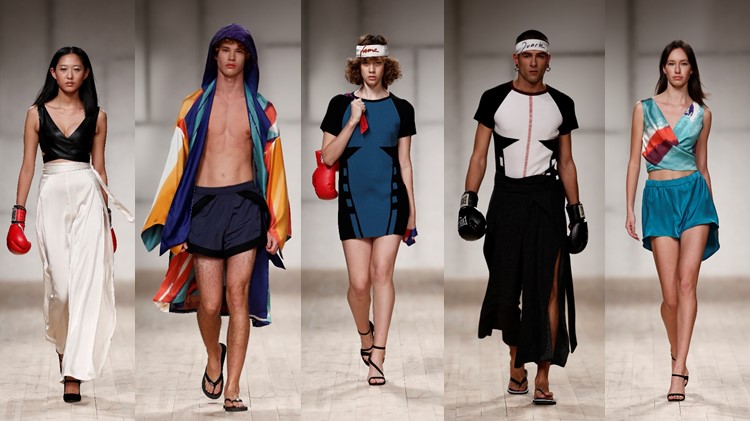 Inês Silva
The Portuguese term "Vazio" in English is "Empty". It is this theme that Silva explores concepts of absence, subtraction, cut outs, transparencies, enlarged scales of volume…and even the emptiness of function.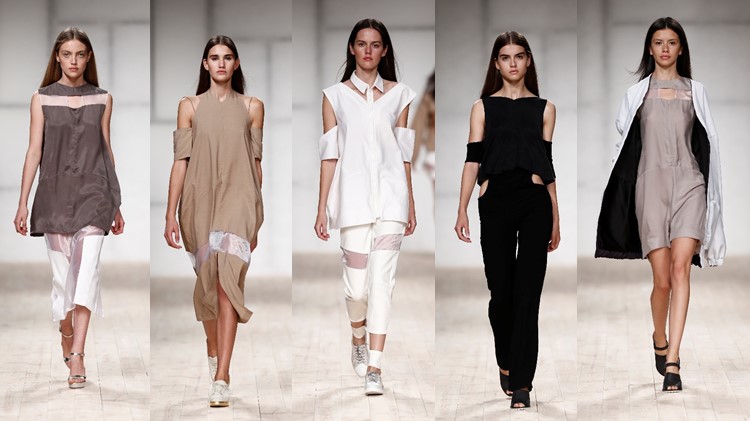 Cátia Moreira
The collection plays with opposites. For instance, the delicacy and tranquility of exteriors contrasts with interior strength of copper. Finishes of rose gold are created from foil. It's a concept that follows a path of transformation into balance and harmony.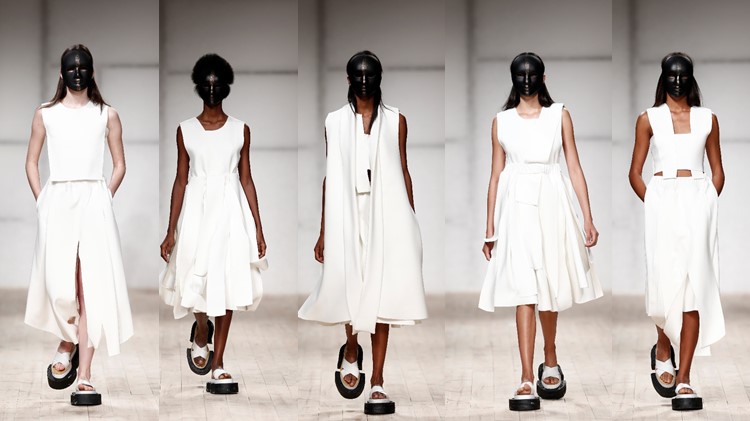 João Barriga
Barriga's "Blackout" collection is an expression of sorrow, rebellion, self-destruction and emptiness. At a time when gender lines are gradually fading away, this nod to streetwear provides concealment in oversized silhouettes and, of course, the color black.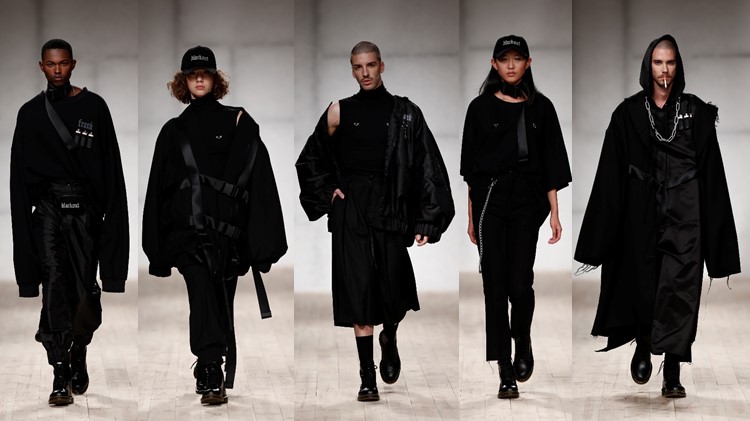 Micaela Sapinho
With a salute to the feminist movement, Sapinho's collection is an uncensored representations of the woman's body utilizing vibrant typography and humorous prints for a more equal future.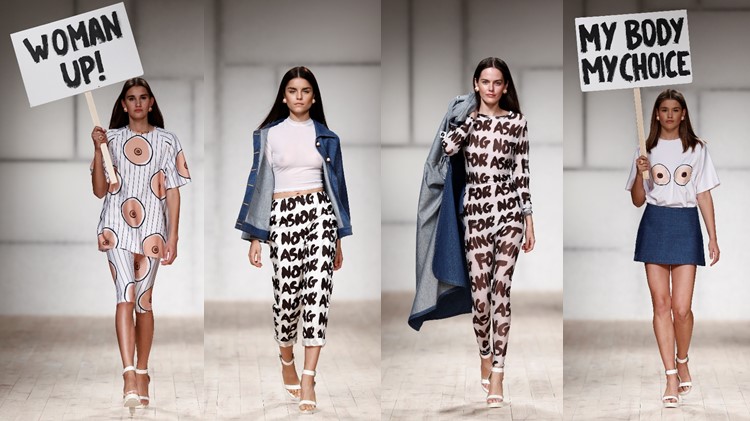 Daniela Ciolan
"Classic and romantic, and a mixture between nature and fashion" is how Ciolan describes her collection. Every detail of function is explored to best accentuate the body. Garments in shades of green water, white and gray, flow in silhouettes both large and fair.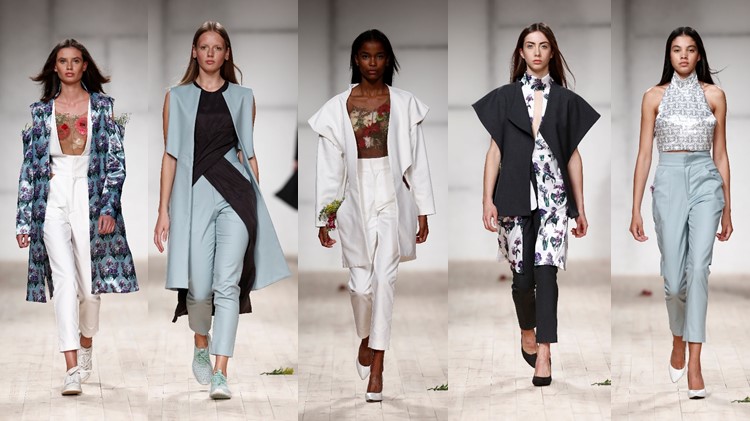 Sofiya Malichenko
Colors, textures and unique finishes, such as embroidery, 3D appliqués, tucking, smocking and ruffles interconnect to create a fresh urban look. Besides the tactile and visual beauty, the collection is intended to be functional, efficient and fun for everyday enjoyment.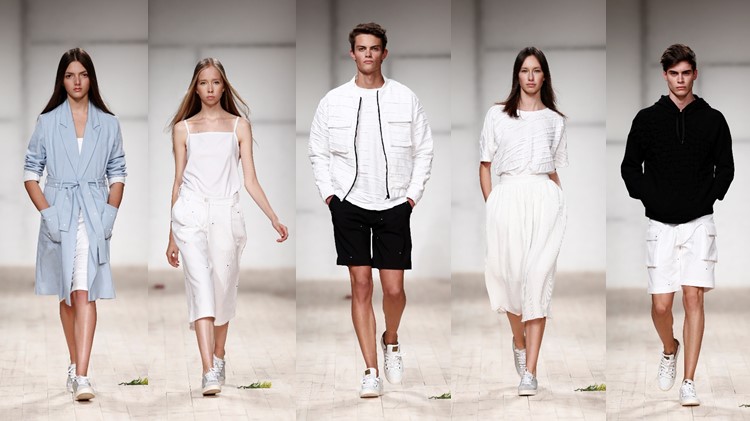 All photos are the property of ModaLisboa | Photography: Rui Vasco.
See more information and event schedule, with links to all designer shows at our ModaLisboa TOGETHER main page.