The very best of Portuguese fashion was once again on display when ModaLisboa (Lisbon Fashion Week) returned for three style-stastic days March 8, 9, and 10th. Patio da Galé played host as the Temple of Trends when top designers of Portugal reveal their new collections for Autumn/Winter 2013/2014.
Click on the designer names below to see their collection from the their show.  
————————————————–



————————————————–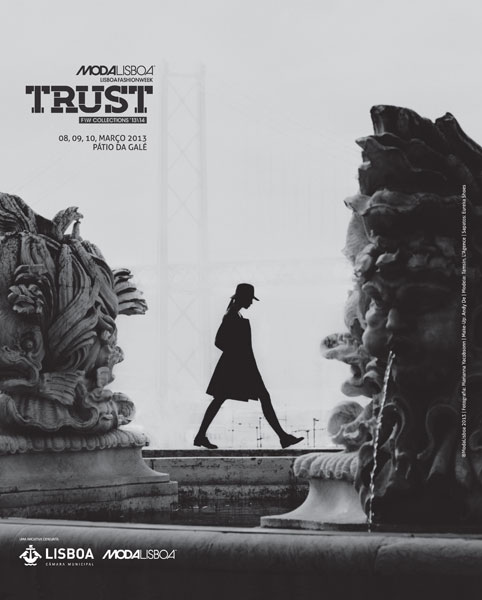 The theme for this 40th edition of ModaLisboa was  TRUST! Trust is faith; and we have faith in fashion! Or, as ModaLisboa explains, "TRUST is bold and resolute, and despite the challenges in today's world, ModaLisboa issues a manifesto against surrender. TRUST because the right people in the right way under the right light will give visibility to new networks, new content, new ideas and new businesses. TRUST because we invest in those who invest….and who create. TRUST because the world has changed and we with it."
18 Portuguese designers and one guest designer from Poland, Monika Ptaszek, presented runway shows.  Click the designer name below to see their collection for Winter 2014.
FRIDAY, 8 MARCH 2013
Location: Paços do Concelho
18:00 – Valentim Quaresma
19:30 – Monika Ptaszek (guest designer)
21:30 – Ricardo Dourado
SATURDAY, 9 MARCH 2013
Location: Arcadas Poente-Terrero do Paço
12:00 – Luís Buchinho
Location: Patio da Galé
14:30 – Ricardo Andrez . LAB
15:30 – Saymyname . LAB
16:30 – Aleksandar Protic
17:30 – Os Burgueses . LAB
18:30 – Pedro Pedro
19:30 – Alexandra Moura
20:30 – Nuno Baltazar
22:00 – Ricardo Preto
SUNDAY, 10 MARCH 2013
Location: Patio da Galé
14:30 – Marques' Almeida . LAB
15:30 – Vítor . LAB
16:30 – Dino Alves
17:30 – White Tent
18:30 – Miguel Vieira
19:30 – Filipe Faísca
20:30 – Nuno Gama
For more information, visit ModaLisboa website.
MODALisboa Trust
Patio da Galé
Praça do Comércio
Lisbon