It's one of the most popular, most acclaimed and most festive nightspots in Lisbon. It's a nightclub, music stage, lounge and bar all in one space. It's rock and roll. It's cocktail cool. It's party rockin'. It's Musicbox on Rua Nova do Carvalho, in the Cais do Sodré neighborhood of Lisbon.
--------------------------------------------------
--------------------------------------------------
Musicbox seems hidden away, down the street from the bars and cafes, behind a nondescript arched wooden door, sitting directly under a bridge. Yet, Musicbox is one of the pillars of this revitalized Cais do Sodré nightlife scene. The club has built a solid reputation as a venue always a step ahead in new music and cultural trends.
Inside the cavernous space, old world stone archways and columns intermingle with high-tech lighting and state-of-the-art sound systems. It is an intimate environment to enjoy live acts and an awesome atmosphere for socializing.
Musicbox programs an agenda of diverse musical acts, sometimes funky, sometimes punk-y, sometimes old school, sometimes futuristic. Either way, guests are always guaranteed the freshest acts and great music. Don't miss the club's resident band, Cais Sodré Funk Connection, recreating the sound and sensation of the '60's and '70's.
Musicbox also schedules parties with themes like House Burn, I Hate Mondays and Experimentbox. So, every night at Musicbox is a new experience.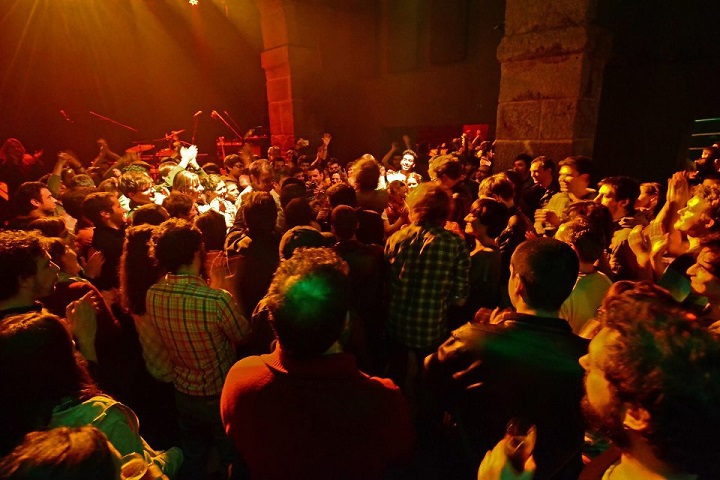 For more information and to check out this week's agenda, visit their website.
Musicbox
Rua Nova do Carvalho, 24
Cais do Sodré
Lisbon
Click here to view on Google Maps
Phone: +351 213 473 188
Email: office@musicboxlisboa.com
Hours: Monday to Saturday – 23:00 to 06:00
Entrance: €6.00 to €10.00, depending on night, live act and/or event
Photo at Top: ©José Fernandes